Kristine S. Russell
Publisher, Executive Editor, Healthcare Purchasing News, President, KSR Publishing Inc. and President, NP Communications LLC.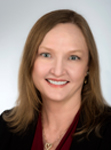 Healthcare/Supply Chain Management Experience:
In the Education & Media category, Kristine Russell has spent more than 25 years in the healthcare industry, specifically in healthcare business-to-business trade publications.
Russell started her healthcare trade publishing career in 1982 after working as a buyer at Sears Tower in Chicago and later Montgomery Ward. However, retail was not her passion. She began her publishing career in circulation– now called audience development, production and later became Vice President of Operations and Acquisitions and Group Publisher of Healthcare at Nelson Publishing Inc. where she oversaw 12 publications in areas including healthcare information technology and informatics, clinical laboratory and product/equipment design with some ties to forward-thinking supply chain executives exploring these topics.
In 2001, her father's company, Nelson Publishing, acquired Healthcare Purchasing News (HPN) and Medical Laboratory Observer (MLO), from Medical Economics Inc. HPN originated with William McKnight (Bellwether Class of 2009) until he sold his company to Medical Economics in the mid-1980s.
Upon Nelson's acquisition of HPN, Russell also assumed the publisher's role for the two years Nelson owned the publication, concentrating on improving the magazine's operations in addition to her other executive roles.
In 2003, Russell formed her own company, KSR Publishing Inc., and acquired HPN from Nelson Publishing.
With the retirement of her father in 2010, Russell acquired controlling interest in Nelson Publishing and its trade magazine properties, reorganizing under the brand NP Communications LLC.
Currently, she owns, leads and manages two separate publishing companies with multiple magazine, newsletter and online media outlets dedicated to healthcare-related issues.
By far, Russell's crown jewel remains HPN, which consistently has covered the healthcare supply chain field for four decades without interruption.
Hall of Fame-worthy accomplishments:
Despite offering a sound editorial product, in the late 1990s, HPN started struggling financially due in part to corporate mismanagement and neglect outside of editorial in the areas of advertising, finance and operations. By 1999, with the departure of the last of several experienced editorial leaders who were influential among the healthcare supply chain industry ranks, HPN was losing its stature and status and sliding away from relevance at a time when print and online competition was ramping up.
Enter Russell who took the reins of HPN and launched a rebuilding practice that returned the reputable and respectable magazine to prominence and relevance by 2004, weathering the storm of competition as the "dot-com" bubble burst and several opportunistic print and online competitors slid into obscurity.
Today, HPN remains a healthy, profitable and robust media property that continues its exploration and coverage of healthcare supply chain topics.
But Russell didn't limit her healthcare supply chain contributions and exposure just to HPN as she became more of an activist publisher in the same way as founding publisher Bill McKnight, who hosted trade shows and assisted various trade associations in promoting and supporting the profession and industry.
Russell has been instrumental with the Corporate Advisory Committee of the International Association for Healthcare Central Service Materiel Management (IAHCSMM) in helping to shape educational topics as well as attract exhibitors to help the association grow. She also worked with the organizers of the Georgetown Leadership Institute, spearheaded by Halyard Health's Keith Kuchta (Bellwether Class of 2014). In addition, she is a current board member of: Globus Relief, the AORN Exhibitor Advisory Committee, World Congress Supply Chain, Sarasota's SunCoast Blood Bank and Special Olympics in Sarasota, FL. and the Mark McKenna Endowment Committee, ASU's Health Sector Supply Chain Research Consortium, promoting education in the healthcare supply chain.
Russell also actively participates with and supports the administrative staff of the Association of Healthcare Resource and Materials Management (AHRMM) even though the membership organization had operated a competitive media property to HPN that folded in 2010 after 18 years in operation.
Russell also serves as a dedicated speaker and supply chain ambassador/evangelist to a number of clinical and trade associations, regularly working to bridge the gap between supply chain and clinical, executive and IT realms.
For example, she routinely serves as a supply chain speaker and an administrative and marketing supporter of the IDN Summit and World Congress organizations.
Russell has been intricately involved in the planning, organization and support of the supply chain-focused Special Interest Group sessions held annually for years at HIMSS, and has brought supply chain awareness, education and support to clinical organizations, such as the nursing-centric AORN and AACN, as well as the clinical laboratory shows.
Industry impact:
Certainly, the profession of individuals and the collective industry benefits from HPN's ongoing presence, coverage and commitment of relevant events and issues. Those include clinical, financial, operational, executive and administrative officials among provider and supplier organizations alike.
Within the supply chain profession itself, practitioners have become more educated and informed about the world around them and their specific place and role in it.
Outside of the supply chain profession, executives, clinicians and administrators are made aware of supply chain's importance and influence to their organizations and to the healthcare industry as a whole. They also can track the progressive development of emerging supply chain leaders. The same applies to executives and employees in the supplier and payer communities.
Furthermore, HPN's reach extends around the world as the magazine serves as a global representative of domestic practices and procedures.
Commitment to ethical standards, honesty and integrity:
Russell should be well-known for her business and personal generosity in supporting all of the stakeholders in the industry – from providers to suppliers – through marketing and promotional programs, and in treating them fairly, reasonably and responsibly.
She also pursues – at great expense – the need to certify her business efforts and claims so that she legally can prove she delivers what she promotes even as her competitors do not and may engage in otherwise unethical behaviors to lure market share away based on price alone. She makes every effort to demonstrate a solid return-on-investment for anyone who supports HPN and her other magazine properties.
Commitment to mentoring, education, and/or advocacy:
Look no farther than the content she provides in HPN – through the monthly magazine, daily online newsletter and the 24/7/365 content access on the internet, as well as the myriad speaking engagements at which she performs among the leading associations and trade groups that represent the industry. These have been highlighted earlier. She also offers scholarships to association events for readers who qualify.
Demonstrations of innovation and leadership:
The variety of healthcare organizations – association, provider and supplier – that routinely ask her to speak and/or assemble executives for panel discussions at their annual events demonstrates their acknowledgement and recognition of her reputation, skills and talents as a healthcare supply chain subject matter expert.
Degree of professional influence:
Russell took a long-standing trade publication that had been an industry-defining and industry-leading media vehicle and brought it back to the pedestal on which it belongs after several years of corporate indifference and neglect from previous management and ownership. Surely the opportunity for business success by rescuing such a heritage media property could be considered part of the motivation, but her immediate professional immersion in industry causes and extensive participation in developing progressive educational and informational opportunities to help professionals develop and improve their skills remains a testament to her "hall of fame" caliber.
Application of Hall of Fame-level of knowledge and experience:
This is a difficult one to answer for someone in the Education & Media category, save for the fact that those in the other four categories – Supply Chain Management, Group Purchasing, Supplier and Consultant – routinely rely on the content she provides through her various media outlets to educate, inform and ultimately improve themselves.
Professional worthiness
Honestly, print and online publications exploring and covering the healthcare supply chain industry in an effort to improve it and its participants for the benefit of patient care have come and gone over the last 40 years, but Russell has maintained HPN's stalwart presence for nearly half of its existence to the betterment of professionals in the field, many of whom use the editorial content to influence business and career decisions.
Furthermore, Russell remains a staunch supporter of Bellwether League since Year 1 and remains the sole supporter and sponsor of the organization – without ever occupying a seat on the Board of Directors – with perfect attendance at all nine annual events so far.
While she has concentrated a considerable amount of her efforts on the healthcare supply chain Russell hasn't limited her influence to that area – much to the benefit of her career development and to the progression of the supply chain industry as a whole. She has been able to extend her experience in healthcare areas outside of supply chain to specialties within supply chain, thereby linking this noble profession that can be traced back more than 100 years to all operations within the hospital and the entire healthcare community.
There are so few in the Education & Media category for whom Bellwether League recognize and honor as a hall of famer when you compare the contributors in that category to the vast numbers in the other four categories. Russell certainly is one of those few, and Bellwether League is honored to recognize her.
In Her Own Words…
What are your impressions about Bellwether League Inc.'s mission and philosophy, and how do you feel about becoming an Honoree?
I view the mission of Bellwether League as an organization that honors supply chain and other professionals in the healthcare industry that have truly strived in their actions and accomplishments to better the processes and outcomes in supply chain. I am honored and humbled to be included in this group of individuals.
What attracted and motivated you to get involved in the healthcare supply chain management field when you did?
My daughter Megan's plight was my motivation to jump into healthcare and try to make some sense of the initial four-year journey we went on to find a solution for her problem that was finally diagnosed as Cardio Inhibitory syncope. At four months she would stop breathing and turn blue. The whole family quickly learned resuscitation methods. Going to 17 different teaching hospitals and having her undergo numerous invasive tests, including a heart catheterization at 25 months old in Chicago at All Children's, achieved nothing. We lived in Florida but we knew a number of doctors in Chicago, and we had exhausted our efforts in our surrounding states. 
I quickly learned about information disconnect. As a result, I would spend time in the cardiac library of the many teaching hospitals we visited and became quite adept at reading EKGs, EEGs and numerous other tests. I also learned that most clinicians and physicians we took Megan to rarely had read her charts and her past history. It took four years to get in to see Dr. Paul Gillette, a top 10 pediatric cardiologist at the Medical University of South Carolina. He devised a test that caused her to have a "spell." as we called them. She flatlined for 52 seconds, within minutes of him starting the test. Relieved that a doctor had finally seen what we had been going through for years with her, we assumed a quick-and-easy solution. A pill perhaps. But no. He solemnly told us that she would need surgery immediately and a pacemaker would need to be implanted.
This surgery started the next saga of our lives in the world of medical devices and hospitals and device representatives. Megan's first pacer failed in six weeks. That resulted in more emergency trips to hospitals and an emergency flight back to MUSC when the "rep" couldn't get the pacer to respond properly. Within a few days, Megan was back in surgery and getting a new (different manufacturer) pacemaker. What happened next is where I really turned my sights on devices.

After a three-hour surgery, Dr. Gillette came out and told us that all was okay with Megan and that the pacer rep would be out shortly to tell us what his company was going to do about the emergency flight, the additional surgery, the emergency care for a number of days before flying her back to MUSC.
In 1990, there was $1-million limit for an individual from insurance companies on care, and Megan was almost at that limit. And of course, Megan had a pre-existing condition and would need many years of additional care. As we waited the doctor said he thought that the "company" would cover the new surgery and the additional care. As we continued to wait, it became clear that he wasn't coming to talk to us. The rep was gone – with our daughter's faulty pacemaker from the O.R.
Six years later we settled for less than the cost of the flight and the second surgery. We just didn't have the resources to constantly fight the lawyers for the pacemaker company.
By then I had already gotten involved with Health Management Technology magazine and was on my way to looking at clinical documentation and tracking systems.
For what one contribution would you like to be most remembered?
I would like to be known for my passion and tenacity in getting information and education out to hospital professionals involved in supply chain, central service, infection prevention and the operating room. They truly all have to work together and be cognizant of each other's processes and procedures to achieve improved cost, quality and outcomes.
If you were to encourage someone – either outside of healthcare or just out of school – to enter healthcare supply chain management and strive to be a future Bellwether League Honoree, what would you tell him or her?
I would tell them that the healthcare field is exciting and fulfilling and that they can and will make a difference. Healthcare practice is always evolving and solutions can be found in many places and influenced by many areas outside of healthcare. Help bring those ideas to the table.
What is the one industry challenge you would like to see solved during your lifetime?
Healthcare shouldn't be seen as a big business nor should it be part of a political process. We should grow it as a healthcare consortium that views healthcare practices and policies as primary considerations.
Why should healthcare organizations – providers, suppliers and payers – elevate supply chain management's relevance and importance to clinical, financial and operational success?
My initial career in publishing was with electronic and manufacturing magazines. The supply chain professionals I met were always part of the design and maintenance processes of bringing products to market. In fact, if a potential supply was going to be too hard to get or source – the design process was started over again. Imagine where healthcare could be if the same process was followed. Supply chain became the spokes in the wheel of manufacturing for these companies. If the healthcare supply chain was put in the center or our care facilities, I suspect surgeries, instruments and care delivery processes would be reconsidered.
In two sentences or less, what defines healthcare supply chain leadership?
Supply chain leadership should be about the ability to be logistic in achieving value while respecting the safety of patients and caregivers.
If you traveled back in time to when you just started in healthcare what would you tell yourself?
I was involved with programming and data mining of hundreds of attributes in subscriber databases. The need for this data to be optimized, standardized and cleansed, affected the publishing bottom line. Without paying attention to the integrity of this data – postage would be more costly, magazines and our customer's messages wouldn't be delivered, and our reputation as a quality publisher would be tarnished.
I remember attending one of my first healthcare conferences and talking to an IT company about the ability to share data with other departments as well as how their MMIS databases functioned. What I found was that the systems were all stand-alone systems that didn't talk to each other. I should have told myself and them that they needed to design systems that communicated.