Curt M. Selquist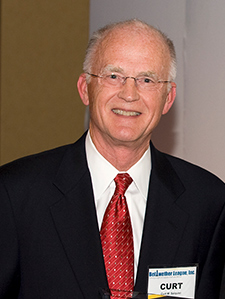 Advancing the Profession/Industry Influence
Just over a decade ago, Curt M. Selquist, former company group chairman for Johnson & Johnson Healthcare Systems, recognized that the challenges of the healthcare supply chain could only be solved through an industry solution. It was 1999, just three years after the publication of the Efficient Healthcare Consumer Response (EHCR) study, which identified billions of dollars in potential savings through the use of electronic commerce, and the age of the Internet, when there were dozens of companies claiming they could capture those savings. The fundamental problem, in Selquist's opinion, was that many of those companies also wanted to capture 3 to 15 percent of the value of each order in profits. To Selquist, that would only add to, not lower, the cost of healthcare. A better solution, in his opinion, was to create an open and neutral, independent global healthcare trading exchange, which eventually became known as GHX. 
Selquist's vision led to a series of meetings in early 2000, first with Jeff Immelt of GE and Jim Linehan of J&J, followed within weeks by meetings with the leaders of Medtronic, Baxter and Abbott. The formation of GHX was announced on March 29, 2000, and those CEOs agreed to more than just writing checks to support the new venture. They participated on weekly conference calls to draft the founding documents that created an impartial model that took costs out of the supply chain, while providing benefits to both buyers and sellers. And they drafted a strict data privacy policy to protect all those conducting business through the exchange going forward. As the founding chairman of GHX, Selquist guided market consolidation that brought representatives of the entire healthcare supply chain into the GHX ownership mix.
Today, GHX is owned by 20 organizations, including manufacturers, distributors, hospitals and group purchasing organizations, and more than 11,000 providers (including 3900 hospitals in North America and 1000 in Europe) and 4000 supplier divisions transact business through GHX.
In large part due to Selquist's vision, guidance and perseverance, e-commerce has become standard operating procedure in the healthcare supply chain. Ten years ago, very few manufacturers had any kind of online order capabilities, and less than half of hospitals were doing any form of e-commerce, and if they were, it was only with a couple of vendors, usually their prime distributors. Now, according to a study by HIMSS Analytics, approximately 60 percent of purchasing is being handled electronically, with the median number of electronic trading partners per hospital at 40. 
From the beginning, Selquist realized that the right business model alone wasn't enough to make GHX successful. He recognized that building critical mass in terms of participation, as well as a community that could create value for all, were key. After the first year, Selquist focused on pulling all the other parties together, bringing together disparate groups and breaking down barriers of mistrust among those groups. Dedicating countless hours to the effort, he was instrumental in achieving the buy-in from all the players that was necessary to make the endeavor successful.
The legacy Selquist leaves to healthcare as the result of his leadership of GHX is extensive. The industry has come together to build what began as a foundation for e-business into a foundation for healthcare collaboration. Providers and suppliers working with GHX have saved more than $1.3 billion through automation and connectivity alone over the past four years and are on track to cut another $5 billion in healthcare costs over the next five years. Without Selquist's contribution of time and talent, none of it would have been possible.
Work Experience

Curt Selquist has more than 35 years of operating experience in healthcare. He currently serves as an operating partner with Water Street Health Partners, a Chicago-based private equity firm that partners with healthcare companies to strategically grow their businesses and create companies of significant value. Previously, Selquist was Company Group Chairman of Johnson & Johnson Medical and Johnson & Johnson Healthcare Systems. In 1989, he became President of Johnson & Johnson Latin America. He was named Worldwide President of Johnson & Johnson, Merck Consumer Pharmaceuticals, in 1995, and became Company Group Chairman, responsible for Johnson & Johnson Medical, in 1997.
Professional Activities

Throughout his 35-year career, Curt Selquist has been involved in a variety of professional activities. He is a past chairman of the National Alliance for Healthcare Technology and serves as leadership network chair for the National Quality Forum. He is the chairman of Precision Dynamics Corporation and serves as director of Facet Technologies, Health Fitness Corporation, Physiotherapy Associates and Temp Time, Inc. He is also on the board and executive committee of Project HOPE.