Donald J. Siegle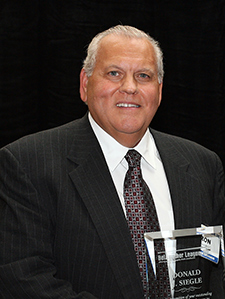 Work Experience – Minimum 10 years of service within the healthcare supply chain (including a hospital or nonacute care facility, manufacturer, distributor, GPO, consulting or service company).
Don Siegle has more than 30 years experience in the healthcare purchasing field, both in hospital procurement and healthcare group purchasing
Bachelor's Degree in Business Administration from Pennsylvania State University, and a Master's Degree in Health Care Administration from the University of Pittsburgh
Executive Vice President of Hospital Shared services, and Administrative Resources, Inc. – shared service subsidiaries of the Hospital Council of Western Pennsylvania
A founder and driving force behind the formation of the Metropolitan Association Purchasing Services (MAPS)
Original Board Member and founder of Amerinet, Inc.
Work Performance – Specific accomplishments/achievements in their respective organizations, including expense management measures, committee involvement and management leadership.
Don Siegle was a key factor in establishing the Hospital Council of Western Pennsylvania as one of the country's most innovative and respected hospital shared service organizations. 
Defined the Hospital Council of Western Pennsylvania as one of the most advanced and cutting edge innovators of healthcare procurement excellence in the country
Established a state of the art education center at the Hospital Council, specifically dedicated to the advancement of the concepts of professional materials management for the healthcare industry
One of the early implementers of on-line education opportunities for health care professionals in all areas of procurement skills and expertise
As a founding shareholder of Amerinet, Inc., expanded the service area of the Hospital Council of Western Pennsylvania to include more than ten states, and over 500 acute care hospitals throughout the upper Midwest.
Professional Activities – Minimum 5 years of active association participation (e.g., office holder, committee chair or contributor, organizing and running meetings, mentoring others) on the national, regional and local level; performed a minimum of two speaking engagements (national, regional, local, facility) and published at least twice (including writing an article or being interviewed by the trade media) during career.
Don Siegle was a nationally recognized leader of the healthcare group purchasing industry, and frequent speaker and author on innovative concepts to enhance the efficiency and effectiveness of health care purchasing activities.
Professional Affiliations:
American College of Healthcare Executives
American Hospital Association
The Hospital Association of Pennsylvania
The American Society of Association Executives
The Association for Healthcare Resource & Materials Management
The Purchasing Management Association of Pittsburgh
Editorial Boards:
"Hospital Materials Management" newsletter
Hospital Materials Management Quarterly
Awards and Recognitions:
Outstanding Leadership Award of the Association for Healthcare Resource & Materials Management
Outstanding Association Executive of the Pittsburgh Society of Association Executives
Stan Costello Award of The Group Purchasing Group
Don Siegle is one of the truly great pioneers and innovators of the healthcare group purchasing profession. From the professional buying skills he acquired in the steel industry in western Pennsylvania, Don brought incredible vision and passion to what would become his life-long passion, to improve the buying power and the professional procurement skills of hospitals and other healthcare providers. In the early days of the group purchasing movement, Don was one of the most active and vocal supporters of collaboration and cooperation between hospital buyers. He saw that the power of many buyers acting as a single bargaining force could effectively equalize the market strength of hospitals with the huge, multi-million dollar companies that supplied the healthcare industry.
Don was one of the early leaders of the Group Purchasing Group, a loose confederation of state and regional hospital buying groups throughout the country that met annually to share strategies and tactics relative to improving hospital buying power. Don was often far ahead of the times in cutting edge concepts and activities to help lower healthcare supply chain costs. He was one of the instrumental founders of the Metropolitan Area Purchasing Services, MAPS, which attempted to band together a number of metropolitan hospital association buying groups into a national purchasing powerhouse. While MAPS eventually dissolved, it was clearly the conceptual precursor to what would eventually dominate the healthcare buying landscape; large national buying groups with tremendous aggregated volume. Don would later become one of the leaders and drivers in the successful formation of Amerinet, one of the country's largest and most respected group purchasing organizations.
Don's vision and talent went far beyond group purchasing, however. A great believer in education, Don was instrumental in developing a state of the art education center at the Hospital Council of Western Pennsylvania to provide an economic forum to help hospital purchasing professionals expand their knowledge and talents in their efforts to reduce health care costs. The Hospital Association also developed one of the most advanced purchasing data bases of medical products as a tool to assist their member hospitals in improved product evaluation and comparison.

Don Siegle is a true Bellwether leader for the healthcare purchasing and materials management industry.
In His Own Words
What are your thoughts about the mission and philosophy of Bellwether League Inc. and how do you feel about becoming part of the organization as an honoree and inductee?
I applaud Bellwether League for launching this initiative because I believe the field has never reached out far enough to report the fine works of many different leaders. What you are doing is excellence so long as you put it in writing. The establishment of the Bellwether League will create improved futures for people and organizations as well.
What attracted and motivated you to join the healthcare supply chain management field when you did?
I had been fortunate to have been provided my college education at Penn State by my first employer, Heppenstahl Steel Co. There I learned the importance of understanding the specific needs of every department for which I procured products. I would spend considerable time with each department, and kept a record of their unique needs and problems. My philosophy was to make sure what you buy meets the needs of the department. Eventually, Heppenstahl Steel, like all the other steel companies in Pittsburgh, went out of business, and through a chance meeting with a fraternity brother, I was introduced to the CEO of what was then Presbyterian Hospital, now UPMC. He was looking for a systems-oriented person to head up the purchasing function, and preferably someone from outside of healthcare. I was hired on the spot.
For what one contribution would you like to be most remembered?
My biggest contribution was in the advancement and development of systems, and my passion for collaboration. I cannot stress enough the importance of getting out of the office and meeting with all the departments in the organization. I feel the biggest problem in the healthcare supply chain today is managers sitting in their offices.
If you were to encourage people – either outside of healthcare or just out of school – to enter the supply chain management field and potentially qualify to be a future Bellwether League Inc. honoree, what would you tell them?
Take every opportunity to network with peers and others in the industry through professional societies and trade associations. Get out of the office and learn what others are doing, even outside the industry. Keep up with the latest technologies, and see how they can be applied to your organization's needs. Second, treat your doctors like customers. There were a number of times when I was able to turn around uncooperative doctors and nurses just through seeking them out and understanding their needs and their frustrations.
What is the one industry challenge you would like to see solved in your lifetime?
Someday, I would like to see standardized systems among all hospitals. Each hospital develops their own systems, and most of them never even finish them. That all starts with knowledge of how to prepare a business plan. All supply chain managers need to learn how to develop business plans, and to incorporate those guidelines in developing appropriate systems within their institution.