Robert A. Simpson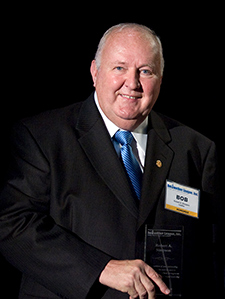 Advancing the Profession/Industry Influence
Since the late 1970s, Robert A. Simpson has excelled in just about every facet of the healthcare supply chain industry, from provider to government agency to group purchasing organization to supplier to association leadership to clinical charity activities, and has developed university curricula on healthcare operations. He currently applies his vast experience and skills to leading a growing IDN, a regional collective of healthcare systems in Florida and a successful consolidated service center that works with organizations inside and outside of healthcare as well as a collegiate internship program to mentor healthcare industry-bound students.
Work Experience
When you talk about a diversified healthcare background, you talk about Bob Simpson. From 1976 to 1982, Simpson served as the Director of Operations for Northeast Red Cross Blood Service and during that famous blizzard of 1978, he was responsible for ensuring the blood supply moved while New England was buried under 12 feet of snow, having assigned to him a platoon of soldiers, armored personnel carriers and a helicopter.
From 1982 to 1983, Simpson was the Director of Materials Management and Project Coordinator and assisted in building the first U.S. Department of Agriculture Human Nutrition Research Center at Tufts University in Boston where the federal government made a commitment to bring in the top nutrition researchers from around the world to study the effects nutrition has on the aging population.
During the next year he joined University Hospital at Boston University Medical Center as Director of Purchasing.
From 1984 to 1994, Simpson served at the Neponset Valley Health System where he led the effort to centralize materials management services for the first multi-hospital healthcare system in the New England area as Assistant Vice President, then Vice President of Materials Management for that system.
In 1994, he joined Healthcare Services of New England, the largest and oldest group purchasing organization in New England and, as Vice President, developed total service contracts for their membership.
From 1995 to 2002, Simpson held several executive positions at TFX Surgical Group, where he led the development of a National Accounts effort and the development of a Service Division to assist customers in lowering their total operational cost.
On March 1, 2002, Simpson returned to the provider side of the business as President and CEO of LeeSar Inc.,  the Supply Chain Management Division, and Cooperative Services of Florida Inc., the supply chain management division and group purchasing organization, respectively, for Lee Memorial Health System and Sarasota Memorial Healthcare System.
In 1995, Simpson was served as President of the Association for Healthcare Resource and Materials Management. Two years later, AHRMM bestowed to him its highest honor and most prestigious award, "The George R. Gossett Leadership Award." He is also the founder and President of Project Perfect World taking medical teams around the world to provide free surgery for needy children.
A graduate of Stonehill College in Easton, MA, with an undergraduate degree in Healthcare Administration, Simpson has his Advanced Training in Negotiation from the University of Pennsylvania's Wharton School of Management and Harvard University. Simpson is a graduate of the Georgetown University Leadership Training Program and is also a Champion of the Six Sigma Process.
He is a noted speaker and has published in many local and national magazines, newsletters and books.
Work Performance
2002 – Present: LeeSar Regional Service Center and Cooperative Services of Florida
President and Chief Executive Officer
Provides the Supply Chain Management Services to Four Health System/Independent Delivery Networks that represent 4,000 acute care beds, plus many other healthcare customers.
LeeSar Regional Service Center purchases, inventories, low-unit-of-measure deliveries of all medical supplies 24 hours a day, 7 days a week.
Services also include Custom Surgical Pack Manufacturing, Pharmaceutical Repackaging, EMS Supply Chain Management, Centralized Sterile Processing and Cook and Chill Operation for Food Preparation.
1995 – 2002: TFX Medical, a manufacturer and distributor of medical devices and services
Progressive management positions that include:
2001 – 2002 - Surgical Services Inc., Division of TFX Surgical Group
Corporate Vice President
Total responsibility for developing and implementing sales and marketing strategies for Offsite Sterile Processing Services.
2000 – 2001 - Pilling Surgical Inc., Division of TFX Surgical Group
Area Vice President of Sales
Total responsibility for managing the sales force for the Southeast Region.
Developed sales strategies for conceptual sales, (exceeded quota over FY99 by 15%).
Responsible for National Accounts functions for Pilling Surgical Inc.
1997 – 2000 - TFX Surgical Group
Group Vice President
Total Responsibility for the National Accounts activities of the three divisions of TFX Surgical Group: The Instruments Division, The Closure Division and The Service Division, along with developing Alliances between TFX Surgical Group and Specialty Companies.
1995 – 1997: Pilling Week, Division of TFX Surgical Group
Vice President Materials Resource Planning/National Accounts
Responsible for the development and growth of the National Account effort for Surgical Instrument Division.
1994 – 1995: Healthcare Services of New England
Vice President
Developed and maintained the marketing, sales and contract efforts of the group purchasing organization.
1984 – 1994: The Neponset Valley Health System
Assistant Vice President, then Vice President, Materials Management
Developed and set the policy for the corporation's centralized materials management functions for this multi-hospital System, including centralized purchasing, supply processing and distribution, warehousing, fleet operations, print shop, mail services, patient transport and linen distribution.
Accomplishments:
Developed centralized Materials Management Department for multi-hospital system.
Designed and implemented totally automated Materials Management System.
Chaired the VHA Materials Management Committee, which developed supply and equipment contracts for 21 healthcare facilities obtaining large cost savings.
1983 – 1984: University Hospital at Boston University Medical Center
Director of Purchasing
Directed and managed the purchasing activities of the healthcare facility.
Accomplishments:
Implemented stockless inventory system, negotiated primary vendor contracts, reduced operational budgets of all departments.
1982 – 1983: USDA Human Research Center at Tufts University
Materials and Space Manager
Coordinated and facilitated the planning, acquisition, location and movement of equipment, furnishings, consumable supplies, vehicles and space with the Research Center.
Accomplishments:
Developed complete materials management organizational structure to support the Research Center Operation.
Negotiated vendor contracts to supply all commonly used materials and insure maximum discounts on these acquisitions.
Designed and developed complete storeroom facilities and installed inventory control system for operational supplies including, laboratory glassware and disposable, chemicals and solvents, dietary, compressed gases, and controlled substances.
Professional Activities
Organization Memberships or Positions Held
2012: Inductee, Bellwether Class of 2012, Bellwether League Inc.
2000 – 2004: Board Member, AHRMM
2004 – Present: Editorial Advisory Board Member, Healthcare Purchasing News
2000 – Present: Chairman of the Board of Trustees, Project Perfect World Foundation (American Hospital Association)
1996 – 2000: Board Member, Efficient Healthcare Consumer Response Steering Committee
1995: Founder, Project Perfect World Foundation
1995 – 1996: President, AHRMM
1992 – Present: Preceptor, Healthcare Administration Programs and Course Development, Stonehill College, North Easton, MA, and University of New Hampshire, Durham, NH
1990 – Present: National Keynote Speaker and Seminar Leader, AHRMM conferences and meetings
1990 – Present: President, The Bobby Foundation
1990 – 1991: President, Massachusetts Society of Healthcare Materials Management
1988 – 1991: Board Member, VHA Task Force
1986 – 1990: Editorial Advisory Board Member, Hospital Purchasing News
Profiled and Published in the following Media Outlets
Healthcare Purchasing News/Hospital Purchasing News
Hospital Materials Management 
American Hospital Association publications 
Efficient Healthcare Consumer Response
Aspen Publications
Orthopedic Network News 
Second Chronicles.com
Awards
The Florida Senator's 2012 Century Award for Creative and Innovative Leaders in Business and Industry
The Senator's Choice Award of 2011 Awarded to LeeSar/Cooperative Services of Florida Pioneers in Innovation
Office of the Secretary of Defense Employer Support of the Guard & Reserve Recognizes Bob Simpson/ LeeSar Regional Service Center as a Patriotic Employer 2011
Fort Myers Vet Center Recognizes Robert Simpson, CMRP, LeeSar, for supporting the Fort Myers Vet Center and the Veterans we serve in 2011
Junior Achievement CEO Academy Thank You to Bob Simpson Growing Florida's Future Business Leaders in 2011
American Heart Association Heart Ball 2010 Raised 475,000  and Gives Heartfelt Thanks to Bob & Linda Simpson for Leading SWFL Heart Ball 2010 Fund-Raising Campaign
Heart of Gold Heart Ball 2010 Award Recognizes LeeSar for Helping to Raise Over $400,000 for the 2010 SW Florida Heart Ball
The Chamber of SW Florida Chairman's Council Award presented to Robert Simpson in 2010
Boys Town Award Awarded to Robert Simpson in Acknowledgement of Generous Support in 2010
Best of Lehigh Acres Presented to LeeSar Health Trust Partners in 2010
In Appreciation for Outstanding Service to the Sickle Cell Disease Association of Lee County in 2010
In Appreciation 2009 -2010 Awarded to LeeSar for Help & Support in the Work Experience Program with the School District of Lee County
Best of Lehigh Acres Presented to LeeSar Health Trust Partners in 2009
Cigars for Soldiers Certificate of Appreciation presented to Robert Simpson, CEO, LeeSar in Gratitude for Your Selfless Contributions to the Armed Forces of this Great Nation in December 2008
The Children's Hospital of SW Florida & the Entire Lee Memorial Health System Commemorates Your Vision to Foster Relationships and the Government of El Salvador to Assist the Ministry of Health in Implementing Their Five-Year Initiative to Significantly Reduce Neonatal Mortality & Morbidity in 2008
The Chamber of SW Florida Business Building Leadership Award Presented to LeeSar Regional Service Center in July 2008
2007 Southwest Florida Blue Chip Community Business Award Lee County Nominee Presented to LeeSar Health Trust Partners
United States of America Embassy Certificate of Appreciation Awarded to Bob Simpson, Project Perfect World in May 2007
Uncommon Friend's Foundation 2007 Business Ethic Award Finalist Presented to LeeSar 
Nation's Association Charities, Inc. Recognizes the Generosity of LeeSar Inc. in 2006
American Hospital Association's Association for Healthcare Resource & Materials Management George R. Gossett Leadership Award - 1997
New England Society for Healthcare Materials Management Leadership Award - 1995
Hospital Purchasing News Materials Manager of the Year - 1991
Massachusetts Society of Hospital Materials Management Materials Manager of The Year - 1990
Hospital Purchasing Association of Massachusetts Purchasing Director of the Year - 1987
Education
Stonehill College
Bachelor of Science in Healthcare Administration
Advanced Healthcare Management Courses at:
Harvard Law School
Negotiations
Georgetown University, Washington, DC
Advanced Healthcare Management Training
The Wharton School at The University of Pennsylvania
Negotiations
Boston University
Action Skills for Management
American Hospital Association
Certified Materials Resource Professional
In His Own Words…
What do you think about Bellwether League Inc.'s mission and philosophy and how do you feel about becoming an Honoree?
In my mind the mission of the Bellwether League is to recognize and document for future generations the work that has been done by individuals that has had a positive impact of the supply chain function of healthcare in this country.
As an Honoree, I am first humbled to be a member of such a forward thinking group of individuals and inspired to do more good before I retire from this profession.
What attracted and motivated you to join the healthcare supply chain management field when you did?
It really all started when I found myself as a combat medic in Vietnam and never seemed to have what I needed to care for the wounded when I needed it. I never got over that and as I progressed in the healthcare supply chain field my first priority has always been to ensure the caregivers have what they need when they need it to care for their patients.
For what one contribution would you like to be most remembered?
The development of a true IDN supply model that is fully integrated for the best possible value to our health systems.
If you were to encourage people – either outside of healthcare or just out of school – to enter healthcare supply chain management and strive to be a future Bellwether League Inc. Honoree, what would you tell them?
Do not stop educating yourself with a focus on the skills you will need to be a leader in healthcare supply chain: Negotiations, public speaking, financial analysis, use of automation, system design, team building, leadership, etc.
What is the one industry challenge you would like to see solved in your lifetime?
The acceptance of centralized supply chain for IDNs as a value in controlling healthcare costs.
How important is effective and innovative supply chain management during tough economic times?
Extremely important. The more we can reengineer the healthcare supply chain model to achieve more efficiencies the financially stronger our health systems will be. This effort must include these parties: The providers, the supply chain team and the manufacturers.
In two sentences or less, what defines healthcare supply chain leadership?
Healthcare supply chain leadership starts with a vision that is developed and accepted by all participants – from Board Members, senior leadership, caregivers and department heads. This is followed by the ability to implement a plan that receives buy-in for all partners and is achieved in an acceptable period of time.