Dudley Sisak
Vice President, Operations, and General Manager, Claflin Co.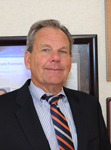 Healthcare/Supply Chain Management Experience:
Dudley Sisak has 33 years in the healthcare supply chain working for hospitals, integrated delivery networks, a group purchasing organization, and finally as General Manager of a major regional distributor. He has been at Claflin since 2000, at Health Services of New England (HSNE) for two years prior with the balance split between Women and Infants Hospital, Care New England, Charlton Memorial Hospital and Southcoast Hospital Group. 
Hall of Fame-worthy accomplishments:
Sisak implemented the nation's first stockless/just-in-time distribution program at Women and Infants Hospital, a top 5 among the nation's maternity and women's health facilities in 1986.
Sisak converted Charlton Memorial to JIT/Stockless, converting the former storeroom into a revenue-generating cardiac rehab facility.
Working with a local GPO, a VHA affiliate group, he helped materials managers throughout the region with JIT applications and a variety of other supply chain issues.
At Claflin, Sisak helped rescue a failed warehouse management system implementation, eventually replacing it with a unique hybrid system believed to be the first in the industry to successfully integrate voice-activated picking and put-away functions.
Sisak was responsible for maintaining Claflin as the industry's first and only ISO 9000-certified distributor. ISO registration is the global standard of quality in process control. Certification requires ongoing audits by both internal and external teams. 
Industry impact:
The impact of JIT inventory management techniques (e.g., stockless/low-unit-of-measure, etc.) in the healthcare supply chain has literally revolutionized the industry. In the northeast region it is estimated that two-thirds of hospital supply volume is covered by a variety of custom JIT programs from all major distributors. Sisak was an early champion of JIT within hospitals and has done more to develop the system as a best practice than perhaps anyone on the provider side of the industry. 
Sisak maintained a diverse career experience. He has held leadership Supply Chain positions in hospitals, IDNs and GPOs before bringing his career to a close at Claflin, a leading independent medical/surgical distributor and logistics services firm in the Northeast.
Sisak started his career in healthcare in 1984 as a Purchasing Manager at Women and Infants Hospital in Providence, RI. His duties quickly expanded as the hospital decided to move to an entirely new facility to be constructed across town on the campus of Rhode Island Hospital. Due to design constraints (e.g., the site could not accommodate a loading dock) and anticipated shared support with RIH, the new Women and Infants was designed with no physical facilities for storage of supplies, but was connected by a lengthy tunnel to the RIH receiving area. Construction however, commenced before a shared service contract with RIH had been negotiated. Those talks ultimately terminated without an agreement beyond rental of dock space at RIH, and Sisak became part of a cross functional team at W&I assigned with devising a solution to the hospital's unique supply dilemma.
Sisak's leadership in that group soon emerged as he promoted the idea that elements of JIT inventory management, already common in the auto industry, could be applied to the hospital. Working with his team, outside consultants and Claflin, located just eight miles from the site, a unique and innovative plan began to take shape. The original design centered on bar-coded supply exchange carts that could be scanned at the hospital and picked up by Claflin each evening for replacement with replenished carts. Every step in the process, which included an audit trail that could be verified by hospital auditors, was meticulously planned under what became an increasingly shrinking time line. The "new" Women and Infants Hospital opened in 1986 as perhaps the first truly "stockless" hospital in the country, and a precursor of a trend today recognized as a best practice in the industry. Various forms of JIT and its derivatives are practiced in an estimated two-thirds of acute care facilities in the Northeast, and many others nationally.
Sisak remained at Women and Infants after it became part of what is now the four-hospital IDN known as Care New England. He continued to refine the JIT program, soon recognizing that the practice of moving around nearly empty exchange carts was inefficient and replacing that process with bins used to refill fixed storage areas on the hospital's units. The program was recognized for its cost effectiveness and variations of it became standard practice in all of Care New England's facilities. 
It was at about that time that Sisak was recruited by Charlton Memorial Hospital in nearby Fall River, MA.  Charlton had acquired a former school building on its campus to house its materials management functions amid vigorous growth. Sisak soon recognized that the school gymnasium that now housed his hospital storeroom might be repurposed as a cardiac rehab facility in support of the hospitals emerging cardiac program, converting an expense into revenue generating clinical space. The hospital embraced the plan. Working with Claflin, Sisak soon converted the hospital to JIT/stockless materials management. He then instituted the hospital's first certification program for Central Sterile technicians and completely revised the case cart system. The cardiac rehab program is still in profitable operation there, but Charlton was later taken over by what was to become Southcoast Hospital Group, a three-hospital network.  After engaging the consulting firm FTI, the IDN recognized that the JIT technique at Charlton was clearly a best practice and has since converted its other two hospitals to the program.
By this time the local GPO, Healthcare Services of New England, which became a VHA sub-group, had enticed Sisak to embrace yet another challenge. Recognizing his skill in a more collaborative way of contracting with vendors, HSNE enthusiastically promoted Sisak's services to their members throughout the region where he advised on a wide array of supply Chain innovations – from standardization to value analysis and national contracting.
But in 2000 Claflin was struggling with the implementation of its first automated warehouse management system. Amidst the chaos that such a system change can induce, Claflin management reached out to Sisak after its Operations Managers abruptly resigned. Sisak quickly stepped in, and while the new system never became operational, he steered the company's fulfillment back to normal operation and the search for alternative routes to improvement. Seeing the JIT process from the other end for the first time, he quickly recognized several significant operational efficiencies. Under his guidance the company constructed a huge conveyor system for the JIT bins fed by flow racks on both sides. Order selectors are instructed by a voice-activated system integrated with the new warehouse management system with an overlapping barcode-scanning verification process unique to the industry. The innovation resulted in a significant cost decrease to the LUM procedure overcoming some market resistance to conversion and gaining what has been a sustainable competitive advantage for Claflin.
Sisak started his transition toward retirement in 2016, having left a distinctive and indelible mark on our industry. 
Commitment to ethical standards, honesty and integrity:
Sisak maintains unwavering probity and ethics in all aspects of his business and personal life. In addition to his professional acumen, Sisak is a dedicated environmentalist. While at Claflin, he developed unique programs to eliminate corrugated cardboard from client hospital settings through centralized recycling by the company. He also pioneered a program with hospital in Rhode Island to recycle blue wrap for which the company has been recognized as a leader in sustainability by Lifespan, a local IDN and academic medical center.
Commitment to mentoring, education, and/or advocacy:
Sisak's efforts in this area have been largely within the organizations where he has served with the exception of several published articles on Stockless Materials Management and his work at Healthcare Services of New England, a regional GPO where he assisted numerous member hospitals with supply chain challenges of every description. At Claflin he has developed a number of key operations managers and has actively participated in the company's succession plan to assure continuity of service to our healthcare provider clients.
Demonstrations of innovation and leadership:
Sisak has been a Chief Supply Chain executive in two hospitals, and the head of operations for a 300-employee distributor. He has worked closely with Claflin staff and its customers to align incentives in the supply chain and develop unique programs to fit each customer's individual needs. His comprehensive understanding of the supply chain at both ends allowed him to quickly devise practical and efficient solutions that often expanded customer expectations through a better understanding of the entire supply chain of which they were a part. He has done the same with many manufacturer vendors of Claflin, helping them to rationalize their production and service efforts by synchronizing them with customer demand. His efforts have been central to reducing less-than-truckload shipments, considered the least efficient form of transport, between Claflin and a broad array of suppliers. He has also been loaned as a consultant by Claflin to Nashville-based NDC Inc., the industry's only major master distributor and channel utility. 
Perhaps most importantly, Sisak is a dedicated family man who, together with his wife and life-long friend Lee, has successfully raised two children to adulthood and productive careers.
Degree of professional influence:
Sisak's contribution to the industry measures up to the proud standard of the elite group now in the Hall and to be inducted in the future. He is not a particularly extroverted individual, but it would be a shame if his lack of a high public profile within the industry were to keep his many accomplishments from appropriate recognition.
Application of Hall of Fame-level of knowledge and experience:
Throughout his career, Sisak has been acclaimed for his excellence in all aspects of supply chain management. He also introduced the first program for certification of Central Sterile technicians at Charlton Memorial. But it is perhaps the breadth of his experience and expertise that is so remarkable. He has been an asset and mentor not only to traditional healthcare supply chain staff, but across the entire industry, including his roles at a GPO and perhaps most dramatically, a regional distributor where he influenced not only operations, but sales, marketing, and vendor relations as well. 
In His Own Words…
What are your impressions about Bellwether League Inc.'s mission and philosophy, and how do you feel about becoming an Honoree?
Growing up, I only knew nurses and doctors who worked in healthcare, but after all the years in this occupation I realize how dependent clinicians can be on an efficient, cost-conscious and effective supply chain, which is why it is important that Bellwether League recognizes the contributions made by these people.
What attracted and motivated you to get involved in the healthcare supply chain management field when you did?
I was approached by a Vice President of Human Resources for a local hospital when I was doing some graduate work who suggested an interview for a position in finance.  Although I was not a fit for the finance role, the manager referred me to the materials manager, who hired me to troubleshoot his operations. I really like "fixing," so this was an ideal start and piqued my interest in healthcare operations.
For what one contribution would you like to be most remembered?
Maturing the supply chain through application of LUM/JIT and reducing the emphasis on perpetual asset management.
If you were to encourage someone – either outside of healthcare or just out of school – to enter healthcare supply chain management and strive to be a future Bellwether League Honoree, what would you tell him or her?
Let objective data be your base for all decisions and understand the historic standards may not be challenged in the new healthcare environment.
What is the one industry challenge you would like to see solved during your lifetime?
Detailed measurement for cost-in-use versus simple purchase price.