Craig Smith
Chairman, Owens & Minor Inc.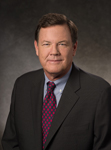 Healthcare/Supply Chain Management Experience:
Craig Smith has spent his entire 40+ year career in healthcare, particularly in various supply chain executive, sales and operations roles. Early in his career, he worked for Johnson & Johnson, then as the Los Angeles Division Operations Manager for National Healthcare, a company acquired by Owens & Minor in 1989.
He assumed ever-increasing responsibility at O&M, beginning as Los Angeles Division Vice President of Operations, then Group Vice President, Western Region; Senior Vice President, Distribution and Information Systems; Executive Vice President; Executive Vice President and COO; CEO, and then Chairman of the Board.
Hall of Fame-worthy accomplishments:
It's been said to never follow a legend. Yet Smith followed an industry legend (Gil Minor III, Bellwether Class of 2010), and led a critical transformation of Owens & Minor while maintaining the company culture and high regard enjoyed by O&M throughout the industry.
When Smith assumed the CEO role at O&M in 2005, the company was positioned as the No. 2 or No. 3 distributor in the U.S. acute care distribution space, depending on the source. It also enjoyed a well-deserved reputation for its teammate-focused culture – a culture painstakingly implemented under Minor's leadership that, by example, had the company's senior officers visiting each of the 30+ distribution centers bi-annually – walking through the warehouse first, not the administrative offices – and teammates feeling no reservation about picking up the phone to Smith's or Minor's office to point out how the Home Office was getting in their way.
Smith's mandate from the Board back in 2005 was to protect the culture at all costs and prepare the 114-year old company at the time to succeed for the next 100 years.
For the next eight years, Smith did just that. Recognizing that O&M couldn't survive another 20 years, let alone 100, as a domestic-only acute care medical/surgical supply distributor, Smith set, then executed a vision ("Connecting the World of Medical Products to the Point-of-Care") to transform O&M into a global logistics provider across the healthcare delivery spectrum. Among the more significant moves Smith executed:
Acquiring leading competitor McKesson Corp.'s acute care distribution business. This firmly established O&M as the largest market share med/surg distributor in the US.
Launching OM Logistics, a "greenfield" healthcare-only third-party logistics (3PL) company, positioning O&M to manage "direct" medical devices and life sciences products (including temperature controlled and highly-regulated products).
Acquiring and integrating Movianto, a leading European Union-based 3PL, with significant strengths in cold-chain medical device and pharmaceutical logistics. With this move, O&M finally breeched its primarily domestic-only positioning, and became a global company.
Acquiring and integrating, almost simultaneously, Avid Medical (U.S.-based) and ArcRoyal (Ireland-based), kiting companies. These moves were strategically positioned to both lessen O&M's reliance on fee-based distribution revenues, as well as enhance service offering to manufacturers. Since Smith took over as CEO, the revenue mix from providers versus manufacturers has shifted from mostly providers to nearly equal.
Founding MiraMEDsource to deliver world-class sourcing services to a wide range of healthcare partners while enabling them to manage overall cost of delivering care. Based in Shanghai, China, and Penang, Malaysia, Mira MEDsource has developed a strategic sourcing network which covers China and the overall Asia Pacific region.
Through technology development internally and acquisition (e.g., QSight), re-tooling operations to enable products owned by manufacturers, provider and O&M to co-exist within the same bin in a warehouse. Such separation of product ownership from labor operations has enabled the shift from fee-based to value- or activity-based arrangements with manufacturers and providers.
Industry impact:
Under Smith's leadership (as CEO and COO), O&M grew from a $3+billion U.S.-only acute care med/surg distributor to a $9-billion global healthcare logistics provider. It also increased its market share of the acute care business to 45 percent from about 30 percent. Further, Gartner recognized O&M as one of its top five supply chains in healthcare every year it conducted its survey while Smith was CEO – a feat that only one other company achieved during that time.
More importantly, Smith's commitment to retaining the company values and culture amid this transformation was a benefit to the company's teammates, its provider customers and its manufacturing partners. To the providers and manufacturers, it was important that O&M retain its "independent," brand-friendly role, providing an alternative to O&M's primary competitors (Cardinal and Medline), which had co-mingled its sourcing and manufacturing business (and, subsequently, "favoring" its own-labeled products). Smith pursued this strategy, even at the cost of disadvantaging the company in competitive pricing situations. The market spoke, with many saying they preferred brands and choice, and O&M maintaining its market share under Smith's leadership.
Commitment to ethical standards, honesty and integrity:
Whether it remains his commitment to teammates, to the company culture or to customer and partner relationships, Smith has always lived up to the highest personal and professional standards.
Commitment to mentoring, education, and/or advocacy:
Smith serves on the University of Southern California's (USC) Board of Leaders and previously served on the University of Richmond's Robins School of Business Executive Advisory Council. He was an early supporter of Arizona State University's Health Sector Research Consortium.
Smith was an active leader, contributor and supporter of O&M's Owens & Minor University, including serving as its Dean of Leadership. In addition to leading educational efforts for O&M teammates and sponsoring its career pathway educational programming, Craig enabled OMU's expansion to deliver its educational programming to customer groups. For example, under Craig's leadership the Department of Defense brought several classes of its logistics officers for week-long training programs at OMU.
Demonstrations of innovation and leadership:
Smith has served as a governor's appointee to the Board of Directors of the Virginia Biotechnology Research Partnership Authority and as a member of the Board of Directors of the CrossOver Ministry of Richmond, which provides healthcare services to those in need. He also served as Chairman of the successful 2009 Central Virginia United Way Campaign.
Application of Hall of Fame-level of knowledge and experience:
Through Smith's long and successful career, he excelled in first supply chain sales and then operations roles. Then, he stepped into the executive suite and proved his ability to build strong, effective and long-lasting partnerships with key supply chain customers and suppliers.
In His Own Words…
What are your impressions about Bellwether League Inc.'s mission and philosophy, and how do you feel about becoming an Honoree?
As I look back on past honorees, I am very humbled and proud to be selected for the 2017 Class of Inductees. The fact that Bellwether League has shined a light in the area that is often taken for granted can only help elevate healthcare supply chain to a new level.
What attracted and motivated you to get involved in the healthcare supply chain management field when you did?
When I started there really wasn't much of a healthcare supply chain (1976). As supply chain evolved and elevated within organizations, I became really excited about being a part of something that could improve patient welfare.
For what one contribution would you like to be most remembered?
Owens & Minor University (OMU), which helped Owens & Minor teammates and our armed forces (healthcare) and providers. It also helped diversity suppliers succeed in healthcare.
If you were to encourage someone – either outside of healthcare or just out of school – to enter healthcare supply chain management and strive to be a future Bellwether League Honoree, what would you tell him or her?
Learn to be cross functional in your approach to your job and how you approach those you are helping. Have an open mind to learn new ways to approach the healthcare industry. Understand how you directly impact improving the supply chain.
What is the one industry challenge you would like to see solved during your lifetime?
Collaboration (total transparency of the healthcare supply chain) between all stakeholders to improve productivity, efficiency and patient welfare.
Why should healthcare organizations – providers, suppliers and payers – elevate supply chain management's relevance and importance to clinical, financial and operational success?
There are bigger opportunities if you look at the whole picture of supply chain management than looking at smaller pieces. It's beneficial to everyone to work on the bigger challenge which then becomes the bigger opportunity.
In two sentences or less, what defines healthcare supply chain leadership?
Healthcare supply chain leadership are individuals who look or respond to the greater good of the patient/provider, unselfishly putting delivery of healthcare first.
If you traveled back in time to when you just started in healthcare what would you tell yourself?
Always focus on the welfare of the patient first and everything else will take care of itself.