Larry P. Smith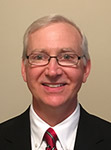 Supply Chain Saves the World. In fact, O'Marah was instrumental in SCM World's ability to develop a working relationship with the Bill and Melinda Gates Foundation focused on supply chain's role in improving global health. He is the primary architect of the vision of supply chain as the central piece in society's ability to improve healthcare access across the globe.
O'Marah created SCM World's learning engine, which was the mechanism for shared supply chain learning across SCM World's 20,000 supply chain practitioner community, many of them from the healthcare industries.
Focus on mentoring, education, and/or advocacy to advance other supply chain professionals and executives, and the profession as a whole:
O'Marah is the consummate mentor who makes all those around him better and smarter – better thinkers, smarter workers. He is able to crystalize issues his mentees may be having, cut through their cluttered thinking and moments of uncertainty, and deliver the exact motivation and insight they need to progress. He inspires creativity.
Few can be considered a stronger advocate for the profession of supply chain than O'Marah. He has turned individuals with no experience or understanding of supply chain into passionate advocates for the future of the profession and the central strategic role it plays in both healthcare and society at large. He gained immense credibility with the heads of global supply chains from many of the world's foremost companies, including Procter and Gamble, Unilever, Merck, Caterpillar, Pfizer, Raytheon, Nike and Johnson & Johnson.  These executives looked at him as a trusted strategic adviser who could help them improve their own performance as well as that of their teams.
O'Marah is a passionate believer in the role that academic institutions play in developing the profession of supply chain. He was a senior research fellow at Stanford's Global Supply Chain Management Forum and sits on a number of university boards, including the University of Tennessee and the University of Wisconsin.  Additionally, O'Marah created the original methodology for Gartner Research's supply chain university ranking report still in use today.
There is no greater presenter or emcee on supply chain trends and visionary thought than Kevin O'Marah. Over the course of his career, he has done hundreds of presentations at industry forums and company strategy sessions.  His weekly column reached thousands of supply chain professionals.    
Demonstrations of leadership:
O'Marah built his reputation in strategic advisory service organizations like AMR Research, Gartner Research and SCM World. In each of these organizations, he supported the development of a new crop of leaders, such as Hussain Mooraj and Wayne McDonnell, so they could positively impact the industry. O'Marah understands the difference between authority and leadership – he never needed to own all his thought leadership, but shared his insight with others, particularly in healthcare, so they could spread the message on the role of supply chain to improve the delivery of healthcare. He was the first to help others begin to translate demand driven principles to the healthcare industry.
Innovation in practice:
Kevin's roster of innovations is profound.  These include the following:
Supply Chain Top 25 – Gartner
Supply Chain Executive Conference – Gartner
Healthcare Supply Chain Top 25 – Gartner
Supply Chain University Rankings – Gartner
Power of the Profession Awards/Supply Chain Oscars – SCM World/Gartner
The Matrix research – The matrix is a digital supply chain framework O'Marah developed that has been adapted in organizations such as Kimberly-Clark and the Mayo Clinic.
Managing professional relationships and services:
O'Marah represents the ideal facilitator for groups of professionals who come from different industries and backgrounds. He co-chaired the SCM World Executive Advisory Board of 16 C-Level supply chain executives, including Merck and Biogen, which set the community and content direction for SCM World.
For the past 2 years, he's been facilitating a working group of Chief Operating Officers from the world's largest apparel manufacturers focused on establishing standards for workers and future investment strategies of the industry.  
Commitment to ethical and moral standards and integrity:
O'Marah is regarded as one of the most emotionally intelligent leaders in supply chain today.  That intelligence is built off of his integrity and his ethics. He listens first above all else. His work with global health institutions, as well as ethical standards groups within the apparel industry, reflect his commitment to social justice and human well-being. 
O'Marah is never boastful, never arrogant, and always respectful.
IN HIS OWN WORDS…
What are your impressions about Bellwether League Inc.'s mission and philosophy, and how do you feel about becoming an Honoree?
I am honored to be included with the 2019 group of Bellwether inductees because I appreciate the power of a big mission as the driving force behind supply chain management's natural gift for continuous improvement. To me, the most exciting thing about what Bellwether League brings to the world of healthcare is a willingness to look beyond the horizon and step up to truly ambitious goals for the sector. Done right, the application of supply chain thinking to healthcare promises huge gains for all without waiting for miracles – just applying the right mindset and energy.
What attracted and motivated you to get involved in the healthcare supply chain management field when you did?
In 2006 when AMR Research published "Supply Chain Saves the World" and hosted former President Bill Clinton as our keynote for the Supply Chain Executive Conference I started to analyze the impact of supply chain management technology and tactics in healthcare. What was clear from this early look was the huge potential gains in efficiency and efficacy that better supply chain principles might bring to healthcare. The key insight was to apply the demand-driven philosophy common to consumer and industrial sectors with a twist toward patient-centric thinking in healthcare. We have a long way to go, but are on the road now.
For what one contribution would you like to be most remembered?
I have dedicated my life to elevating the supply chain profession. When I started working, supply chain was a new concept and very few executives thought of themselves as part of a profession. Procurement, logistics and production operations were each separate functions, and often subservient roles to the C-Suite. Connecting these functions and uniting them with such essentials as process engineering and demand-shaping has made supply chain far more coherent and important to business. Many people have contributed to this transformation but I'd like to be remembered for my part in making it happen – creating the Supply Chain Top 25, publishing demand-driven supply chain research, serving on the board of APICS, and contributing to academic research and teaching.
If you were to encourage someone – either outside of healthcare or just out of school – to enter healthcare supply chain management and strive to be a future Bellwether League Honoree, what would you tell him or her?
Healthcare is a vast sector in which supply chain can have a transformative effect, not only on business, but also on society. Medical science and engineering are advancing rapidly and continually, but without supply chain practices in healthcare keeping pace, much of this progress will be slowed or lost. Supply chain in healthcare not only finds the path to lower costs and therefore wider availability, but it also accelerates pure medical learning by allowing research to iterate more frequently and rapidly. Supply chain turbo-charges the advancement of medicine.
What is the one industry challenge you would like to see solved during your lifetime?
Patient/payer/provider confusion. Supply chain principles work easily in consumer and industrial sectors because the payer is also the customer. Demand signals are clean and responses to those signals quick to pay off. Healthcare suffers from a terribly garbled demand signal. This makes such basic supply chain principles as demand forecasting, inventory optimization and lean operations very difficult to implement. Getting to the point where money flows follow patient outcomes – the healthcare equivalent of Proctor & Gamble's "moments of truth" at the retail shelf and in use at home – would unleash huge creative power for supply chain leaders in healthcare.
What do you feel are some of the things that the healthcare supply chain does that's right – for the patient, for the organization and for the profession … and why?
I think supply chain professionals in healthcare are especially good at sharing best practices and learning across organizations. The dedication to patient outcomes is a stronger force in healthcare than its equivalent (customer satisfaction) in consumer sectors. This dedication may be the most important force for change in the sector.
In two sentences or less, what defines healthcare supply chain leadership?
Healthcare supply chain leadership is the ability and commitment to see that the application of engineering, financial and information technology tools common to supply chains elsewhere can also work here. It is also about the courage to look beyond the way things are (i.e., the current payer system) to see what could be.
If you traveled back in time to when you started in healthcare what would you tell yourself?
I'd say be patient, but persistent.