Donald G. Soth (1920-1997)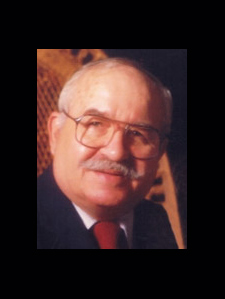 Don Soth could be described as both pragmatist and a visionary. In his many years with the former American Sterilizer Company (before it was ever nicknamed AMSCO), he worked as a planner in AMSCO's Systems (planning) Division. 
Unless you are collecting social security or will soon be of that age, you may not realize that AMSCO's Systems Division did groundbreaking work in healthcare logistics and materials handling. Don and his associates researched and introduced the Amscar, an early wire-controlled automated guided vehicle system, and a companion pneumatic tube system manufactured by an AMSCO subsidiary ATC (San Rafael, CA). As an innovator in the early 1970s Don often worked with another healthcare system pioneer, Gordon Friesen (Bellwether Class of 2009). The firm of Friesen International teamed with the Systems Division of AMSCO to develop many devices and features for hospitals world-wide. This collaboration included the fully integrated materials system that linked the movement of bulk materials and carts via AGVS and smaller unit items, including supplies, drugs, X-rays and medical records. AMSCO even private-labeled automated cart lifts that moved the AGVS' vertically to destinations throughout any hospital. Since Friesen was a forerunner of system automation, many devices did not exist. So then Don and his associates set out to invent or improve and to manufacture devices such as:
The automated loading and unloading washer sterilizer
2-inch mini pneumatic tubes to transmit physicians' orders directly from the patient room to a central nurse station (way before PDAs, WOWs or fax machines)
Floor-traveling AGVS (vs. the overhead Rapistan monorail system found in dozens of early Friesen inspired hospitals world-wide)
In-floor tow system for loading and unloading automated cart washers
New material handling and processing technologies caused havoc with hospital planners and architects. Some of the only resources available to a materials manager when planning a new hospital were Health and Human Services guidelines that specified "40 square feet per bed for supply storage." Don Soth saw this as a further opportunity to provide a valuable service for the relatively young field of hospital material managers. Before "evidence-based design" was a an everyday phrase, Don set out to measure, document and benchmark the various material management areas in Friesen-designed hospitals, and in other contemporary hospitals, including Department of Defense and Veterans Administration medical centers.
Don did detailed work on the intricacies of Central Sterile departments as this was a natural planning tool for AMSCO to offer its clients. He went on to document and provide space planning standards for everything from CS/SPD, to loading docks and storerooms, to in-house laundries. Don's work was invaluable to the average materials manager who was faced with providing input for "new systems" during the rapid expansion of our hospitals in the 1970s and early 1980s. 
Don Soth published numerous articles that appeared in the material managers' bible, Materials Management Quarterly, published by Aspen Systems, and contributed to several feature articles in Dan Mayworm's Journal of Supply Processing and Distribution. Both of these publications, and Don's contributions, helped may material managers take on planning assignments with facts and experience, that no other individual at the time possessed, other than Donald G. Soth.
Soth also was instrumental in developing and growing the Health Care Materials Management Society (HCMMS) as a speaker and an advisor.