Mary A. Starr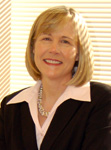 Status: Active
Career span: 36 years
Current title: Vice President, Customer Care, Marketing and Communications, Greenhealth Exchange
Innovative, leading-edge, pioneering accomplishments befitting a Hall of Fame career:
Innovation/Leadership No. 1 – Focus on the O.R.
Mary Starr was a pioneer in recognizing the role that supply chain (should) play(s) in the operating room. Starr authored the book, "Materials Management in the Operating Room," which was published in 1993 by the American Society of Healthcare Materials Management (ASHMM) and the American Hospital Association (AHA). (ISBN 0-87258-644-8; AHA catalog number 142901; © 1993.)
Some of the chapters Starr covered in the book remain instructive (and still a big problem) in many O.R.s around the country. At the time this book was published, most hospitals in the U. S. largely failed to recognize the costs associated with supplies in the operating room – or if they did those costs often went ignored. What follows are a few examples of the ideas Starr put forward in her book:
Chapter 1: "Operating Room Inventory Value by Hospital"
Chapter 2: "Assessing Materials Management in the Operating Room"
Chapter 4: "Reducing Inventory by Managing Procurement Methods"
Chapter 5: "Using an Information System for Inventory Management"
Chapter 8: "Operating Room Inventory Control Coordinator"
Chapter 8 is especially interesting and noteworthy because Starr's suggestion of a dedicated inventory control coordinator has now evolved to O.R. Supply Chain Manager positions. Today, it seems as if everyone looks to technology to solve their problems: Back in 1993 Starr suggested that more up-close attention was needed (manually or technology-wise) to bring change and save money in the operating room. It is now common not only to have an inventory control coordinator, as Starr suggested – but often a full-time supply chain professional dedicated to managing purchasing and inventory in the O.R. Starr demonstrated foresight in the need for this position. 
Innovation/Leadership No. 2 – Supply Chain Benchmarking
Starr played a key role and worked closely with Ned Gerber (Bellwether Class of 2010) from Coopers & Lybrand and AHRMM to develop and routinely coordinate and report on the original materials management performance indicators – what were probably one of the first, if not the first, benchmarks for healthcare supply chain. This particular initiative dates back to the late 1980s.  These also were some of the most important benchmarks for reviewing a hospital's supply chain performance at the time. People still ask for the benchmarks that Gerber and Starr developed – and maintained for a number of years.  This was pioneering work that today's market misses. 
Innovation/Leadership No. 3 – Growing the Non-Acute Care Market in Supply Chain/GPO
During her successful tenure at Consorta and later at HealthTrust, Starr took a small non-acute purchasing program and successfully built it. When Consorta merged with HealthTrust, executives at the acquiring company chose to retain it because the market was moving in this direction. By the time Starr left HealthTrust for her current position at Greenhealth Exchange, HealthTrust's non-acute care program was growing in number, popularity and strength as well as in profitability. Starr's leadership drove large portions of growth, especially in the following areas:
Starr rebuilt the program's strategy, and began seeking innovative targets for group purchasing that could add significant volume. One example is the National Assembly, which counts more than 75 large not-for profits as members. Examples include the American Red Cross, Girls and Boys Clubs of America, The American Heart Association and others. Although this program grew slowly at first, it is now a solidly performing HealthTrust program. 
As the membership base grew in the non-acute program, Starr conducted the market research and documented the demand for products that were outside the typical healthcare GPO contract portfolio and achieved success by recruiting the HealthTrust contracting staff to prioritize contracts in these areas. It wasn't until Starr's program began pursuing these opportunities that you saw the other national GPOs:

Expand their services beyond healthcare;
Expand contract content beyond a tight focus on what is used in the hospital setting; and
Recognize the role that GPOs could play across industries. 
Starr's results include:
Assessed market, and developed strategic direction to drive 2013 contract volume growth of 23 percent over the prior year.
Developed budget and managed profitability to provide 64 percent margin in 2013.
Starr has considerable experience and accomplishment across a number of facets of the healthcare supply chain. 
A review of the Figures in the book shows sample reports and other analytical tools that were not widely in use before Starr brought them to the fore. She was very forward-thinking in her approach in what we now call OR Supply Chain Management, and some of the figures in the book illustrate graphics taken for granted today – but back then were probably manually created and generated. For example, one figure (Figure 18) in the book is titled, "Sample Hospital Surgery Inventory – Case Mix/Product Line Analysis." Back in 1993, few supply chain executives were thinking in terms of this analysis.  Today, Supply Chain executives all recognize that O.R. inventories and supply chain management are an issue. 
In addition to her book, Starr has numerous articles in supply chain-related publications, including Healthcare Purchasing News, Materials Management in Healthcare, Repertoire, Nursing Homes Magazine, "Hospital Materials Management (HMM)" and "MedMarket Newsletter," which is published by the Canadian Consulate.
Beyond these specific achievements, Starr has always been available to speak, teach, mentor, advise and work with professionals within and along the healthcare supply chain. In fact, she has a very diverse and rich background that she continues to use in her work, today. 
Through Starr's consulting work, her book, and her work within healthcare providers, she has brought tens of millions of dollars forward in achievable supply chain savings, much of which has come from non-price solutions. Most supply chain executives today continue to focus on price. Relentlessly beating their GPOs, suppliers and service contractors is how many supply chain savings continue to be reported. 
Starr's approach is, and historically been, much different: She advocates looking at the inventory, supply chain processes and other factors that go into determining the cost of products, and identifying and implementing process changes that drive value and cost savings.
Focus on mentoring, education, and/or advocacy to advance other supply chain professionals and executives, and the profession as a whole:
In her current role Starr educates Supply Chain executives about the chemical composition of products, and why they are hazardous to patients, families and visitors – and not sustainable. Starr always seems to be teaching, training, educating and mentoring in her own quiet way. People respect her knowledge, and she shares it readily. 
What's noteworthy is that when Starr began her supply chain career the industry was predominantly male-oriented. But Starr didn't find that to be an impediment or even a challenge. From the beginning of her work, she was able to overcome this through the ideas she had, the knowledge she was willing to share, and the credibility that she brought. It's a quality that continues to bring to her work today.
During her employment at Coopers & Lybrand, Starr concentrated on implementing change with her clients, something healthcare organizations continue to struggle with today. She does that with her current clients at Greenhealth Exchange. Her persistence with implementation has proven successful, making her background and knowledge that much more valuable to her teammates, customers and others. 
Starr consistently has demonstrated and still demonstrates to many of her employers that she is an implementer and "implementor," as well, which helps clinicians become better healthcare executives – or at least maintain an understanding of healthcare business principles, strategies and tactics.
Hallmarks of leadership:
Starr has contributed hundreds, if not thousands, of hours of her time with the following organizations:
AHRMM; as a board member, President, (1999) and involved year-after-year in educational initiatives for the organization. In addition, the current "mentoring" program that is in use was Starr's idea. This program brings together experienced supply chain executives with people in earlier stages of their career, and is an excellent example of Starr's willingness to mentor and share her knowledge with others. 
Bellwether League; as a board member (2011-2016) and treasurer (2012-2016).
Innovation in practice:
First, or one of the first to recognize the need to focus on management of inventory and purchasing in the operating room;
Collaborated, developed, built and ran a highly successful supply chain benchmarking program that had and has not been equaled;
Early pioneer and developer of effective group purchasing in the non-acute healthcare sector – and other not-for-profit sectors, generating millions of dollars in savings for members, and significant revenue for her employers at that time, which were Consorta and HealthTrust.
Managing professional relationships and services:
Starr is a consummate supply chain professional, and leader in the industry.
At Coopers & Lybrand, she was held to extraordinarily high standards: Both from the firm, as well as by Br. Ned Gerber, her immediate supervisor.
To be successful at Coopers & Lybrand, Starr had to develop ideas – some of which were her own, and some of which were in concert with Gerber. Nonetheless, she developed her own set of clients, and remains widely known – and respected along the hospital supply chain; 
Starr continues to demonstrate her ability to manage professional relationships and services with clients/customers outside of his or her department/designated/direct area(s), (including hospitals, consulting firms, suppliers, GPOs, etc.), and/or in other industries, charitable organizations, voluntary or professional organizations. At Greenhealth Exchange she demonstrates the ability to work with, and present to physicians and C-Suite executives at some of the nation's leading medical centers and integrated delivery networks.
Commitment to ethical and moral standards and integrity:
Starr sets a very high standard for unquestionable ethics, moral standards and integrity that is getting harder to find in the field today. She is built this way, but she also learned from the reputable Br. Ned Gerber, one of the leading supply chain consultants in the industry, and a man with true moral character.
IN HER OWN WORDS…
What are your impressions about Bellwether League Inc.'s mission and philosophy, and how do you feel about becoming an Honoree?
Bellwether League recognizes the best of the best in healthcare supply chain. I am incredibly honored and immensely appreciate the recognition.
What attracted and motivated you to get involved in the healthcare supply chain management field when you did?
Working in supply chain offers an ever-changing landscape and opportunities to see the results of your efforts to improve something in real time. The work is somewhat removed from the day-to-day patient care, but working with clinicians consistently reminds you that someone's loved one is at the end of our work. I appreciate working with customers up and down the supply chain that bring different perspectives and priorities to our work, and find the work to be engaging and challenging so that we are routinely learning and innovating.
For what one contribution would you like to be most remembered?
I think the personal side of the business would be most important to me. I want to be remembered as someone that others not only respected for my knowledge and work ethic, but also for being warm, humorous and empathetic.
If you were to encourage someone – either outside of healthcare or just out of school – to enter healthcare supply chain management and strive to be a future Bellwether League Honoree, what would you tell him or her?
It's an ever-changing career that makes good use of all of your knowledge. You work with passionate people that believe we can make a difference in the healthcare industry, and although our efforts aren't always recognized at the level of those dealing directly with the patient, it is critical to the process nonetheless.
What is the one industry challenge you would like to see solved during your lifetime?
When product identification is really standardized, I believe the healthcare supply chain professionals will be able to capitalize on data analytics and begin to develop operations that are just as sophisticated and streamlined as other industries.
What do you feel are some of the things that the healthcare supply chain does that's right – for the patient, for the organization and for the profession… and why?
The industry leaders that I've been lucky enough to work with have been able to prioritize their work based on their organizations strategy – which includes patient care, community benefits and financial measurements. They are also tenacious about finding areas of improvement and moving those forward. That can be difficult in some organizations if supply chain is not considered a major contributor. But these leaders are relentless in their efforts and eventually their results provide an understanding of the impact supply chain can have in realizing the organization's goals.
In two sentences or less, what defines healthcare supply chain leadership?
A relentless approach to improving healthcare costs and quality through the involvement of diverse stakeholders working towards common goals.
If you traveled back in time to when you started in healthcare what would you tell yourself?
Don't sweat the small stuff and enjoy the relationships you create throughout your career.