James E. Stover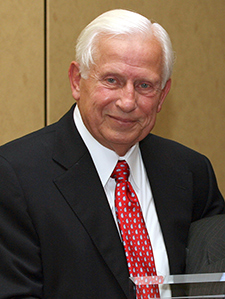 Below is an excerpt from an article written about Jim Stover at the time of his retirement in 2005 inRepertoire Magazine:
"Jim Stover's is a story of learning, traveling and giving back. 
Throughout his career, Stover did whatever it took and traveled wherever necessary to improve his business. If someone was doing something new or better than he was, he'd get in a car, train or plane to visit them and learn more about it. Then he would come home and apply what he had learned to his own business. Not one to let pride get in the way, he would give credit to the original source of his information, and share what he had learned with others. 
Stover absorbed ideas from anyone he could, especially peers at med/surg dealers around the country. It was Rufus Smith of Crocker-Fels in Cincinnati who fanned his interest in computerization; and it was Smith's product numbering system that Stover adopted for use at the Stover Co. Furthermore, he picked up a lot of practical knowledge about bar coding from George Ransdell of Ransdell Surgical, Louisville, Ky. And he always made a point of passing on that knowledge to others."
Jim Stover's career spanned over 40 years in the medical product distribution business starting with his father's company, Stover Medical. Jim was a pioneer of a different sort.  He had a thirst for knowledge and innovation, and was relentless in seeking out anyone doing anything new and innovative in the medical distribution business.  He eagerly adopted the leading edge trends, but also spread that innovation and technology to benefit the entire industry, not just his own organization. While perhaps not the inventor of emerging efficiencies, he was clearly the "Johnny Appleseed" of innovation in helping to spread improvements and efficiencies throughout his industry.
After the family business, Stover Medical, was sold in 1981, he stayed on with the acquirer, Alco Standard until he was asked to be the Executive Director of HIDA in 1982.
In 1993 Jim was asked to become the Executive Director of ABCO, the pioneer distributor buying group, of which he was an active member and leader during his time running Stover Medical. ABCO has transformed into what is today known as NDC, a powerful player in the national medical product distribution industry. Jim retired in 2005, and has been honored and recognized for his lengthy career of leadership and facilitation by many organizations.
In His Own Words
What are your thoughts about the mission and philosophy of Bellwether League Inc. and how do you feel about becoming part of the organization as an honoree and inductee?
I believe the mission and philosophy of the Bellwether League creates an outstanding environment in which to continue the promotion of an educational process that contributes to excellence in the supply chain. The supply chain is best served when everyone recognizes the responsibilities and contributions of all participants. The Bellwether League will continue to play a tremendous role in continuing this process throughout the industry.
It is truly an honor to be recognized by the League and to be included in the company of this years' as well as last years' honorees.
What attracted and motivated you to join the healthcare supply chain management field when you did?
My father started a medical supply distribution business in 1939 and I literally grew up in the business. It has been a lifelong passion of mine from a very young age.
For what one contribution would you like to be most remembered?
The single contribution I would most like to be remembered for was my role in a group effort, in conjunction with the American Hospital Association, that eventually culminated Communications Council ( HIBCC) and known today as the Health Industry Business Communications Council.
If you were to encourage people – either outside of healthcare or just out of school – to enter the supply chain management field and potentially qualify to be a future Bellwether League Inc. honoree, what would you tell them?
Within the medical distribution business there exist countless opportunities for individuals with a variety of skill sets to make a meaningful contribution. In my experience the key to success in supply chain management is no different that the key to success in life in general and my advice and encouragement to those considering a career in the field would be keep an open mind to new ideas, sometimes seemingly out of the box, to reform the industry and behave with integrity in all of your interaction with your business partners.
What is the one industry challenge you would like to see solved in your lifetime?
I would hope to see a more complete integration of all facets of the supply chain from manufacturer to distributors to providers. In today's landscape the technology exists for a more complete integration of all supply chain participants with the end result being increased efficiencies and better quality of care.
How important is effective and innovative supply chain management during tough economic times?
During tough economic times the entire supply chain is pressure tested. Without effective and innovative supply chain management, economic constraints will cause poorly managed supply chains to fail.