Michael A. Switzer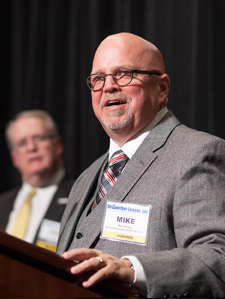 Leading-edge, pioneering accomplishments befitting a Hall of Fame-level career:
Mike Switzer was instrumental in bringing two Malcolm Baldrige Quality Awards to North Mississippi Medical Center (NMMC) and North Mississippi Health Services (NMHS), which remains the only healthcare provider multiple award winner for the Baldrige. Switzer has worked in a variety of integrated delivery networks (IDNs) and multi-hospital organizations for more than 25 years and has designed five different centralized/consolidated service center facilities. He has a history of leveraging technology to streamline supply chain processes, such as developing a function that allowed HCA to merge their disparate numbering systems into one central numbering system corporate-wide. Switzer also has designed and built new state-of-the-art sterile processing facilities. His use of computer systems goes beyond the typical materials management information systems (MMIS) and point-of-use (POU) systems to include warehouse management, instrument management, case carts and build orders (for instrument sets, custom packs, and more).
In fact, CMS plans to publish a white paper about Switzer's best-in-class sterile processing operation. He has improved throughput by full-time equivalent (FTE) by 62.3 percent and reduced immediate sterilization from more than 13,000 in 2007 to just 78 in 2014 for his entire system. He has hosted site visits for both domestic and international supply chain professionals to share his system's best practices. His prior career in biomedical engineering gives him a unique perspective on supply chain and helps him to identify methods to make processes leaner and more efficient.
Innovative thinking that contributed to the advancement of the profession
Switzer designed and built the world's first sealed case cart. This cart included other lean technologies that allowed the surgical staff to find their instruments up to six times faster. He introduced a new type of air quality system called a Johnson Air Rotation System into medical warehousing. This system eliminates air stratification and makes the tops of shelving units up to 10-15 degrees cooler while eliminating roof penetrations and ductwork. The system eliminates dust through filtration, maintains the goods at 69 degrees and keeps the warehouse at the appropriate humidity level. He also introduced a unique heating/cooling system that maintains the beds of his delivery trucks at 70 degrees year round to eliminate problems with condensation for instrument carts and keep items like IV fluid in their proper temperature range (between 55 and 77 degrees).
The opening of the logistics facility increased raw fill rates to 100 percent from 91 percent and decreased picking errors to less than one per FTE from nine per FTE. The state-of-the-art sterile processing facility increased throughput by 62.3 percent, decreased immediate sterilizations to 78 per year from more than 13,000 per year, and eliminated infections due to instrumentation. The implementation of a first expiration-first out (FEFO) system instead of a first in-first out (FIFO) system eliminated the 3 percent waste that had been seen in the warehouse prior to FEFO. He is currently seeking permission to build a new laundry that will be a revenue source generating between $5 million and $6 million per year. Previously, the longest payback on any project was 4.5 years.
Switzer adopted manufacturing methods and standards and applied them to healthcare in areas, such as sterile processing. He saw the potential for cross-contamination due to the single-door technology that is used in 98 percent of healthcare entities. He implemented pass-through technologies that included interlocked doors, airlocks and other innovations. He invented a sealed case cart that allowed for both sterile (going to the hospital) and contaminated (coming from the hospital) goods to be transported in the same cart safely. He traveled to Germany to see how instruments were manufactured and etched and brought back the same technology to laser- etch every instrument used in his operation with a unique 2-D bar code. He also implemented wrist computers with laser ring readers for picking stock rather than using paper. He also helped develop, then tested and implemented the data-merge function at HCA.
Demonstrated ethical standards and integrity:
Switzer has shown commitment to knowledge-sharing by never copyrighting or patenting his innovations. He has always wanted others in healthcare to be able to use his innovations and ideas. His strong ethical standards are evident in his work as a Cubmaster, Scoutmaster and officer in the Coast Guard Auxiliary.
He has been a member of the Kentucky Colonels since the 1990s for his fundraising efforts on behalf of the American Heart Association. He was honored by the Huntsville (AL) Hospital Volunteers for spearheading the effort to gather relief supplies and then leading truck caravans for relief work after Hurricane Katrina.
Hallmarks of leadership:
Switzer leads by example and never asks any of his employees to do something that he wouldn't do himself. He is licensed to operate all of the equipment in the warehouse, laundry and other areas. He celebrates with his people, but also holds them accountable to their key metrics. When given a problem that surgery was having with instrumentation, he formed a team comprising an operating room director, surgical education nurse, facility operations technician, administrative resident and himself. He convinced senior leadership to let him take his team throughout the U.S., Canada, Germany, Switzerland, Austria, France and Denmark to look not only at hospitals, but also at manufacturing. He led his team in eliminating their preconceived notions about how things have been run in the past in order to come up with a new model that was more successful than planned. Additionally, outside of work, he started a Cub Scout pack and Boy Scout troop in Lorain, OH, where neither was in existence.
His supply chain career spans a variety of healthcare organizations.
Senior Buyer, Deaconess Hospital, Cleveland, OH: 1986-1990 (4 years)
Purchasing Manager and Distribution Manager, Summa Health, Akron, OH: 1990-1992 (2 years)
The next 10 years were with the various HCA entities:
Director of Materials Management, East Pointe Hospital, Lehigh Acres, FL: 1992-1994 (2 years)
Market Director of Materials Management for Southwest Regional Medical Center, Gulf Coast Hospital, and East Point Hospital: 1994-1995 (1 year)
Southwest Florida Divisional Director of Material Management: 1995-2000 (5 years)
Tri Star Market Director over Tennessee and Kentucky for HCA in Nashville, TN: 2000-2002 (2 years)
Supply Chain Officer, Huntsville Hospital: 2002-2006 (4 years) Vice President of Supply Chain, North Mississippi Health Services: 2006-present (9 years)
Focus on mentoring:
Switzer has served as a mentor to numerous individuals, including:
T.J. Adams, Service Line Administrator for both Cardiac Services and Surgical Services, NMMC
John Kueven, COO, Memorial Hermann Katy Hospital, Katy, TX
Amy Newman, Regional Vice President, Amerinet Inc.
Professional influence and advocacy:
Switzer's commitment to the supply chain profession is evident in his willingness to share his many process improvements and inventions with his counterparts at both domestic and international health systems. He has also been very active in the supply chain community, participating in regional and national committees and councils. He has consistently been on the forefront of innovation, being one of the first to implement consolidated service centers and one of the first to identify flaws in single-door sterile processing set-ups.
Switzer has been a speaker at both local and national events and has been published both nationally and internationally. His warehouse was featured in the International Journal of Six Sigma and Competitive Advantage as being one of the most advanced in healthcare. He has also been featured in articles in Healthcare Purchasing News and The Journal of Healthcare Contracting and has participated in several supply chain-themed books. He has been a member of the Council of Supply Chain Executives since its inception and is currently on the Spend Management Board and the Strategic Initiatives Boards for MedAssets. He previously served as an IDN Committee member for MedAssets, a member of the Affinity Group for VHA, Board member for the Mississippi chapter of AHRMM, and President-Elect for the Southwest Florida MMAF.
Switzer is one of the few supply chain professionals who has full and complete knowledge and understanding of every aspect of the business. Every aspect of supply chain – including contract negotiation, value analysis, inventory management, distribution, sterile processing, laundry and linen service – is under his command at NMHS. He completely revamped and turned the value analysis committee into an integral part of the service line model used at NMHS. Instead of having a physician champion, 50 percent of the voting members are physicians, and they look at far more than supplies. He built new and efficient models for warehousing and sterile processing. He is about to submit plans to the State of Mississippi for the Certificate of Need for a new state-of-the-art automated laundry that will be able to process 40 million pounds. This will be the only laundry in the U.S. to meet the Hohenstein Institute standards for clinical laundry. He also runs his own fleet of vehicles. In addition to being a key part of NMHS's contracting, he is also on the Spend Management Board for MedAssets, which awards contracts on behalf of participating members. The SMB group at MedAssets includes representatives from 43 other IDNs. Members of the board must be able to recognize the needs of the group as a whole and navigate relationships with vendors in order to secure pricing that is beneficial to all GPO members. Switzer consistently brings great vision and wisdom to that group.
In His Own Words…
What do you think about Bellwether League Inc.'s mission and philosophy and how do you feel about becoming an Honoree?
I am wholly supportive of the mission and philosophy and I am both honored and humbled by my inclusion in this elite group of innovators.
What attracted and motivated you to join the healthcare supply chain management field when you did?
I had been working for a hospital shared engineering service and was approached by one of the hospitals to help with their rebuilding effort. They needed someone to write the specs for a number of different things they were doing, but I told them I didn't know a thing about Purchasing. They said not to worry, they could teach me everything as we went along. More than 30 years later, I'm still learning new things that can be applied to Supply Chain and hope I never stop learning.
For what one contribution would you like to be most remembered?
Being a mentor and teacher.
If you were to encourage people – either outside of healthcare or just out of school – to enter healthcare supply chain management and strive to be a future Bellwether League Inc. Honoree, what would you tell them?
Don't just accept change, embrace it, become a change agent. Never be content with the status quo.
What is the one industry challenge you would like to see solved in your lifetime?
Price transparency, the entire way pricing is handled in the healthcare industry is ludicrous. There shouldn't be the wide variation of prices paid for the same item. Then the ways the industry tries to hide the price (through rebates, credits, etc.) makes it even harder to tell the real price at the pump.
How important is effective and innovative supply chain management during tough economic times?
In my mind it is second only to high-quality patient-centered care. In addition, it's not enough to just be effective, for without innovation, you will fall behind.
In two sentences or less, what defines healthcare supply chain leadership?
A supply chain leader must be able to communicate and understand the needs, wants and expectations of all of their customers. Then a supply chain leader must look at all of the processes that currently occur, determine how to make them more efficient and still stay within legal, ethical and financial boundaries.
If you traveled back in time to when you just started in healthcare what would you tell yourself?
Strap in, it's going to be a wild bumpy ride! I couldn't really tell myself what not to do because those were learning experiences. Probably the only other thing would be not to get too comfortable and always try to be ready to spot the next piece of trouble before it gets too big.