William Van Schoonhoven Thorne (1865-1920)
Founder, New York/Hospital Bureau of Standards & Supplies Inc., New York (defunct), and Manager & Treasurer, Presbyterian Hospital (now The New York-Presbyterian Hospital)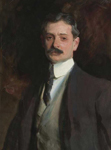 Healthcare/Supply Chain Management Experience:
William Van Schoonhoven Thorne served in healthcare and healthcare supply chain management for 24 years. His greatest achievement was that he became the "father of cooperative buying," the forerunner of the group purchasing organization, as his work in purchasing helped him found the Hospital Bureau of Standards and Supplies in New York in March 1910. The Hospital Bureau is widely regarded as the nation's first GPO. Hospital Bureau became one of the most prominent and dominant forces in group purchasing for the next five decades, motivating other local and small regional competitors to emerge.
W.V.S. Thorne served as Treasurer and Member of the Board of Managers of The Presbyterian Hospital, New York; Chairman of the Executive Committee and Member of the Board of Governors, The Women's Hospital, New York, and Member of the Board of Directors of the Manhattan Maternity and Dispensary, from 1896 until his death in February 1920.
Prior to his healthcare experience, Thorne spent his early career in the railroad and coal industries where he developed an interest in accounting and purchasing.
After graduating Phi Beta Kappa from Yale University in 1885, Thorne initially worked at the Great Northern Railway Co. for a while before railroad tycoon E. H. Harriman hired him as a purchasing assistant. Harriman already served as president of the Illinois Central until he gained control of Union Pacific Railway. Thorne then spent a short time as vice president and general manager of the Pennsylvania Coal Co., which was founded by his father Samuel, whose own father, Jonathan, was regarded as one of the chief developers of coal in the U.S. in the mid-19th century.
Deep down, however, Thorne was a railroad man, considered an expert in railroad efficiency, stemming largely through accounting and purchasing. He parlayed his influence and stature in the railroad industry into the hospital and healthcare industry as well, as his career paths overlapped a bit under the common thread of accounting and purchasing.
Thorne became president of the Delaware Valley and Kingston Railroad Co., a railroad that extended 81 miles between Lackawaxen, PA, and Kingston, NY, as well as President of The Island Railroad Co., a small railroad that extended through Buffalo, NY, and vice president of the Erie & Wyoming Valley Railroad.
By 1903, Thorne returned to Harriman where he served as director of purchases at Union Pacific Railroad Co. and Harriman's newly acquired Southern Pacific Railroad Co. from 1903-1913.
Hall of Fame-worthy accomplishments:
Through his extensive management and leadership experience in the railroad industry, Thorne felt that the railroad's use of cooperative buying could help local hospitals in the New York metropolitan area become more operationally efficient.
As a result, Thorne authored the booklet, "A Central Purchasing Agency for the Hospitals of New York," which he presented at a meeting of the Hospital Conference of the City of New York at the Academy of Medicine on April 9, 1909. His presentation articulated how the purchasing practices and pricing agreements he set up for the railway and steamship systems for which he served as a notable purchasing executive could be applied to and practical for New York City-based hospitals.
Within 12 months, Thorne used those purchasing principles, practices and pricing agreements as the blueprint and framework for the Hospital Bureau. The book, "Principles of Government Purchasing," reprinted his monograph.
Thorne also authored "Hospital Accounting and Statistics," with its 4th Edition published in 1918 by E.P. Dutton & Co., New York. Copies could be purchased then at $1.50 each. The book can be found here: https://archive.org/details/hospitalaccounti00thor.
Industry impact:
Thorne tapped into three different industries starting in the late 19th century – coal, railroad and healthcare. His contributions to each, which included accounting, management and purchasing, benefited investors, workers, customers and patients alike.
Following Thorne's death in 1920, Presbyterian Hospital President William Sloan remembered Thorne's immeasurably valuable contributions to Presbyterian and to other leading hospitals around the country in Presbyterian's 51st Annual Report. Sloan noted how Thorne "exercised great vigilance over the expenditures of the Hospital.
"The standardization of hospital accounting systems of leading hospitals throughout the country was devised by Mr. Thorne. He was also the founder of the Hospital Bureau of Standards and Supplies, which has proved an important factor in reducing the cost of administration."
Furthermore, Sloan noted that Thorne's work "had rendered to the Private Hospitals in this City a most valuable service by his establishing the Bureau of Hospital Standards and Supplies, and be devising a uniform method of Hospital Accounting."
Commitment to mentoring, education, and/or advocacy:
Thorne's Hospital Bureau served as the model for future cooperative buying programs that sprouted in New York, Philadelphia, Cleveland and Chicago, for example. In its first annual report for the year ended Sept. 30, 1910, Hospital Bureau attracted 14 of the largest hospitals in New York to pool their collective buying power, access Hospital Bureau contracts and implement its purchasing standards.
Five years later, Hospital Bureau had 33 hospital and charitable institution members using its 68 agreements for commodity purchasing.
Thorne worked with W.J. Forbes, Hospital Bureau's "indefatigable and efficient" purchasing agent from its founding in 1910 to his retirement in February 1919 due to ill health. Forbes was appointed "consulting purchasing agent" to his successor Philip Cross.
Demonstrations of innovation and leadership:
See earlier examples in the railroad, coal and healthcare industries.
Degree of professional influence:
Guy J. Clark, Bellwether Class of 2009, launched Cleveland Hospital Council's Cooperative Purchasing Service in 1918 and affiliated with Hospital Bureau.
In the summer of 1922, two years after Thorne's passing, Hospital Bureau Purchasing Agent Philip Cross addressed the Hospital Association of Pennsylvania's first annual session where he presented the "benefits of cooperative buying." The 10 points he presented during this golden era still ring true today:
Lower prices obtained through buying in large quantities
Savings in commissions and in expenses of shipping and handling.
Lower prices obtained because of the prestige and advertising gained by the sellers.
Savings effected (sic) by an experienced buyer.
Benefit of competition from the best sources.
Greater certainty as to a satisfactory quality of supplies.
Better standards established by cooperation.
Advantages of definite specifications.
Advantages of continuing agreements and saving in the labor of renewal.
Benefit of concentrating orders.
Application of Hall of Fame-level of knowledge and experience:
In short, Thorne literally and figuratively wrote the book on cooperative buying for at least 50 years after 1909. His foundational work influenced the creation and development of hundreds of local, regional, multistate and later national GPOs of varying models, and also influenced the careers of thousands of purchasing, materials management and supply chain experts after him, including, Bellwether Class of 2009 members Guy J. Clark, Charles Auslander and George Ainsworth, Bellwether Class of 2008 member Dean S. Ammer, and scores of others since then.
Professional worthiness
Bottom line: Cooperative buying/purchasing, group purchasing and GPO operations definitively can be traced to the pioneering and innovative efforts of W.V.S. Thorne. Bellwether League recognizes and honors Thorne for his foundational contributions to the industry and profession.