Alex J. Vallas (1932-2016)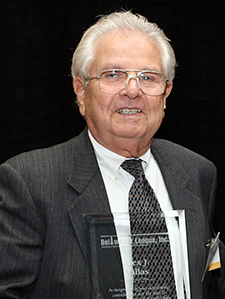 Work Experience – Minimum 10 years of service within the healthcare supply chain (including a hospital or nonacute care facility, manufacturer, distributor, GPO, consulting or service company).
Served as Director of Purchasing and later Materials Management at Magee Womens Hospital, Pittsburgh, PA, from 1966 to 1993.
From 1993 to 1999 served as Corporate Director of Materials Management at OhioHealth in Columbus, OH.
Performed consulting services for Booth Hospital, Halifax, Nova Scotia; Riverside Methodist Hospital, Columbus, OH, and at Johns Hopkins in Baltimore as senior consultant for Healthcare Concepts, Inc.
Work Performance – Specific accomplishments/achievements in their respective organizations, including expense management measures, committee involvement and management leadership.
Was one of the first to introduce value analysis concepts to the healthcare industry (along with William J. McFaul) on a regional basis
Introduced the Value Analysis Shared Effort (VASE) in 1981
Co-authored a grant proposal (with Donald J. Siegle) on the Value Analysis Shared Effort (VASE) for regional implementation
Professional Activities – Minimum 5 years of active association participation (e.g., office holder, committee chair or contributor, organizing and running meetings, mentoring others) on the national, regional and local level; performed a minimum of two speaking engagements (national, regional, local, facility) and published at least twice (including writing an article or being interviewed by the trade media) during career.
President of the Hospital Purchasing Agents Association of Western Pennsylvania
President of the Purchasing Management Association of Pittsburgh, NAPM
Vice President and a Member of the Board of Directors of the National Association of Purchasing Management
U.S. Hospital Coordinator to the International Federation of Purchasing
President of the American Society for Hospital Purchasing and  Materials Management (currently AHRMM), 1977-1978
Vice President of the Pittsburgh Minority Purchasing Council. 
Served on the Voluntary Effort (VE) Cost Containment Committee for the State of Pennsylvania.
Invited Speaker at AHA Conventions, Conferences and Regional Association Conventions and Meetings. The topics covered Value Analysis, Centralization of Purchasing and Materials Management, Perceptions of Hospital Materials Management (based on a study conducted conducted with responses from CEOs, Directors of Nursing and Finance, and Sales Representatives), JIT and Stockless Purchasing and The Future Direction of Materials Management.  
Presented at a conference co-hosted by the FDA and the Health Industry Manufacturers Association on important factors in product development as viewed by the materials manager. 
Presented at several regional sales representative meetings sponsored by Johnson & Johnson and Cardinal Health. 
Numerous articles published in professional and trade journals.
Served on the Editorial Advisory Board of several professional journals. 
Listed as a contributor to Aljian's Purchasing Handbook.
Lifetime Certified Purchasing Manager (CPM)
Recipient of the George Gossett Leadership Award
Was honored by having the Materials Management Conference Room at Ohio Health named the "Alex J. Vallas Materials Management Conference Room."
Advancing the Profession/Industry Influence – Challenging the norms, contributing to the thought process, pushing the envelope in terms of moving the profession/industry forward. Examples include serving as a mentor either within his or her individual organization or on a national, regional or local level outside of his or her individual organization; internal inservices for the C-suite on supply management; pioneering new concepts and ideas that may or may not become reality; influencing those up and down the corporate hierarchy on the benefits of and promotion of sound supply management.
Helped introduce the concept of Value Analysis into healthcare from industry.
One of the first to push for certification in the materials management profession, initially arguing for the National Association of Purchasing Management's CPM designation to become the industry standard.
Strongly advocated that materials management play a major role in the hospital's financial stability.
Urged the need to elevate the status of purchasing, materials or supply chain management to executive level.
Advocated a clear separation between providers and suppliers on the basis that the Purchasing and Materials Management Directors at that time lacked many of the essentials necessary to lead their organizations forward. Therefore, the Association should be dedicated to advancing the professional development of its members. Under this premise, the association should remain a professional rather than a trade association.
In His Own Words
What are your thoughts about the mission and philosophy of Bellwether League Inc. and how do you feel about becoming part of the organization as an honoree and inductee?
It is commendable and, I believe, highly unusual to have a group with diverse connections join together to recognize individuals for their accomplishments, not for personal gain, but as a tribute to the profession of healthcare supply chain management for which they serve.
There is no greater honor than being recognized by one's peers. Thus, I am extremely honored and pleased to be included in the inaugural inductee class of April 2008. 
What attracted and motivated you to join the healthcare supply chain management field when you did?
Actually, it was quite by accident. I had served as Procurement, Property and Supply Officer at the American Embassies at Baghdad, Iraq, and Karachi, Pakistan. Upon resigning from the Foreign Service, I was hired as administrative assistant in charge of the emergency room (evening shift) at Massachusetts General Hospital in Boston. When I saw an ad in the paper for Assistant Purchasing Agent at New England Deaconess Hospital, I applied the experience of purchasing with that of healthcare on my application. I immediately became 'addicted' under the direction of Cliff Fisher, who was then Purchasing Agent, and active in the field of purchasing and supply. While working at New England Deaconess Hospital, I studied purchasing at Northeastern University.
For what one contribution would you like to be most remembered?
Promoting the concept of centralizing supply chain activities under one management authority for the purpose of introducing and implementing various systems, techniques and tools essential for the financial stability of the organization.
If you were to encourage people – either outside of healthcare or just out of school – to enter the supply chain management field and potentially qualify to be a future Bellwether League Inc. honoree, what would you tell them?
The potential for making a difference in healthcare delivery is still enormous. While much has been accomplished, there is still a lack of appreciation in many organizations related to the impact that effective supply chain management can have. One should not look at supply chain management in a narrow sense.  Through the application of various systems and processes, the impact on the organization can be huge. Working as a team with other departments of the organization, the impact goes beyond cost reductions to improving patient care outcomes.
What is the one industry challenge you would like to see solved in your lifetime?
Developing programs that would improve healthcare delivery while reducing costs by establishing teams composed of physicians, clinicians, vendors, insurance carriers and supply chain managers that would analyze the impact of products and processes related to costs and outcomes. As a very simple example, under the current system, if a patient acquires a hospital-borne infection the hospital actually gains financially (though not in reputation) if the patient is readmitted. On the other hand, the patient, taxpayer, insurance carrier (and insured) are adversely affected. In many cases, vendors could assist by the introduction of products that actually reduce costs while improving outcomes. For example, inserting coronary stents (though proven recently to be over-utilized and overrated) to open clogged arteries. If vendor 'X's actual price of the stent is higher, but it has a better record of avoiding re-stenosis and readmissions, it is then the most economical and effective product. It should be remembered that it is not the supply chain manager's function to save money, but rather to spend it wisely.