Alan D. Weinstein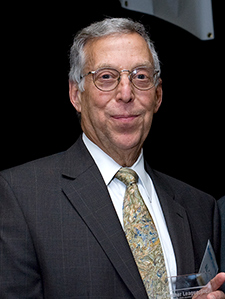 Alan Weinstein retired from his last full-time role as president of Premier Inc. about 12 years ago. Although retired, Weinstein remains very engaged in the healthcare industry in many unique ways. 
Advancing the Profession through Performance
Weinstein has served as a mentor to hundreds of healthcare professionals throughout his career, inspiring the reference that he's "the best connected person in healthcare" because he develops and fosters long-term, lasting relationships with so many people in a variety of different organizations.
Weinstein graduated from Allegheny College in Meadville, PA, with a Bachelor of Arts Degree in 1964, and from Cornell University with a Master's Degree in Business Administration in 1966.  From there, he spent two years working for the United States Public Health Service, Division of Indian Health in both Gallup, NM, and Harlem, MT.
Every organization that benefited from Weinstein's advice, direction, experience and leadership has added the following attributes to its operations and cultural framework.
Extraordinary ethical standards: Weinstein set the pace for ethics and integrity in every organization for which he has worked.  "Member value" always has come before value or revenue to the organization. He always made clear his set of ethical standards and expected everyone in the organization to follow suit.
An open and transparent operation: Weinstein stressed this consistently. Everyone in the organizations with which he has worked knew the financial status of the organization, and where every major project and challenge facing the organization stood. Employees who said that they were not aware of something simply were not listening.
A real concern for people: Weinstein has always shown a genuine concern for everyone he employs right along with their families. In addition, he has always shown concern for the key staff he has interfaced with among member organizations, leading to long-term and lasting relationships.
The willingness to make tough decisions: Weinstein usually is willing to balance risk and take chances on new programs and services. At the same time, if they are not working out, he is not afraid to make the tough decisions associated with changing or discontinuing programs.
A sincere mentor: Weinstein has always been a mentor to others, many of whom have gone on to greater opportunities, and more responsibilities.
Work Experience
Weinstein has a diverse set of experiences in healthcare, and spent his entire career helping hospitals and healthcare providers develop shared programs and economies of scale. He served as President and CEO of the North Suburban Association of Health Resources prior to 1977.  This association counted most Chicago "North Shore" hospitals in its membership base and provided a variety of services to them.
From 1977 to 1983 Weinstein was employed by the Illinois Hospital Association (IHA) as Executive Vice President. He was responsible for creating a number of new programs for them, including Group Purchasing, Biomedical Equipment Maintenance and Management Engineering.  These were "firsts" for IHA and his creation of the Management Engineering program was truly innovative at that time, particularly in the Midwest. Few hospitals recognized the value of Management Engineering in studying process and examining the costs of various procedures and the methods of how they were performed.
In 1983 Weinstein founded the Consortium of Jewish Hospitals. One of the Consortium's first programs was Group Purchasing. Weinstein's interest in providing meaningful value back to members could be seen again with the creation of his "Value Index," a program that manually measured the savings (on an annual basis) of the use of each GPO contract for each member.  Using this Index, he travelled tirelessly to add Jewish hospitals to the group. This usually involved meeting with hospital executives and materials managers throughout the country.
Weinstein's inclusive and collaborative style led to the growth of the Consortium to include almost every Jewish heritage hospital and health system in the country. It also led to non-Jewish hospitals seeking membership. As a result, in 1986 the Consortium changed its name to Premier Health Alliance. Membership growth continued, and Premier began crafting meaningful relationships with not only leading hospital systems but healthcare associations and groups as well. They included, The American Association of Eye and Ear Hospitals, Child Health Corporation of America, The Greater Cleveland Hospital Association and The Greater New York Hospital Association.
In Weinstein's view, "value" always needed to be measured in terms of meaningful savings to his members — not the dollars collected from the Contract Administration Fees (CAF). While anything that was returned was certainly counted, cost savings and value though progressive terms and conditions were Weinstein's favorite way of expressing value. 
Premier provided (and still does) a Value Index for each Shareholder and member on an annual basis. Weinstein also insured that most of the value from the collection of CAF was returned to the organizations that earned it on an annual basis. For this reason, the return on CAF to members was, and has continued to be, among the highest in the nation. 
Although value returned to healthcare members was always at the top of Weinstein's list, he maintained (and still does to this day) solid respectful relationships with suppliers working with Premier. His door was, and still is, open to anyone who does business with him or his companies.  Even during times of tremendous disagreement with suppliers and others, Weinstein maintained solid relationships through candor, honesty, and a bit of humor.
Premier meetings always had high educational value for attendees from the CEO and the rest of the C-Suite to Pharmacy and Materials Management. Weinstein saw to it that speakers at these meetings were always the thought leaders in the industry, and he spared little expense on the educational aspects of these meetings. Meeting innovations included the following.
Weinstein forged a relationship with the Institute for Safe Medication Practices to educate and lobby for changes to pharmaceutical labeling to improve patient safety. He was probably one of the first in the industry to identify medication labeling as a true safety hazard to patients and staff. The current Premier Safety Institute is an outgrowth of those safety initiatives.
Under his guidance, Premier created the first "Technology Futures Panels" that brought the C-Suite from member hospitals together with suppliers to discuss specific changes in technology within certain verticals. For example, cardiology, imaging and oncology were three areas that received particular attention. This allowed healthcare C-Suite executives to better plan for new technology.
Weinstein brought many different groups together at Premier, always for education as a first priority and networking second. This included the CEO/COO, CNO, directors of materials, directors of pharmacy and others.
He recognized the value that supplier relationships brought to the organizations and often organized receptions for them at Premier meetings. This was unique, and appreciated and valued by the suppliers who held Premier contracts.
Weinstein insisted on supplier diversity, and Premier was probably the first GPO in the country to have a formalized program. Successful companies like LSL Industries in Chicago will tell you they really got their first big boost from a contract with Premier at this time. 
Weinstein insisted that all contracting decisions be vetted by representatives from member hospitals. With considerable time and expense, Premier was probably the first GPO to be truly "member-driven" in areas that included nursing, pharmacy, laboratory, imaging, plant operations, housekeeping and other areas. This level of input was probably responsible for Premier's market reputation as being "compliant" because the people who selected products were the same ones that used them. 
Weinstein has been an outstanding mentor to his staff over the years, and occasionally organizes "reunions" to bring people back together. Perhaps even more importantly, he continues to be a mentor — often for the staff found in the C-Suite of healthcare providers around the country. He continues to maintain relationships with people he mentored 25 years ago, for example.
Although he was in a number of senior leadership roles, Weinstein has always made it a point (even today) to remain engaged with the folks who ran or run supply chain in member and non-member facilities. Many of the ideas and developments that he fostered in supply chain came from his ability to network with purchasing and supply chain leaders. He maintains many of those contacts today, even in retirement. 
Work Performance
Weinstein has always enjoyed a highly positive reputation throughout the healthcare industry, and with the boards on which he served. As a result of his ability to make and keep connections, he is probably one of the "most connected" individuals in the industry. His connections range from medical device manufacturers to hospital executives to association staff and across all of the major GPOs.
Weinstein has always enjoyed the confidence of his superiors and the Boards to which he has reported.  For example, Weinstein reported to Robert W. O'Leary at the Illinois Hospital Association. It was Weinstein and O'Leary years later that made the merger of Premier Health Alliance and American Healthcare Systems possible, along with the SunHealth Alliance to create Premier Inc.
The confidence others have in Weinstein is reflective of his passion for his work, and his ability to achieve his goals and deliver significant value to his members. He has always insisted on value to members first — sometimes at his own expense. His ability to bring diverse audiences together to form new alliances is unquestionably a strong suit. He always maintains a vision for "what is possible," not what the challenges might be. 
The organizations founded and operated by Weinstein have delivered literally billionsof dollars of value to the owners and members across his career. He has been a prolific writer, and is usually willing to share his views, vision and experiences if he believes it will add value within the healthcare industry. At the same time, he is completely humble about his accomplishments and achievements despite having been one of the "quiet leaders" within the industry and group purchasing for more than 30 years.
Professional Activities
Even in his "retirement" Weinstein continues to be a force in the healthcare industry in many ways with his leadership changing the supply chain and the industry for the better throughout his career.
Weinstein serves as the Chairman of Executive Advisory Council and Member of Advisory Board of MPB Group LLC.
He has been a Director of Precyse Solutions Inc. since 2001, and Chairman of its Advisory Council since 2005. He serves on the Board of Directors of Rightfield Solutions LLC, and has been a Director of Akorn Pharmaceuticals since August 2009 and a Director at MEDmarketplace.com Inc. since April 2009. He also serves as a Director of Suture Express Inc.
He has been a board member of the American International Health Alliance since 1992, and part of USAID specializing in bringing advanced healthcare to Eastern Europe.
Weinstein serves as a Member of the Advisory Board at Rise Health Inc., Maestro Strategies and Rendina Cos. He also serves on the board of Vascular Pathways, and the National Advisory Committee of the RWJ Nurse Fellows Program. He serves on the Board of Trustees of Rosalind Franklin University of Medicine and Science
Weinstein joined the board of OpenMarkets LLC, a start-up company specializing in group buys for capital equipment in hospitals, in 2010
He has held board, director or advisory board positions in the past at SterilMed, Mezzia, Beryl Cos, Perfect Serve, Emmi Solutions, Mezzia Inc., CyraCom International Inc. and served as an Executive Director of the Midtown Hospital Association in Denver.