Paul E. Widman (1918-1983)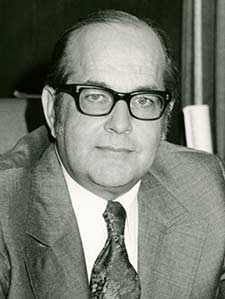 Advancing the Profession through Performance
Following his Navy tour of duty during World War II, Paul E. Widman, a registered pharmacist by degree and training, spent a brief career in purchasing at the Cleveland Hospital Council and Johns Hopkins Hospital before moving to Cleveland Clinic where he spent the remainder of his career and left an indelible impact on healthcare supply chain management.
Widman was recognized internationally as an authority in hospital purchasing, regarded for his love of people and known for his keen wit. He would joke about his ability to make a "lemon phosphate."
Quoting from the 2004 book chronicling the history of the Cleveland Clinic,To Act As A Unit: The Story of The Cleveland Clinic, 4th Edition, Paul E. Widman was "a seasoned purchasing and materials management veteran" who was widely regarded as "the father of hospital group purchasing as he foresaw the benefits of combining the acquisition of supplies for groups of hospitals to create maximum bargaining power."
Widman was a staunch advocate of purchasing's importance within the healthcare organization as well as the healthcare industry. He believed that the "purchasing agent should run his office on a businesslike basis, remembering that a poor credit rating for a hospital does not help buying policy," he said before the American Surgical Trade Association (now known as the Health Industry Distributors Association) at its first technical exhibit in 1954.
Widman emphasized that skilled purchasing agents should keep emergency orders at a minimum and not demand so much service from the dealers to offset poor planning. He also advocated for more standards and specifications that hospitals then should follow.
He also emphasized the need to improve the efficiency of healthcare delivery and in economies of scale for supply chain operations.
Widman was highly regarded by his colleagues and employees who eulogized him as "managing by shoe leather – out with his people… always had an open door… [provided] instant service… call Paul Widman to get the job done."
Hospital Bureau employees remembered him for being "willing to share one's problems and help in solving them, whether executive or staff."
Work Experience
As Widman learned and practiced the fundamentals of drug and medical supply purchasing in the retail and hospital industries during the first eight years of his storied career he would carve his name into the pantheon of healthcare supply chain management at Cleveland Clinic where he started as director of purchasing in 1951 and progressed through the executive ranks to being one of five men who "formed the nucleus of non-physician, professional Cleveland Clinic operations management as the institution was poised to begin the  next period of significant growth," according to the book, To Act As A Unit: The Story of The Cleveland Clinic, 4th Edition.
At Cleveland Clinic, Widman expanded his department's reach to include the maintenance department with purchasing, supplies and logistics, as well as human resources, consolidating them all into operations in the mid-1970s.
As director of administrative services and then director of operations from 1970 until his death in 1983, Widman was instrumental in managing the construction of the new Clinic and Hospital and functioned as senior consultant to the Cleveland Clinic Foundation's Division of Operations.
After a storied career spanning four decades, Widman succumbed to thyroid cancer in 1983.
Professional/Humanitarian Activities
Widman was heavily involved with the American Hospital Association and its purchasing management personal membership group, starting in the 1960s. In fact, he was a charter member of what now is known as the Association for Healthcare Resource and Materials Management (AHRMM).
Widman served as AHRMM's 9th president (1970-1971) and was the recipient of AHRMM's George A. Gossett [Leadership] Award in 1967.
Widman authored more than 100 papers and delivered more than 150 speeches on materials management in hospitals during his career. In fact, he represented the United States at an International Health Care Trade Fair in Belgium in 1973.
In the 1970s until his death in 1983, Widman served on the editorial board of Hospital Purchasing Management (HPM) newsletter when Dean S. Ammer (Bellwether Class of 2008) served as Editor and Steven P. Gray (Bellwether Class of 2011) served as Technical Editor.
The Center for Health Affairs (formerly known as the Greater Cleveland Hospital Association) periodically bestows an award in Widman's name. In fact, the Paul E. Widman Memorial Award was first given in 1984 to Gail L. Kovacs who later would serve on the editorial board of the renamedHospital Materials Management (HMM) newsletter in the post-Ammer years.
Widman served on the Board of Directors/Trustees of Hospital Bureau Inc., regarded as the nation's first group purchasing organization, for 25 years, serving as its chairman for five years.
As a Certified Purchasing Manager (C.P.M.) Widman was a member of the National Association of Purchasing Management (NAPM), now known as the Institute for Supply Management (ISM).