Dwight Winstead
Retired President/COO, CareFusion; Group President, Cardinal Health; President, Owen Healthcare/Cardinal Health Clinical Services & Consulting; Executive Vice President, VHA; President, VHA Supply Co.; Director of Clinical Labs and Director of Materials Management, Ochsner Foundation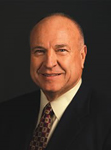 Healthcare/Supply Chain Management Experience:
Dwight Winstead spent 41 years overall in supply chain services and healthcare-related companies.
CareFusion, Cardinal – Manufacturing/Pharmacy and Supply Chain, June 1997-2011
VHA Supply Co. and VHA – GPO, 1984 -1997
Ochsner Medical Center – Materials Management and Laboratory, 1980 – 1984
Other healthcare-related jobs, 1970 – 1979
Hall of Fame-worthy accomplishments:
Winstead co-founded VHA Supply Co. (VHASC), the first virtual supply distribution business in the healthcare industry. Under Winstead's leadership, VHASC pioneered a concept that was revolutionary in healthcare at the time but today's standard practice: Contracting for product cost and distribution cost separately. In the early 1980s a standard practice for GPOs and hospitals was to negotiate contracts for products in which the price included distribution. Winstead led the effort to push a cost-plus distribution strategy, considered innovative in the healthcare industry at that time.
In 1985 when VHA's sole distributor pushed back on implementing the cost-plus model, VHA spun off its GPO program into a separate company called VHA Supply Co. Winstead led the work on the distribution side, selecting, negotiating and implementing a network of Authorized Distribution Agents (ADAs) comprised of multiple regional distributors, all working via a cost-plus pricing arrangement to service the VHA hospitals from coast to coast. VHASC also concurrently renegotiated its product agreements to reflect distributor net product cost. It was the first time that hospitals had transparency into what they were paying for distribution services versus the actual price of the product.  In addition to distribution VHASC launched sole source agreements for major products, such as, IV solutions, needles/syringes, and committed volumes for conversion.
Prior to the formation of VHASC Winstead was instrumental in creating a private-label VHA contract for bagged urological solutions. VHA called the branded urological bags "VHA Plus," a name later adapted by VHA Supply Co. for the very first GPO private-label line of products. DeRoyal Industries, owned by Pete DeBusk (Bellwether Class of 2015), was the first company to work with Winstead on VHA Plus and private label their line of orthopedic soft goods. 
At Cardinal Health, Winstead developed a new-product innovation engine with investment, new talent and leadership that led to the revival of two mainstay healthcare brands: Pyxis and Alaris. Today, these product lines enjoy market share of approximately 60 percent-70 percent of U.S. hospitals. Examples of new product innovation include the world's first wireless smart infusion information system in 2005 and the first automation system to link all key clinical medication functions, including prescription, transcription, dispensing, distribution, administration, monitoring and surveillance the same year.
Winstead was instrumental in creating CareFusion (a spin-off from Cardinal Health), a $4-billion medical device company that was sold to Becton Dickinson in 2015 for $12.2 billion. He led development of the new CareFusion brand that after three years was recognized by 70 percent of U.S. hospital C-suite executives.
While Winstead was running Owen Healthcare/Cardinal Health Clinical Services and Consulting, he realized that large IDNs, which were not normally in his outsourcing client base, would need pharmacy management solutions as they grew larger and more difficult to manage. Winstead developed a team to create five business solutions that could be offered to hospitals and IDNs that were not in the market for outsourced services. As opposed to the common consulting engagements these solutions would provide resources that would continuously work with the hospital or IDN for the life of the contract. These solutions are currently in the Cardinal Health portfolio and have been replicated by other companies. 
Winstead sponsored and Co-developed the VHA Supply Co. annual materials management and nursing meeting, which was the precursor to the Vizient Leadership Conference, providing education, networking and leadership.
Industry impact:
When VHASC implemented the cost-plus distribution strategy, distribution margins were reduced to an average of 7 percent from an average of 20 percent, producing beneficial cost reductions to VHA hospitals. The creation of private-labeled VHA Plus products continues today to be one of the best cost savings and product availability programs for all Vizient Hospitals. Both of these examples continue to save millions of dollars in distribution and product savings. The Vizient Leadership Conference remains as the key meeting that Vizient members and suppliers attend for education, networking, and leadership. 
Commitment to ethical standards, honesty and integrity:
Winstead's career from a provider, to GPO, to service and then manufacturing has included many mentorships, friends, and partners that give him high accolades.
Commitment to mentoring, education, and/or advocacy:
Winstead mentored numerous healthcare leaders throughout his career by always focusing on people and teamwork as the critical elements of institutional and business success. As an example, his mentees include the CEOs of two public companies, the CFOs of three public companies and literally hundreds of others in senior sales, finance, quality and operational roles. 
Demonstrations of innovation and leadership:
Winstead clearly demonstrated his leadership by initiating and implementing the consolidation of purchasing and central services into a materials management and SPD function at Ochsner Medical Foundation. The establishment of VHA Supply Co., a virtual distribution business, and private-labeled products, VHA Plus, were unique and innovative and were considered to be very questionable by thought leaders at the time.  Certainly, through his hiring practices and as evidenced by his leadership role as Co-Chair of Cardinal Health's Diversity Council, Winstead had a major impact on the industry as a whole. In addition, Winstead served as CareFusion's representative to HIDA.
Degree of professional influence:
Much of what is considered customary practices today for supply chain management was initiated by Winstead. Frankly, those innovations led to the consolidation and efficiencies of today's med/surg and pharmaceutical distribution. The private-label innovation addressed quality and availability issues that were negatively affecting patient care. This innovation continues today and remains a critical piece of Vizient's Value Proposition. 
Application of Hall of Fame-level of knowledge and experience:
Winstead has demonstrated the breadth of knowledge that has covered all aspects of supply chain management, including hospital, GPO and industry, as well as the oversight of 26 manufacturing facilities worldwide for CareFusion. He possessed an innate ability to think outside the box, seeing creative opportunities and did so with a balance of team work and focus on his colleagues, including subordinates, peers and supervisors. 
Professional worthiness
Since 1980 people clearly remember Winstead as a person that leads with his actions and with innovations.
In His Own Words…
What are your impressions about Bellwether League Inc.'s mission and philosophy, and how do you feel about becoming an Honoree?
Given the magnitude of the impact healthcare supply chain has on patient care, recognizing industry leadership and accomplishments are extremely important. I feel honored and humbled to be recognized.
For what one contribution would you like to be most remembered?
For co-developing VHASC, VHA Plus and the impact of sole source conversions and membership commitment to improving quality and reducing cost.
If you were to encourage someone – either outside of healthcare or just out of school – to enter healthcare supply chain management and strive to be a future Bellwether League Honoree, what would you tell him or her?
Learn as much as you can from classes, self- study and, most importantly, by researching what provider industry leaders have done. Use that knowledge and apply it wherever you work – at a hospital/IDN, supplier or with clients. Try to improve those approaches and models in a way that maximizes value for the enterprise. Lastly, share what you learn via speaking at conferences, writing articles, or one-on-one conversations, and listen to the responses you get in return.
What is the one industry challenge you would like to see solved during your lifetime?
The access and affordability of pharmaceuticals for all!
Why should healthcare organizations – providers, suppliers and payers – elevate supply chain management's relevance and importance to clinical, financial and operational success?
With razor thin margins, most of each $1 saved on the supply chain drops straight through.
In two sentences or less, what defines healthcare supply chain leadership?
Having the courage to challenge the status quo and the tenacity to push for improvement.
If you traveled back in time to when you just started in healthcare what would you tell yourself?
Change takes time, be patient and help educate those involved on the need for change.