Robert T. Yokl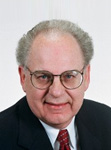 Status: Active
Career span: 53 years (31 years in healthcare supply chain/value analysis consulting, and 22 years in hospital supply chain management)
Current title: Founder and Chief Value Strategist, SVAH Solutions
Innovative, leading-edge, pioneering accomplishments befitting a Hall of Fame career:
Robert T. Yokl has worked with more than 500 hospitals, healthcare systems, group purchasing organizations and clinics since he founded Strategic Value Analysis in Healthcare, now known as SVAH Solutions, in 1987.
Yokl has adapted to healthcare the classic techniques and methods of Value Analysis and Value Engineering that were espoused by the legendary Larry Miles from General Electric Co., into a six-step process known as the Value Analysis Funneling Process™.  This system has been taught to and utilized by thousands of healthcare professionals during the past three decades and adapted to an on-demand learning program that have been used by organizations nationally throughout the healthcare industry. 
Yokl launched a weekly eNewsletter, "Savings Beyond Price" (which is now is called, "Optimizing Value") in 2001 (and still going) that reaches on average about 2,200 professionals today and has included more than 850 articles such as:
Value Analysis – touching on just about every best practice, methodology, strategy – so much so that Premier utilized the eNewsletter Value Analysis Best Practices in their 2016 Value Analysis Guide.
Purchased Services – coverage began in the early 2000s before anyone even was talking about purchased services as a major savings opportunity.
Supply Utilization Management – coverage started before utilization became a recognized strategy/tactic to achieve major savings.
Supply Chain Best Practices – offering insights and how-to's on tough supply chain challenges.
Yokl also started his "Healthcare Supply Best Practices Podcast" in 2006 – one of the first podcasts of its type and still widely listened to today with more than 260,000 downloads/listens.
In 1999, Yokl co-developed the first cloud-based Healthcare Value Analysis Software, ValueNet Central® that was used by hospital value analysis teams around the country through contracts with GPOs, such as VHA and Consorta, and direct to hospitals/systems. Unlike systems that are used to merely track projects, savings and new product requests, ValueNet allowed hospitals actually to import their line item purchases into a study and walk through all the true value analysis steps to develop alternatives while engaging their customer, stakeholders and experts. ValueNet was retired in 2009, the year after SVAH released its Utilizer Dashboard.
In 2008, Yokl co-developed the Utilizer Dashboard, the first cloud-based utilization management software for the healthcare supply chain that addressed supply and purchased serviceutilization in totality. The software remains popular among the healthcare supply chain community because it can help identify the hidden savings that are stubbornly left over after price has been knocked down, including waste, value mismatches, inefficient use, over-consumption and under-consumption and more.
Focus on mentoring, education, and/or advocacy to advance other supply chain professionals and executives, and the profession as a whole:
Yokl contributed articles Hospital Material Management Quarterly, published back in the early 1980s by Charles Housley (Bellwether Class of 2008). His article "Value Analysis and Standardization for Group Purchasing" was included in the 1986 book, "Product Standardization and Evaluation" as a chapter along with other notable materials management and purchasing writers of the day.
Since 2006, Yokl has been an ongoing editorial contributor to Healthcare Purchasing News with numerous articles published each year on topics from value analysis, supply utilization, purchased services and other best practices. Yokl also has been an editorial contributor to the Journal of Healthcare Contracting from 2012 to 2016 with monthly articles published on value analysis, supply chain best practices and supply utilization.
During the past 30 years, Yokl has been a speaker at many regional AHRMM chapters as well as national annual conferences for GPOs, associations and independent conference promotions on topics such as value analysis and supply utilization management.
Yokl has authored and published many healthcare supply chain books including:
1992 – 10 Biggest Mistakes Buyers Make and How to Avoid Them
1996 – The Complete Guide to Non-Labor Expense Reduction in Hospitals
1998 – Strategic Value Analysis in Healthcare – The #1 Smart Strategy for Taking Out Cost in a Healthcare Organization's Supply/Value Chain
2000 – The Ultimate Value Analysis Program
2004 – Value Analysis Team Trainers Guide
2004 – Value Analysis Coordinators Guide
2004 – Value Analysis Executive Management Guide
2009 – Healthcare Supply Utilization Revolution – Opening Up a Whole New World of Supply Chain Savings Beyond Price
2011 – Guide to Automating Your Value Analysis Program
2013 – How to Rein in Your Multi-Million Dollar Purchase Services Expenses Before They Damage Your Bottom Line
Yokl has provided free webinar and teleseminar content to a national audience of supply chain and value analysis professionals  (attended by hundreds of supply chain and value analysis professionals):
Supply Six Sigma – A New Way to Manage Your Functions, Variations & Defects in Your Supply Chain
Integrating Six Sigma into Material Management
Winning Savings Strategies for Physician Preference Items
Offsetting Price Increases in Tough Times
Lean Value Analysis – Energize and grow your value analysis programs while increasing your savings yields and dramatically improving your quality
#1 Strategy to Save Big in 2008
Advanced Supply Utilization Savings Strategies
How to Deliver Quality Cost Savings to Your Frontline Caregivers with Clinical Supply Utilization Management
Unlock the Secrets to Your Value Analysis Success
Insights into the Supply Chain Savings Model of the Future
Total Value Analysis Webinar – Assuring Your Future
Integrating Supply Utilization Management into Your Value Analysis Program
Hallmarks of leadership:
Yokl has been a member of Lions International for more than 45 years.
He has served as his local chapter president on four different occasions, originally 20 years with Willow Grove Lions then 25 years with Skippack Lions Club.
He has assisted in fundraising efforts that resulted in more than $300,000 in charitable donations for Leader Dog for the Visually Impaired, Delaware Valley Eye Bank, Veterans Charities, Skippack Fire Company, Skippack 4-H Center, Beacon Lodge (PA) Day Camp for Visually Impaired Children and local college scholarships.
He has been awarded the Lions International's highest award, the Melvin Jones Fellow, for his distinguished service to "Lionism."
He is the District 14A (entire Philadelphia and surrounding counties) Diabetes Awareness Chairman since 2016. Yokl gives various educational talks throughout the area on Diabetes awareness to local and district chapters.
As a hospital director, Yokl has participated in many associations and group purchasing advisory boards.
Past Advisory Board member, Hospital Purchasing Service of Pennsylvania
Trainer, Basic for Buyers, Hospital Purchasing Service of Pennsylvania
Past Board of Director, Delaware Purchasing Managers Association
Past Board of Director, New Jersey Hospital Purchasing Managers Association
Member, President, Board member, Lions International (45 years in local chapters)
Member, Association of Healthcare Resource & Materials  Managers Association
Innovation in practice:
It is one thing to espouse innovative techniques and strategies to our healthcare supply chain world in articles, speaking engagements and podcasts, but the true innovator actually takes steps to take the innovative technology of the day and turn the innovative approach into reality.  Yokl has investigated and shared his findings about every aspect of healthcare value analysis and has turned those best practices into innovative cloud-based software, such as the ValueNet Central Value Analysis and Supply Utilization Management products. Not only did these innovative approaches migrate from concept to reality, but they were successfully implemented and accounted for and documented hundreds of millions of dollars' worth of savings for healthcare organizations around the country.
Yokl realized that there was more to value analysis than just forming category teams and having them facilitate group purchasing contracts and new product requests.  That is why he adapted the classic tenets of value analysis to the healthcare industry to take the process of a value analysis study to a whole new level and leave no rock unturned. Plus, he realized that these are "Teachable Value Analysis Techniques" and has dedicated his writings and his company SVAH Solutions to those educational elements, aligning all SVAH Solutions' systems to support these classic tenets. For more than four decades now, he has made the case through education and consulting that healthcare value analysis is more than just about finding a better price or standardization.
Managing professional relationships and services:
Having facilitated hundreds of value analysis committee meetings, Yokl has a unique ability to gain the buy-in of not only the Supply Chain team but also the physicians, department heads, managers and senior leadership that sit on these value analysis teams and steering committees. It is one thing to be an observer in value analysis facilitation, but Yokl believes that you must engage stakeholder on their level to ensure that they "get it" to achieve the objectives and goals.  
Yokl has presented to many hospitals boards, physician councils and management teams throughout his career with the sole purpose of helping them save their own organizations money.
Commitment toethical and moral standards and integrity:
Yokl has selflessly given away many of his best ideas to the healthcare industry through the countless articles, white papers, special reports, webinars and books that he publishes.  Many of these ideas, strategies and best practices are timeless and are continually being picked up and adopted by new supply/value chain professionals every day. He continues to publish these actionable best practices to continue his mission to educate the healthcare supply chain in best practices. 
Being an expert in healthcare value analysis, Yokl has received many calls over the years from suppliers that wanted to pay him to help them in their quest to "get around and/or bypass the value analysis committee so they can sell more product."  He has turned down this business as he believes that he represents the hospitals, first and foremost, to show them how they can reduce costs and not to show vendors how they can make end runs around the hospital value analysis process.
IN HIS OWN WORDS…
What are your impressions about Bellwether League Inc.'s mission and philosophy, and how do you feel about becoming an Honoree?
I have always been a champion of the Bellwether League's Supply Chain Leadership Hall of Fame, since supply chain hasn't received enough credit for its leadership in managing the end-to-end supply chain for healthcare organizations. However, because of Bellwether League's influence that recognition is becoming a reality.
What attracted and motivated you to get involved in the healthcare supply chain management field when you did?
It just started as a job after high school graduation as purchasing assistant at a Catholic hospital, then it became a professional goal to be a supply chain manager after I saw what a positive impact supply chain could have on a healthcare organization.
For what one contribution would you like to be most remembered?
I educated a generation of supply chain/value analysis professionals in the art and science of value analysis.
If you were to encourage someone – either outside of healthcare or just out of school – to enter healthcare supply chain management and strive to be a future Bellwether League Honoree, what would you tell him or her?
If you like people, have an analytic mind and are service-oriented, healthcare supply chain management is one of the greatest career paths to enter because the satisfaction in your job will be never-ending.
What is the one industry challenge you would like to see solved during your lifetime?
Utilization management is real, tangible and can revolutionize the way you save money for your healthcare organization.
What do you feel are some of the things that the healthcare supply chain does that's right – for the patient, for the organization and for the profession… and why?
I believe that inventory management at the using departments (e.g., PAR levels, carts, vending machines, etc.) has become a universal practice at most healthcare organizations, which is one of the major contributions supply chain has made to for the patient, hospital staff and our profession.
In two sentences or less, what defines healthcare supply chain leadership?
Having the right product, at the right price at the right place, when needed, not before!
If you traveled back in time to when you started in healthcare what would you tell yourself?
I wouldn't change a thing. It was and still is a great ride!