How do you define success in supply chain? What does it look like?

By Rick Dana Barlow
Healthcare Supply Chain leaders and professionals undoubtedly define success differently across the board. Parameters deemed important by some might take a back seat to certain parameters valued by others.
While opinions may vary among Hall of Fame Supply Chain Leaders, their insights and observations serve as a notable blueprint for which to base actions and decisions for a noteworthy career. One Hall of Famer has passed since this interview was conducted but his insights still resonate and remain valuable as part of his enduring legacy and are included here.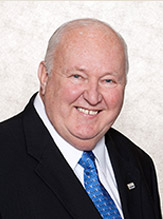 Bob Simpson
Bob Simpson, Bellwether Class of 2012, paints a three-pronged picture of success in healthcare supply chain that centers on perception.
"Credibility" represents the first tine, according to Simpson. "Other department heads and senior leadership listen to what you have to say and believe you can deliver on what you commit to," he said.
"Measurable results" occupy the second. "The ability to document your projected results that hold up to scrutiny," he added.
"Respect" holds the third spot. "From outside persons who you do business with," Simpson clarified. "This will bring additional savings and value to your institution. You will also rreceive high levels of loyalty and trust from your staff."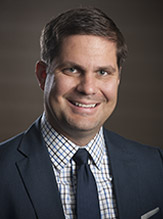 Eric Walerius
Success is all about building strong bridges and relationships throughout all areas of an organization, insists Erik Walerius, Future Famers Class of 2016.
"Successful leaders are able to create a partnership with clinicians to allow for their time to be focused on patient care and not supply chain work," Walerius noted. "Successful leaders surround themselves with individuals and build teams that provide a beneficial impact on total cost of patient care and patient outcomes."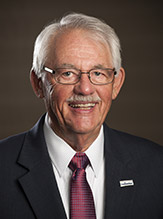 Lee Boergadine
Lee Boergadine, Bellwether Class of 2008, points to three critical qualities that quantify success and resonate throughout an organization.
"The first would be to reach predetermined goals in a highly effective, consistent manner," he noted. "Secondly, a cordial, cooperative working relationship would be achieved across all levels and disciplines of staff found within the institution. Thirdly, but not least in importance, personal success would be measured by the development and encouragement given to subordinates to assure that they are also successful."
Others point to achieving results that propel one's organization forward.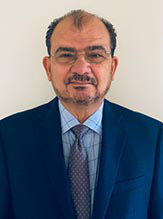 Nick Toscano
The successful healthcare supply chain leader "contributes to the overall success of her/his organization by meeting and exceeding goals and expectations for quality and financial performance and all [key performance indicators]," said Nick Toscano, Bellwether Class of 2018.
The organization's reputation reflects these achievements as a "best-in-class" organization that provides high-quality care and excellent customer service, employee feedback shows it as a "best place to work" and the "brightest and best" physicians, clinicians and employees want to work there, Toscano added.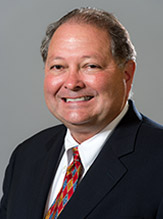 Rand Ballard
Rand Ballard, Chief Customer Officer, Vizient, Founding Sustaining Sponsor, stresses interconnected relationships as signifying supply chain success. "Being viewed as a trusted advisor and a team player by their organizational peers who depend on the supply chain team and is viewed as collaborative and fair by the supplier base that delivers goods and services to the organization," he advocated.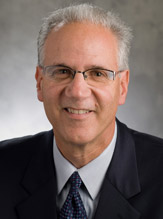 Tom Lubotsky
Supply Chain's interweaving throughout an organization speaks volumes, according to Tom Lubotsky, Vice President, Supply Chain, Allina Health, Bronze Sustaining Sponsor.
"Success should look like the following," Lubotsky diagnosed, offering six elements of note.
"Key performance measures are met that address efficiencies, safety, quality and growth of supply chain.
"Highly engaged supply chain work force that embraces a common culture, set of value-based behaviors and energy that advances the supply chain.
"A well-understood and crafted strategic plan outlining key imperatives and aligned initiatives
"Talented and capable work force that independently can execute the supply chain operating plan; continued investment in well-designed talent management plan
"Well-balanced and invested set of key stakeholders to advance the supply chain.
"Shared value defined and achieved among a selected set of collaborative supplier relationships."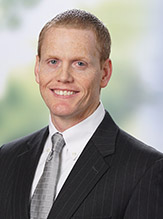 Jason Hays
Jason Hays, Future Famers Class of 2015, identifies four functional areas that can drive supply chain success.
Sourcing is first. "Selecting suppliers whose products are evidence-based and/or provide the function desired at the best price (depending on the product's nature) and can meet the quantity and delivery needs of the enterprise; have readily available alternative options to the primary supplier; have sufficient lead time for requested health technologies to adequately evaluate and source equipment/products/drugs/etc.," he said. "Effective sourcing is driven by the enterprise's strategic plan, with [Supply Chain's] involvement."
Procurement is another, which includes just-in-time procurement, product standardization, product utilization management/protocols, value analysis of new product requests following requester's justification of need and inventory management, he added.
Hays also emphasizes the need for evidence-based value analysis. "For clinician preference items, including capital equipment, implants, devices, diagnostics, drugs and disposables, decisions are consistently informed by the best available clinical evidence and a comparison to the effectiveness, efficiency and safety of alternative health technologies," he noted. "Opinion alone does not determine decisions."
Supply Chain success hinges on cost-of-care analysis and payment models, according to Hays. This encompasses participation in product/service inclusions and standardization of products in care bundles and in utilization protocols; active participation in the evaluation of health technology innovation, including futuristic horizon scanning; incorporation of health technology intelligence in the strategic planning process; evaluation of clinical and operational options and approaches on the cost of care and methods to reduce the cost of care while enhancing the quality of care and clinical outcomes, he concluded.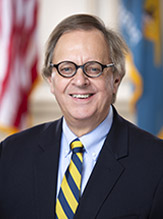 Ray Seigfried
"Success for supply chain leaders is in the development of a clear vision and applying the action to surpassing it," summarized Ray Seigfried, Bellwether Class of 2012.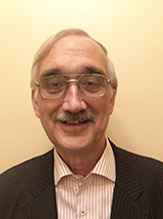 Br. Ned Gerber
To achieve supply chain success requires two fundamental skills and three foundational tasks, according to Br. Ned Gerber, Bellwether Class of 2010.
"First, the discernment to sort through the distractions and fluff of a busy world, and identify what is truly important," Gerber observed. "Second, the ability to accomplish this efficiently. As one observer noted, you may quickly and efficiently walk the length of a passenger train from one car to the next until you reach the premium seats up front. But if you are on the wrong train, what does it matter?"
In essence, Supply Chain needs to deliver one task with two critical qualifiers, according to Gerber.
Supply Chain must deliver value. "This is different than delivering 'savings,' which often means short-term cost reductions, even if long-term benefits are missing," Gerber clarified. "Value is the key. Value is overall worth, based on the specific need to be met and the total/lifecycle cost. Value considers ultimate outcomes. We see this in medicine. Today, we finally have effective treatment for the scourge of Hepatitis C. The treatment is very expensive. Two years ago, [one company] was selling its product for a retail cost of about $1,000 per pill. So governments and insurers will continue to try and negotiate better prices [because] the same pill sold for less than one percent of this in India. Regardless, compared to the cost of caring for a patient who is not treated, such pills are still a bargain. They achieve real value."
Supply Chain must deliver value efficiently. "Many Materials Managers in the past – myself included – have used opportunities for just-in-time deliveries or vendor-managed inventory to reduce hospital inventories," Gerber continued. "Other things being equal, this method can deliver real value. But in a low-inflation environment, the relative holding cost for inventory is much less. Plus, some of these programs have hidden costs, such as the handling of more frequent deliveries or the problem of one vendor having privileged access to a stockroom where all competing products are on display. In addition, we have seen this legitimate method taken too far in some cases. Not only are hospitals reducing inventory, but so are distributors. So what happens when the original supplier has a production problem? Have we considered whether the associated risk still makes this as effective as some would say? Is this really efficient?"
Finally, Supply Chain must deliver value efficiently – and with necessary quality, according to Gerber.
"This is a tough one," he mused. "We may assume that 'quality' is always part of value, but that depends on our definitions once again. I drive a Toyota, but I drive a Camry and not a Lexus. From an engineering standpoint, there is no question that a Lexus has superior quality. However, given the higher price, higher insurance cost and greater depreciation, I don't need to drive a Lexus to/from my job."
Gerber qualifies quality.
"In the healthcare industry today, I suggest real value is achieved through quality that is adequate and not necessarily advanced," he indicated. "You see this in common bandages/dressings, even at the retail or chemist (pharmacy) level. An ordinary [bandage] may cost only half as much if you are willing to buy a generic brand without multi-colored packaging for each adhesive strip. Yet, the generic [bandage] works fine. On the other hand, if you are having a cardiac procedure to insert a sophisticated catheter into your blood vessel with multiple electrodes on the end, you probably don't want a generic brand."