Dickson cleared the air for clinical connections, success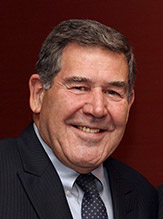 Larry Dickson
Larry Dickson was one supply chain executive who knew how to play both sides.
That's because during his career he actually played on both sides, succeeding as a supplier sales executive for a decade before excelling as a healthcare supply chain executive for more than two decades following.
After graduation from college in 1968 Dickson joined the Marine Corps and spent one tour in Vietnam as a Combat Engineer Platoon Commander. He then left the Corps and joined McGaw Laboratories, the parenteral products division of American Hospital Supply Corp. He spent 10 years with McGaw, traveling around the country before returning to Seattle and "switching sides" to work for Providence Health System as the organization's Materials Specialist.
"After 10 years on the road with McGaw it was time for a change," Dickson said. "When Providence advertised a Materials Specialist position I applied and was hired." He felt it was an interesting move, going from selling products to group purchasing organizations to working for an organization that owned and operated 15 hospitals on the West Coast.
"I chose to go into supply chain management (known back then as materials management) because of the many dedicated clinical and business management folks I met while on the 'seller' side," Dickson continued. "I was impressed with how hard folks in hospitals worked to try and contain ever-escalating costs of supplies, equipment and services and knew I could make a difference given my 10 years of experience working for an outstanding corporation like American Hospital Supply. I thoroughly enjoyed the daily challenges that presented themselves and always looked not at the task as a problem but rather as an opportunity."
Having worked on contract development and negotiations with GPOs at McGaw, Dickson brought to Providence an understanding of how large corporations positioned their product lines into loss-leader programs. Dickson also accumulated first-hand experience with American Hospital Supply's new corporate contract concept where AHS bundled as many of their divisions as possible under one contract. The experience taught him about balance. That strategy clearly favored AHS and the carrots offered gave Dickson a heads-up on how to maximize a GPO's benefits while not getting bundled into a nightmare cost accounting arrangement, as well as keep AHS divisions competitive on their individual product lines.
A year after joining Providence Dickson was promoted to Corporate Director, Materials Management and immediately began uniting all 15 hospitals to work as one cohesive group purchasing organization by appealing to clinician support.
Clinical counseling
Dickson's experience with McGaw taught him that supply purchasing depended a great deal on getting nursing and physicians to buy into the products. Purchasing and materials managers for the most part were at the mercy of the clinicians when it came to product selection, etc., so his first year was spent traveling to all of the facilities and getting to know the key nursing and pharmacy, radiology and lab managers that served as the key decision makers.
Dickson discovered that not all of the facilities utilized a focused product evaluation process nor did they effectively use a P & T committee. In fact, none of the facilities was coordinating with each other and gaining the leverage of volume purchasing, he noted. That first year was solely dedicated to getting everyone focused on their combined strengths and leverage, while working with the hospital CEOs and CFOs to emphasize the need for a collective bargaining strategy.
Starting with small supply items that had little clinical or technical pushback Dickson and his colleagues set about putting collective contracts together and with the "significant" cost reductions they saw through combining their volumes it set the tone for much larger contracts that involved highly sensitive product lines.
After the second year of collective negotiations Providence went from $12 million under contract to $27 million with achieved savings approaching the $1 million mark. The CFOs noticed this and encouraged Dickson and his team to develop common standards for product evaluations and committed volume contracting.
Dickson also helped spearhead the creation and development of seven clinical resource groups comprising the department heads from each hospital in the areas of surgery, radiology, laboratory, pharmacy, dietary, biomedical engineering and facilities engineering to work with materials management in product and manufacturer review, selection and growth of committed purchasing agreements. These clinical resource groups emerged as Providence struggled to evaluate capital equipment and highly sensitive product lines with the goal of standardizing on fewer to one manufacturer for products, service and training. The physicians appreciated their inclusion for clinical input. This process also closed the back doors on the number of sales representatives who had relationships with key doctors and stopped the undermining of Providence's evaluation process.
Further, back in the early 1980s these clinical and operations resource councils were critical to the success of engaging key physicians and administrators in purchasing decisions involving high contract compliance and standardization of capital equipment and medical supply lines in some very difficult and sensitive product arenas, according to Dickson. During this time, few GPOs were involving clinical types in product decisions and standardization of supply lines. Through these efforts, Providence managed a contract portfolio that generated a minimum 95 percent support and usage, and granted the health system strong leverage in future contract negotiations.
Due to the success of the original resource councils in helping determine the best, safest and most cost-effective products for hospital use, Providence launched two more councils representing nuclear medicine and cardiovascular lab. Together, these nine councils represented 82 percent of Providence's supply chain budget.
After Dickson retired he said he hoped people remember him for these councils. "I take great pride in bringing together very diverse thinkers and getting them to focus as a team," he said. "The nine clinical, medical, engineering and business resource councils that we formed within our healthcare system to approach the business of standardization and cost containment will always be uppermost in my memory as the most rewarding experience of my career."
The Providence Materials Management Group was also successful in developing internal regional warehousing and distribution capabilities, which reduced its reliance on external distribution contractors.
Under Dickson's leadership in the late 1980s, Providence also established an environmental/hazardous waste group that developed processes for appropriately disposing hazardous waste and managing recycling initiatives with its distribution partners.
Dickson began by negotiating contracts with local waste companies and eventually put a system-wide program together that insured consistency in the disposal process and maximum benefit from recycling medical-grade plastics and paper and equipment at the end of its useful life. Dickson's group tracked these volumes and annually reported to the board Providence's waste cycle. In fact, Providence was one of the first healthcare organizations in the nation to take this approach that even included waste management in the contracting terms.
CROSS to bear
In 1984 Providence was one of the founding members of CROSS, a consortium of seven of the largest Catholic healthcare systems in the United States, and for six years helped to plan, develop, negotiate and implement group contracts in concert with Sisters of Mercy National Health (Chicago), Sisters of Charity of the Incarnate Word (Houston), Incarnate Word Health System (San Antonio), St. Mary's Health System (St.Louis), Holy Cross Health System (South Bend, IN) and Alverno Health System (South Bend).
CROSS was the brainchild of Dickson and Warren Rhodes, who led Mercy National Purchasing Inc. for 34 years until his retirement. In fact, the two of them actively recruited the healthcare systems that comprised CROSS, which disbanded as another larger Catholic consortium began to develop but never came to fruition. From the ashes of those two efforts emerged a third new organization, the Catholic Materials Management Alliance (CMMA), spearheaded by Daughters of Charity National Health System (St. Louis). Dickson was one of the few who sat on CMMA's Board in those early years. Out of CMMA emerged Consorta in the late 1990s. Consorta is part of HealthTrust Purchasing Group.
When Dickson started at Providence in 1980 the health system had seven contracts representing $4 million in purchasing. When Dickson retired 25 years later Providence's portfolio had $500 million under contract with a high level of commitment and usage, which Dickson attributes to his colleagues' dedication and work ethic.
Dickson acknowledged that Providence's resource councils were the critical piece of his business plan and by inviting key clinical directors to partner with Materials Managers the organization significantly improved the open dialogue between clinical, technical and supply chain leaders, as well as the product evaluation process. Dickson may defer credit for successful business decisions to Providence's clinical and technical colleagues, but it was his initial ideas, leadership and ongoing management that helped Providence's supply chain group to gain trust, cooperation and a high degree of support for most of the organization's contracts.
When Bellwether League Foundation Co-Founders Rick Dana Barlow and prominent industry consultant Jamie Kowalski began forming the not-for-profit organization in mid-2007, they called Dickson out of retirement to serve on the Founding Board of Directors. He agreed and helped create and develop the Hall of Fame for Healthcare Supply Chain Leadership for several years before retiring in 2009. During his Board term, Dickson was instrumental in sharing his knowledge, experience and industry wisdom, along with creating, developing and funding the physical award given to Honorees upon Induction – the Bellwether Beacon.
Bellwether League inducted Dickson as an Honoree of the Bellwether Class of 2011.
Dickson encouraged anyone to pursue a career in healthcare supply chain management because of the profession's critical importance and how it stimulates critical thinking.
"From very humble beginnings in the early 1960s to today's highly knowledgeable and capable professionals, supply chain efficiency has become a critical business entity within a hospital's or group of hospitals' business plan," Dickson noted. "All careers have challenges to be met, but in healthcare supply chain management one has the opportunity to work with a widely diverse group of professionals from physicians to nurses, from engineering experts to pharmacology professionals, in an environment that demands problem-solving teamwork and the ability to think on one's feet. It is also a field where communication skills are learned and honed to a very high degree. If someone is looking for a career today that requires introspection and trust in one's abilities I cannot think of a better one than healthcare supply chain management at any level."
And in today's economic climate, effective and efficient supply chain in healthcare is sorely needed.
"At no time has the cost of providing healthcare to American citizens been more scrutinized and threatened. We are on the brink of moving to a multiple tiered healthcare system in this country that clearly will leave many citizens without needed medical care. Supply chain management is just one of the tools that can effectively impact cost reductions to the delivery system, and it is incumbent on all the professionals in this industry to challenge themselves daily to find better methods for more efficient supply chain activities."
Dickson passed away on Tuesday, March 6, 2018.