Ted Almon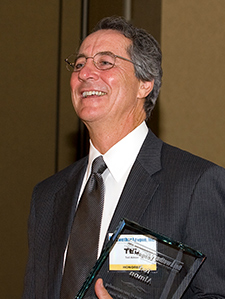 Ted Almon began his healthcare career in 1970 after serving in the US Army as a 1st Lieutenant in Vietnam. He spent six years at Baxter Laboratories (now Baxter International) in progressive sales and marketing positions, leaving Baxter in the sales education area.
Almon became President and CEO of The Claflin Co. in 1976, upon its purchase by the Almon Co. Under his direction, Claflin has grown vigorously and today is numbered among the industry's leading regional independent healthcare distributors. In February 1998, Claflin became the industry's first ISO 9002 Certified distribution firm. The company has become recognized within the industry as a pioneer in advanced logistics programs for hospitals. Almon has been a frequent speaker and panelist on the subject at industry events. He has served on the editorial advisory board of Hospital Purchasing News, Repertoire Magazine,Health Industry Today and Hospital Materials Management, leading trade publications, and is frequently quoted in industry media.
Almon also serves as Chairman of the Board of Claflin Equipment and Service Co., which provides specialty equipment and biomedical repair services to the hospital and alternate-site markets.
He has served as Trustee of two hospital boards, which include a chairmanship and finance committee experience.

In 2010, Almon is the Board Chairman of National Distribution and Contracting Inc.  NDC is the premier master distributor/buying group in the healthcare distribution supply chain. He is a past Chairman of the Health Industry Distributors Association (HIDA), a past member of the HIDA Executive Committee, and past Chairman of HIDA's Hospital Market Group. HIDA is the health industry's leading trade association representing medical distribution firms around the globe. Almon recently retired from the Board of the HIDA Educational Foundation. He was honored at HIDA's 1997 Annual Trade Show & Education Forum, held in Chicago, as the recipient of the "Industry Award of Distinction," considered medical distribution's highest honor for individual lifetime achievement and contributions to the field.

He is a Past Director and Chair of the Health Industry Business Communications Council (HIBCC). HIBCC is the ANSI-accredited standards development organization for electronic commerce in healthcare.

He has been a member of the Advisory Board of Choice Medical Distribution, a provider of electronic data interchange (EDI) and customer-based business systems, Chester Laboratories, a manufacturer of healthcare products, Diagnostic Information Systems, a healthcare software developer and Delta Dental of Rhode Island.  

He is active in several community-based charitable activities, including Trustee Emeritus of the Women & Infants' Hospital Development Foundation, and Trustee of the Greater Providence Chamber of Commerce. In April 2008 the American Hospital Association honored Almon at its annual membership meeting as a "Grass Roots Champion."He was nominated by the Hospital Association of Rhode Island for his advocacy work. Other significant awards include the HARI "Public Service Award" along with his father Edward F. Almon in 2009, and the "Bertram Yaffe Award" of the Rhode Island Public Health Association.  

Almon has been an active participant in the contemporary healthcare reform scene and has been a frequent op-ed contributor to the Providence Business News on healthcare topics. His unique perspective has sought to align the incentives of the business community with those of healthcare providers to accomplish fundamental reform in the areas of cost, quality and access. He has served on numerous task forces, study groups and panels on both the State and National level on health reform subjects. He is a frequent resource to the RI Office of the Health Insurance Commissioner, the Department of Health, the Department of Human Services, the State Senate, and the office of the Lieutenant Governor as a spokesman for the business community and the healthcare industry.
In His Own Words…
What do you think about Bellwether League Inc.'s mission and philosophy and how do you feel about becoming an Honoree?
I am honored and very flattered to be included, indeed even thought about, in the company of such a distinguished group of professionals, many of whom have been role models to me over the years. The Bellwether League is an inspirational concept that will serve to motivate future generations of health care supply chain leaders. 
What attracted and motivated you to join the healthcare supply chain management field when you did?
It was so long ago now it is difficult to remember. The Vietnam War was ending. I was getting out of the service. Healthcare seemed like a field that would have steady growth and where a still idealistic young guy could feel he was making a meaningful contribution to society.
For what one contribution would you like to be most remembered?
Well, there are several, but they are related. In 1986, by luck and circumstance, I became involved with a hospital client of ours in the design of a new facility. It led to the development of Stockless Materials Management, which was actually an application of Just-In-Time inventory management to the acute care hospital setting for the first time. From this my company became known for innovation in hospital logistics and that exposure contributed to my elevation to the leadership of our trade association HIDA. As Chairman in 1992 I introduced and promoted the "Paradigm Project," which was the first real critical look at the industry from a supply chain management perspective. That effort led directly to the Efficient Healthcare Consumer Response (EHCR) initiative, which I think changed our industry and was a significant evolutionary step in its efficiency and development. 
If you were to encourage people – either outside of healthcare or just out of school – to enter healthcare supply chain management and strive to be a future Bellwether League Inc. Honoree, what would you tell them?
America's healthcare delivery system today is under tremendous stress. The challenges to maintain and improve quality, while at the same time enhancing efficiency and controlling costs are daunting, but like all formidable problems, hold great opportunity for those with the courage to seek solutions. The healthcare supply chain is at the center of this unfolding drama. Supplies and the labor used in their acquisition and distribution can make up fully a third of the operating budget of a modern hospital. Today healthcare supply chain executives will be on the front lines of reform and a key element of the delivery system that emerges.
What is the one industry challenge you would like to see solved in your lifetime?
Most of the fiscal instability that has afflicted the healthcare industry in recent history has a root cause in the often perverse incentives built into the fee-for-service reimbursement process used by payers to compensate providers.  Most policy experts agree that a new payment system, one which rewards providers for high quality and efficiency, is necessary to align the systems financial incentive with the interests of patients. While reimbursement alternatives are currently under study, little is known about how various methods would impact a delivery system designed to maximize revenue in a fee-for-service environment. The challenge of how best to pay providers in order to encourage a streamlined and efficient healthcare delivery system is its foremost priority.
How important is effective and innovative supply chain management during tough economic times?
While it is always important, economic downturns provide a "stress test" for our supply chain management techniques and processes. In that sense perhaps, the inevitable cycles of the economy help learning organizations to focus on best practices and to avoid complacency.