2020 Ammer Honoree Profile: Randy V. Bradley, Ph.D., CPHIMS, FHIMSS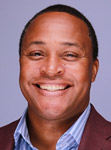 Status: Active
Career span: 23 years and counting

Current title: Associate Professor of Supply Chain Management and Information Systems, University of Tennessee Knoxville, Haslam College of Business, Department of Supply Chain Management and Executive VP of Digital Transformation for Life Sciences, Bio Supply Management Alliance
Prior to the 1960s, those involved in cooperative buying, purchasing and other functions within what we now call supply chain, had relatively few textbooks or printed educational and informational materials from which to learn. At best, they could turn to the 1909 booklet, "A Central Purchasing Agency for the Hospitals of New York," written by William V.S. Thorne (Bellwether Class of 2017), the "father of cooperative buying" and the founder of what is regarded as the first group purchasing organization, Hospital Bureau of Standards and Supplies in New York in 1910.
By the late 1940s, two other supply chain experts who served as prolific authors emerged to provide the foundation for the future of supply chain development – inside and outside of healthcare. Paul Farrell (Bellwether Class of 2012), co-authored the textbook "Purchasing Principles and Applications," as well as published hundreds of articles in respected industry journals, including Purchasing magazine, Purchasing World magazine and Health Institution Purchasing magazine. Paul Widman (Bellwether Class of 2013), who implemented supply chain innovations in the late 1940s at Johns Hopkins University Hospital, then at Cleveland Clinic in the 1950s and the subsequent two decades, also published a plethora of materials, ranging from educational papers to newsletter and magazine articles.
By the early 1960s, Dean S. Ammer, Ph.D., (Bellwether Class of 2008) had entered the scene and had begun his seminal research in hospital-based materials and purchasing management, penning a variety of textbooks that became university staples as well as hundreds of newsletter, magazine and journal articles on the application of sound industrial engineering and economics practices to supply chain and specifically for healthcare organizations.
The writings of these early 20th century Bellwether Hall of Famers (Thorne, Farrell, Widman and Ammer) and their more contemporary successors – including Charles Housley (Bellwether Class of 2008), Bill McKnight (Bellwether Class of 2009), Steve Gray (Bellwether Class of 2011), Chris Bale (Bellwether Class of 2013) and others who published as industry executive practitioners, pave the way for the next-generation of ideators, influencers, innovators, leaders and thinkers.
Today, one of the leading minds shaping both current and young and upcoming supply chain executives in the 21st century is Dr. Randy V. Bradley.
What makes him special?
Bellwethers like Thorne, Farrell, Widman and Ammer hailed from non-healthcare backgrounds and applied industry concepts to healthcare, Bradley did the same but with a twist: He's not from the manufacturing industry that so dominated the 20th century; he's from the information technology industry that is leading the 21st century. Bradley demonstrates through lectures and teaching the value of IT in healthcare, and he also connects IT in healthcare to supply chain…in healthcare.
As a university professor and an industry leader, Bradley's thought leadership reinforces the need to advance supply chain digitalization – not simply for transactional purposes, but also for foundational development and progress towards healthcare transformation.
His insights and international keynote addresses and industry engagements illustrate his reach across multiple ages, experience levels, and countries. Bradley's finger is soundly on the pulse of 21st century IT, such as blockchain, AI, RPA, social media, cloud, and the Internet of Things, and supply chain concepts in healthcare, such as digital, always-on supply chains, etc. that appeal to the younger Millennial (Generation Y) and Generation Z professionals and beyond. His explanations of how to take advantage of emerging technologies in healthcare supply chains are practical and relevant to current and next-generation supply chain professionals.
During the last decade, at least, Supply Chain has seen an influx of younger talent emerge, hungry for opportunity within the profession and filled with ideas on how to push the industry forward, despite any resistance from those who prefer the more comfortable status quo, no matter how strenuous or stressful.
Bradley feeds their hunger with new ideas and wonder, offering more realistic mindsets about advancing capabilities and processes more effectively and efficiently.
As seasoned executives and professionals rotate out of Supply Chain, leading perhaps to a crisis of confidence in succession planning, according to the latest research from Jamie C. Kowalski Consulting, Bradley offers an appeal to the younger crowd, which is more in tune with IT-related issues and more comfortable using technology even for the most mundane tasks to the point that they likely can't live – or work – without it.
Besides connecting the dots with IT and with clinicians, Bradley also exudes energy, which is addicting and attractive at the same time, a necessity to prevent the profession from growing old and stodgy and withering away to be swallowed by other departments or even third-party vendors as a purchased service.
Bradley stresses the need for going beyond getting the healthcare supply chains future-ready and making them future-proof through what he calls "a-commerce"…conducting transactions anytime, anywhere, and any way healthcare stakeholders demand it. He intimates that this entails being able to respond to prompts and triggers as they happened and not some time after they happen.
Key achievements, accomplishments befitting Ammer Honoree recognition:
Bradley's impact remains at the germination stage right now, simmering below the surface of current healthcare supply chain thinking. Where previous generations could turn to textbooks written by Ammer and journal articles written by Ammer, Farrell, Widman, McKnight, Bale and others to fuel and shape their thinking, tactics and strategies, current and incoming generations see and hear Bradley's recommendations and suggestions live and through online and streaming video.
He has developed a number of educational courses on Supply Chain and Supply Chain-Information Technology that extend beyond post-graduate and graduate levels into even the younger undergraduate realm with the potential of attracting high school students into the profession. His curricula also spans business and supply chain analytics for non-analytics managers and professionals, healthcare IT strategy and healthcare supply chain management for healthcare leadership and physician executives. Hence, he extends supply chain and IT leadership thinking to both the C-suite and clinical suite in healthcare organizations.
Cost savings, clinical improvements, process efficiencies and revenue enhancements for supply chain, clinical operations and/or healthcare organization(s):
Because Bradley is an educator and not a practitioner, it's difficult to determine any quantifiable cost savings, process efficiencies or revenue increases for which he was directly responsible. Instead, you could make the case that he's more indirectly responsible for these improvements based on the achievements and accomplishments of students emerging from his university curricula and embarking on healthcare supply chain careers or those executives and professionals already serving in healthcare supply chain careers who have heard him speak at national and international events, including, AHRMM, Annual Conference of China Pharmaceutical Distribution Industry, Chengdu International Biomedical Supply Chain Conference, Health Connect Partners, HIMSS, Material Handling Institute, SCAN Health Annual Summit, SMI, and other regional and state events in both healthcare and non-healthcare areas. See CV for the extensive list.
Challenges, obstacles experienced and overcome successfully:
Some might point to ethnicity and race as the clearest example, but that would sell Dr. Bradley's achievements, contributions and effects on his audiences way too short. If anything, Bradley's advocacy, evangelism and teaching about supply chain and IT have moved the needle of awareness of the connection between those two areas as well as the need for such connections forward in a way that seems profound for earlier generations, attractive and hopeful for current generations and reinforces its way of business and life for younger and future generations – those who might exclaim, "No duh…it took you guys long enough to get here with us."
Managing professional relationships and services:
As an ordained minister, songwriter, and music composer, Bradley knows how to communicate creatively to his audience and to the industry. During his lectures, presentations and speeches, he routinely reaches into the creative thought processes of his audiences of students, professionals and executives, tapping into their knowledge and recognition of not only what's available but also what's possible. This contributes to moving the bar forward.
Innovative leadership examples:
The clearest example of his innovative leadership can be found on the numbers and faces of those who attend his lectures, presentations and speeches. His educational delivery remains intuitive as it is entertaining; he manages to reach his audiences in a way that generates rapt attention and profound realizations and thinking.
IN HIS OWN WORDS…
If you were to encourage someone – either outside of healthcare or just out of school – to enter healthcare supply chain management, what would you tell him or her?
Working in healthcare supply chain management is walking out a passion path. It's where your desire for the betterment of all mankind (whether directly or indirectly) meets your unique skillset, talent, and analytical skills. It's not a question of why would you want to work in this space, it's a question of why wouldn't you want to work in an environment where you have the opportunity to help elevate profession to a level that's commensurate with the great level of care it affords clinicians to give to patients.
What is the one industry challenge you would like to see solved during your lifetime?
Global visibility and traceability of the availability and movement of supplies and pharmaceuticals resulting from truly integrated and interoperable systems.
What do you feel are some of the things that the healthcare supply chain does that's right – for the patient, for the organization and for the profession … and why?
The healthcare supply chain does a great job of working to reduce patients' cost of care, without compromising their safety.
The healthcare supply chain serves as a stalwart for hospitals and health systems by remaining flexible and resolute when dire situations, such as natural disasters and pandemics influence surges in demand and interruptions in the flow of supplies and pharmaceuticals to ensure clinicians have the best possible products at the point of care when needed.
Healthcare supply chain professional are the most close-knit group of professionals I have ever encountered. Their continual willingness to look towards the future by develop rising talents, in many cases with little to no workforce development budgets, while executing in the present with the utmost professionalism and ethics is a testament to their commitment to the healthcare supply chain profession.
In two sentences or less, what defines healthcare supply chain leadership?
Healthcare supply chain leadership is defined by one's willingness and ability to motivate and inspire supply chain and non-supply chain leaders to do great things and achieve greater heights, and whose influence is not restricted to the individual's own organization. Such an individual must possess and demonstrate the fortitude to advance healthcare delivery through innovation and strategic impact while demonstrating that challenging the status quo and establishing new norms are necessary for professional and personal growth and healthcare transformation.