Gene D. Burton (1927-2016)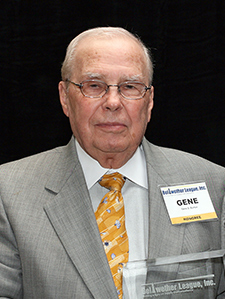 Work Experience – Minimum 10 years of service within the healthcare supply chain (including a hospital or nonacute care facility, manufacturer, distributor, GPO, consulting or service company).
10 years of hospital line management (purchasing) experience (1958 – 1968)
Started first full service shared services (including GPO) for hospitals in Western Kentucky in 1968
8 years as Corporate Purchasing Director for Humana
12 years at HCA, developed the corporate purchasing organization and processes for the industry's largest for-profit chain of hospitals
Expanded the corporate purchasing service to affiliates, creating a GPO
After retiring from HCA, founded Gene Burton & Associates Inc.,an equipment planning and procurement consulting firm. Still operating after two decades.
Work Performance – Specific accomplishments/achievements in their respective organizations, including expense management measures, committee involvement and management leadership.
Considered by industry to be knowledgeable, good character, ethical, etc.
Grew purchasing volume for HCA to more than $1 billion by adding contracts, hospitals and gaining compliance
Grew consulting business from 4 people to more than 60 during his presidency
Professional Activities – Minimum 5 years of active association participation (e.g., office holder, committee chair or contributor, organizing and running meetings, mentoring others) on the national, regional and local level; performed a minimum of two speaking engagements (national, regional, local, facility) and published at least twice (including writing an article or being interviewed by the trade media) during career.
National Association of Purchasing Management
American Society of Hospital Materials Management (now AHRMM)
Federation of American Hospitals/Healthcare Systems
American Hospital Association
Advancing the Profession/Industry Influence – Challenging the norms, contributing to the thought process, pushing the envelope in terms of moving the profession/industry forward. Examples include serving as a mentor either within his or her individual organization or on a national, regional or local level outside of his or her individual organization; internal inservices for the C-suite on supply management; pioneering new concepts and ideas that may or may not become reality; influencing those up and down the corporate hierarchy on the benefits of and promotion of sound supply management.
Spoke at many internal HCA meetings, seminars
Spoke at AHRMM conferences
Wrote at least 1 article
Mentored 2 people who took over as the CEO of his consulting company, Gene Burton & Associates Inc.
Gene Burton was an early innovator in the healthcare Corporate/Central Purchasing/GPO arena, setting up one of the first GPOs, (in Kentucky) and later serving as the vice president of materials management for the industry's largest for-profit chain, HCA. Later he started a very successful and respected consulting firm that is going strong today.
Gene was highly regarded in the profession, someone many looked at as a role model, had integrity and ethics, was humble and treated people with great respect. He always took time to share what he was doing, ideas about how to do things better, and secrets to his successes, even though he was in the for-profit sector.
In His Own Words
What are your thoughts about the mission and philosophy of Bellwether League Inc. and how do you feel about becoming part of the organization as an honoree and inductee?
I am flattered and honored to be part of the first group of inductees. It is a great thing to promote supply chain management, given its contribution to the healthcare industry. The Board of Directors itself is made up of outstanding individuals who were the fathers of healthcare supply chain management, the architects of supply chain management, over the last 40 years.
What attracted and motivated you to join the healthcare supply chain management field when you did?
I became interested in healthcare supply chain management in the late 1950s. I had a job in a manufacturing plant in Louisville, KY, as the purchasing manager when a recession hit and the plant was closed. My wife and I moved back home to Oklahoma and my brother knew there was a new hospital being built and talked me into applying for the purchasing job. I did and got it. I worked on getting all the items and equipment needed to set up that hospital. Then, I saw there was an opportunity to do that again, in South Carolina, so I went there and did it. I admit I cannot say that it was some grand dream or plan; rather it was circumstantial or coincidence, being at the right place and time that got me into healthcare.
For what one contribution would you like to be most remembered?
I am really very proud of what I did with my consulting firm, Gene Burton & Associates (GBA). After I retired from HCA, where I really honed my knowledge and skills in hospital equipment planning, I decided to try it on my own. We started with 4 people and now there are 60, in 4 locations. Our 20th anniversary is coming up. 
What I think made it work is the advice I took from that first small hospital in Oklahoma. The OR Director asked me what gave me the qualifications to decide what equipment was needed or would be purchased to use in 'her Operating Room?' I explained that I would listen to her staff, learn what they are doing and base decisions on that. She accepted that answer. That event instilled in me a philosophy I continued to follow. At HCA, when it was building all those new hospitals, we began recruiting clinically trained people, who we trained how to plan for and buy equipment. As part of the training, we had each person spend time in every part of the hospital, learning what they did and how. This served as the basis of establishing credibility with the clinicians, as well as improved the ability to find what items would match the users' needs. GBA continues to employ that approach, and it's working today! Further, it was that approach that helped GBA build a reputation that clients and architects sought out; we didn't have to try very hard to sell our services.
I am proud of setting up one of the nation's first shared services facility for several hospitals in Western Kentucky. It was cutting edge at that time, with a shared laundry and warehouse, where we could buy in bulk for these small hospitals and give them tremendous savings.
If you were to encourage people – either outside of healthcare or just out of school – to enter the supply chain management field and potentially qualify to be a future Bellwether League Inc. honoree, what would you tell them?
My advice to anyone in or entering this profession is exactly what I built my own reputation on: Learn healthcare first. Establish relationships with the clinicians and users, so you have a base relationship to work on. Then apply what you know about business and supply chain management, and add the value associated with that, in the spirit of helping the users get what they need and the hospital gets the best deal/terms at the same time.
What is the one industry challenge you would like to see solved in your lifetime?
What I would like to see fixed in my lifetime is GPOs. My concern is that the GPOs appear to have turned their focus too much on just the numbers. The dollars – how much money they are 'making,' driving more dollars, more volume through their contracts. They seem to have lost sight of the roots of GPOs – make the process of purchasing the most cost efficient for both the hospitals and the suppliers, as well. I know that is a controversial thing to say, but it is my observation and concern.