Patrick E. Carroll Jr. (1949-2018)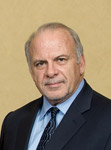 Status: Deceased
Career span: 40 years
Last title: President, Patrick E. Carroll & Associates
Innovative, leading-edge, pioneering accomplishments befitting a Hall of Fame career:
Patrick Carroll served the healthcare industry as a leader, mentor, consultant, author and board member in multiple professional associations and advocacy groups, including Bellwether League.
He was President of the American Society for Healthcare Materials Management (ASHMM) 1989-1990 and led the association (now known as the Association for Healthcare Resource & Materials Management – AHRMM) to develop its first strategic plan.  He was also one of a very few individuals who achieved the level of lifetime Fellow status.
Carroll served hundreds of clients, helping them to improve their operations, and save millions of dollars in the process.  They include more than 250 hospital and group purchasing organization (GPO) clients that achieved more than $183 million in savings through expense reduction projects, strategic planning, interim management and operational and financial analytics, reviews and studies. Carroll presented at hundreds of conferences during his career, teaching audiences about supply chain principals as well as other healthcare topics.  He taught others how to apply those principals and tactics in everyday operations.
His specialty over time was to assist medium and small institutions improve their performance.  This under-served healthcare segment sorely needed someone who could speak their language and assist them in adapting supply chain principles to their specific needs. Carroll fulfilled those needs.
Focus on mentoring, education, and/or advocacy to advance other supply chain professionals and executives, and the profession as a whole:
Carroll established a specific niche in assisting medium to small healthcare organizations throughout the United States.  He helped these clients adapt current and future thinking.  Current concepts do not always translate easily from one size organization to another.  Carroll also found it his "calling" to speak out for this market and its practitioners.  He was an advocate for them and touted their personal achievements.  Many individuals looked to him for not only that guidance, but to be championed in organizations like AHRMM and BLI.
He could defend their goals and achievements to upper management in a way they could not always do for themselves.  In this way, he was a mentor to them!
Hallmarks of leadership:
Some of the positions he held were:
Administrator Director of Materials Management, for Presbyterian Intercommunity Hospital, Whittier, CA
Vice President of Clinical & Support Services at St. Mary's Medical Center, San Francisco
Associate and Principal in Charge of the Healthcare Operations Practice at Laventhol & Horwath, one of the leading consulting firms at the time
Project Director in multiple consulting companies
Board member and President of ASHMM, the first elected President from a non-provider organization
Treasurer and Secretary of Bellwether League as well as a founding Board member. In fact, Carroll was one of two Bellwether League Board Members elected to two different offices during the last 12 years. He first served as the organization's Founding Treasurer for five years (2007-2012) and then six years as Secretary (2013-2018)
Founder and President of his own consulting company for more than 27 years.
Carroll's leadership depth and capability were demonstrated by the leadership and executive support positions he held within many different kinds of organizations.
Innovation in practice:
In recent years Carroll focused on a segment of the healthcare sector – medium to small facilities.  He developed a specialized approach to helping these organizations identify their potential to reduce costs and improve performance.  His development of a program he called "PACER" was just such an example.  The "PACER" tool was used in evaluating expense and operational opportunities for reducing cost and elimination of waste.  He showed his clients how they could adapt current industry practices, much to their appreciation as this market segment did not draw attention from many other consulting practices.
Carroll admirably felt it his calling to assist those who had limited voices within the industry as well as sometimes within their own organizations.
Managing professional relationships and services:
The fact that Carroll enjoyed much repeat business from those he served speaks to his ability to deliver a good service that satisfied his clients, and achieve support from supply chain professionals as well as their administrative superiors.  He could speak the language to any level of healthcare professional – convincing them of the need for improvement as well as the tactics to achieve them.
In the professional organization side of Carroll's world, he clearly demonstrated his desire to assist those organizations in achieving high levels of performance.  His volunteering nature served him well and those organizations he improved by his service.  He brought years of knowledge to the table and offered his expertise in making steady improvement while being a solid team member.  Carroll served on numerous Boards and was routinely invited to extended terms due to his cooperative style and leadership capability.
Commitment to ethical and moral standards and integrity:
Carroll maintained an unwavering dedication to the organizations he served.  Whether it was a client or an organization, Carroll always fought for what he believed in and championed.  He never waivered from an ethical stand, regardless of the person or situation in question, even when he did not always agree at the outset of a discussion.  When appropriate, Carroll was willing to compromise and/or change his position if the other side of the issue led him to think that was the best solution/decision. These times made for a better outcome and never diminished the respect each had for the other party.