Dan Dryan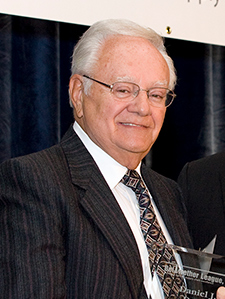 Advancing the Profession/Industry Influence
After a 46-year career in supply chain management, Dan Dryan retired – but he was not forgotten! Dryan was sought out two additional times after retirement to assist in supply chain operations, using his expertise to help others. A leader in his field, an author, a speaker, and even a college-level educator, Dryan gave to his profession in every way he could. And, as all great leaders, Dryan was a mentor to those that he hired, taking great pride in seeing those individuals move on to even higher positions than he himself.
In the early 1980s, Dryan designed and implemented new organizational structures at the hospitals where he worked, equipping and opening a 37,000-square-foot warehouse for multiple hospitals and satellite facilities. He implemented multi-hospital computerized materials management information systems as well. He also was an early leader in managing the supply chain activities of off-site surgery centers, physician offices and urgent care centers.
Dryan was one of the early adopters of hand-held devices, bar-code scanning and other means of improving performance. He had more than a few opportunities to assist architects in designing materials systems into new construction. His ideas insured supply chain systems were in place for many years to come. He even expanded the materials management department reach to create an outpatient transport service for more than 400 patients monthly.
One notable achievement of Dryan's was being the first hospital in the country to implement the Friesen concept completely throughout the patient care area. He also implemented segments of the Friesen concept in other hospitals where he worked. Dryan endorsed Gordon Friesen (Bellwether Class of 2009) and his concepts, due in part to the quote from Friesen he still remembers today, "Let people do what they were hired to do" and leave the rest to materials management.
During subsequent years Dryan implemented three off-site distribution centers, computerized enterprise resource planning (ERP) systems, value analysis committees, cost-reduction initiatives, and numerous other new or improved means of elevating the supply chain. Dryan either created or adopted new ideas everywhere he went. He was proud to have each of his hospitals be on the leading edge of any and all supply chain advancements. He was a change agent that brought leadership, automation and new talent to each entity he touched.  And Dryan promoted supply chain in the spoken and written word – helping the profession improve along the way.
Work Experience

1957–1976, Mercy Hospital, Chicago, IL, orderly, orthopedic tech, SPD manager, and director of materials management
1977–1983, University of Chicago Hospital, director of materials management
1983–1988, Ingalls Memorial Hospital, Harvey, IL, director of materials management
1988–1996, Boca Raton (FL) Community Hospital, director of materials management
1996–2003, Memorial Health System, Ormond Beach, FL, systems director, facility services
2005–2006, Shands Hospital, Jacksonville, FL, interim director of materials management (out of retirement)
2008, Nexus Healthcare System, Houston, TX, supply chain consultant (out of retirement)
Work Performance

While much of his work performance and accomplishments are documented above, a notable achievement for Dryan that sets him apart from his peers is his educational side. He assisted in developing university-level textbooks for Purdue University in the 1980s as well as teaching courses on management at the University of Chicago Hospitals and Ingalls Hospital. He specialized in teaching others the value of caring and personal interactions – how to be successful while treating others with dignity and respect.  

He was a frequent guest speaker for the AHA, VHA, IAHCSMM, and numerous healthcare industry manufacturers. He published articles in national magazines on topics in SPD, off-site warehousing, supply distribution and numerous other materials management functions.
Dryan implemented new organizational structures at every hospital where he worked. He developed four off-site distribution centers, including a 37,000-square-foot facility that supplied satellite facilities, such as surgery centers, physician offices and urgent care centers. He assisted architects in designing material systems into new construction to ensure supply chain systems were in place.

He purchased and renovated a five-story, 43,000-square-foot office building and moved departments from the hospital to the new building to create more space in the hospital for patient care. He rented out available space and managed the building.  He also implemented an off-site linen distribution center for four hospitals, and an outpatient transportation service supporting more than 400 patients a month.
Professional Activities

Dan Dryan helped to establish and then lead the Chicago Metropolitan Chapter of the Health Care Materials Management Society, the largest chapter in that group. Dryan served as president of the local organization and also served as an advisory board member for many years. 

Dryan was a member of the Purdue University Advisory Board for materials management certification and Baxter Healthcare Advisory Board.

Dryan was the author of numerous articles published in national trade magazines on such topics as SPD, distribution, off-site warehousing, print shop and other materials management areas. He served as a columnist for IAHCSMM's Communiqué magazine for three years. He also was a speaker and panel member during AHA, VHA and IAHCSMM meetings. He was a guest speaker and panel member for Johnson & Johnson, 3M Health Care, Kendall and Zimmer, and participated in satellite and radio broadcasts.

Dryan mentored approximately 40 individuals who moved on to become supervisors, managers, directors and higher positions in the healthcare field.

Dryan earned the following awards during his career:
National recipient of the 1984 "Dr. Felix R. Aquina – Materials Manager of the Year"
1986 National Materials Management Presidential Award for Achievement
1988 National Materials Management "Jay Brewer" Award for Achievement
1990 Honorable Mention for Materials Manager of the Year from Hospital Purchasing News
In His Own Words…
What do you think about Bellwether League Inc.'s mission and philosophy and how do you feel about becoming an Honoree?
I am so grateful that a group of people took the time and effort to form such a prestigious organization and develop a philosophy that recognizes people. The name selected – Bellwether – means leadership, direction, being on the forefront. I am also grateful the mission statement not only covers savings, but innovators, pioneers, risk takers, and paints a picture of what would happen to patient care without these people. 
What else can be said about being an Honoree? It's not just the honor but also being in the company of such prestigious fellow Honorees and Inductees.  
What attracted and motivated you to join the healthcare supply chain management field when you did?
I was employed at Mercy Hospital when they were going to build a new hospital and implement a new and different concept that would allow people to do what they were hired to do. 
You had nurses ordering supplies, taking inventory and charging the patient instead of spending time with the patient. Highly skilled nurses in the operating room were doing the same, plus washing, sterilizing and making instrument trays. Under this new concept one department would be trained to handle these functions – the department was Sterile Processing and Distribution (SPD). 
It was a concept that I believed in and had the vision that this could spread into hospitals across the nation, and I wanted to be a part of it.    
For what one contribution would you like to be most remembered?
I would like to be remembered for being a mentor and an educator. I have had the privilege of having more than 40 employees that have moved up to a managerial or higher role in supply chain or related fields. That's a great feeling.
In 1968, I put a plaque on all my employees' desks that said, "Just Do It," and learn from it. I found that to be successful in a mentor's role you have to show people they are important and not just tell them.    
If you were to encourage people – either outside of healthcare or just out of school – to enter the supply chain management field and potentially qualify to be a future Bellwether League Inc. Honoree, what would you tell them?
Think about patient care and how you can affect care through the centralization of supplies and functions, allowing the caregiver to do what they were hired to do. 
Also, move away from the desk and go see the user. See what their problem or concern is. Monthly, I would scrub and observe a surgery to see how a product or instrument was used – to see why a doctor wanted a certain product and to listen to their suggestions and concerns.
The great thing about being involved in supply chain management is you wear a different hat every day and never get bored doing the same thing everyday. I can honestly say there was never a day I did not look forward to going to work. Supply chain management offers you a variety of responsibilities. 
If you are not willing to serve others then you will never be able to say, "I am in the Bellwether League Inc. Supply Chain Leaders' Hall of Fame."    
What is the one industry challenge you would like to see solved in your lifetime?
Some progress has been realized, but a true bar-code system is what I'd like to see solved. There are just so many efficiencies to be gained for this process not to be instituted.
I'd also like to see more standardization of forms – not just in a hospital but in all hospitals. I know it can't be all forms, but we can certainly standardize the generic ones. 
I know I was asked for only one challenge but company after company would ask me, "What do we have to do to get your business?" Simple. Give me the product you said you would, the quantity you said, and at the price you gave. That never happened – which led me to off-site warehousing.
But one man understood my request to have the purchase order, packing slip and invoice all the same and the product packed the way I requested on the skid. He's now in the Bellwether League – Brien Laing (Bellwether Class of 2009).    
How important is effective and innovative supply chain management during tough economic times?
Tough economic times will bring out the best supply chain leaders. Practices should already be in place allowing departments to utilize their talents for which they were hired. Leaders should be using dynamic information to build volume commitments, product standardizations and best pricing options. 
During tough economic times supply chain leaders will be brought to the forefront.