Derwood Dunbar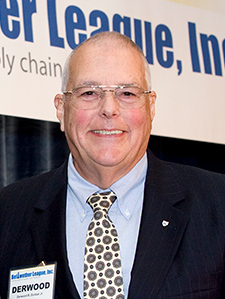 Advancing the Profession/Industry Influence
Since mid-1989 Derwood Dunbar Jr. has led one of the top 12 largest GPOs in the nation – Mechanicsburg, PA-based Mid-Atlantic Group Network of Shared Services (MAGNET), a group of groups, per se, that was partly the brainchild of Dunbar and consultant Bill McFaul. Over the years, while other GPOs focused on medical/surgical, laboratory, pharmaceutical and food service supplies, MAGNET has concentrated more heavily in asset management, building a specialized, and arguably the most extensive portfolio of capital equipment and service contracts. What you may not know is that Dunbar is one of the last remaining, if not only remaining GPO chief executive with a hospital materials management background. During much of the 1960s through the late 1970s he served as purchasing director for three different hospitals in the Chicago land metropolitan area before moving to Pennsylvania to enter the burgeoning field of group purchasing and shared services. But he developed his considerable asset management expertise in the hospital environment, exploring new ways to acquire capital equipment cost effectively for his respective facilities.
Work Experience
Dunbar was born into the healthcare industry with a grandfather, mother and father who were pharmacists. As a child he worked for his father Derwood Sr. who owned a pharmacy in the northern Rogers Park neighborhood of Chicago, assisting him in compounding prescriptions. As a teenager, Dunbar took a summer job at St. Francis Hospital in south Evanston, the Chicago suburb immediately north of Rogers Park. 

During the next summer, he went to work for Ed Blaszczyk, St. Francis' Director of Purchasing and Assistant Administrator, who taught Dunbar about the hospital purchasing business.

Following high school, Dunbar spent two years at Northwestern University in the pre-med program and was denied early entrance into Northwestern's Medical School. He then returned to St. Francis' purchasing department and enrolled at North Park University on Chicago's Northwest Side. Blaszczyk encouraged Dunbar to see how the supply chain business worked on the supplier side so Dunbar joined Mills Hospital Supply (now known as Medline Industries Inc.) where he spent 1.5 years in a variety of roles, including order entry, customer service and warehouse operations.

Dunbar returned to the hospital side to focus on supply chain management in roles at several Chicago-area hospitals: Community Memorial General Hospital; Lutheran General and Deaconess Hospital; and, for 10 years, Columbus-Cuneo-Cabrini Medical Center, a three-hospital system in the city. While handling supply chain activities for these hospitals, Dunbar also learned how inner city hospitals provide care to those that needed it.
As vice president of materials management at Columbus-Cuneo-Cabrini in 1977, Dunbar received a call from the Hospital Council of Central Pennsylvania. They were looking for a vice president of shared services and operations. HCCP wanted to replicate what the Hospital Council of Western Pennsylvania had achieved under Don Siegle (Bellwether Class of 2008).

So Dunbar promptly moved his family to Pennsylvania to develop HCCP's group purchasing program. Within two years, during a meeting of regional groups at the Mid-Atlantic Health Congress, Dunbar helped to develop a coalition or "supergroup" of regional groups that largely would concentrate on capital equipment contracting. That supergroup was the Mid-Atlantic Group Network of Shared Services (MAGNET). Dunbar worked with a number of individuals to build MAGNET, including prominent consultant William McFaul (Bellwether Class of 2008).

Within a decade of moving to Pennsylvania to develop HCCP's group purchasing program, Dunbar was tapped by MAGNET to run the organization even as he served full-time at HCCP. Two years later, he became MAGNET's full-time president until he retired in 2010.

During his MAGNET career, Dunbar steered the GPO to expand to include consumables and services, and also was instrumental in developing the Group Purchasing Group (GPG), a professional organization where group purchasing executives would gather to share knowledge and skills. GPG eventually morphed into the Professional Society for Healthcare Group Purchasing.

But with federal and state government pressure continually looming on group purchasing activities, Dunbar was among a select few group purchasing leaders who recognized that the industry needed a voice on Capitol Hill and in Washington in the early 1990s. As a result, he helped launch the Health Industry Group Purchasing Association and served as its first president.

In mid-2007, Jamie Kowalski and Rick Barlow recruited Dunbar to serve on the Founding Board of Directors of Bellwether League Inc., the healthcare supply chain hall of fame. Dunbar served as Bellwether League's official historian before retiring in 2009.
Work Performance
Dunbar earned a master's degree in healthcare administration from the Wharton School of the University of Pennsylvania, attended Advanced Management Programs at Wharton and Cornell University, and earned Fellowships in the American College of Healthcare Executives, the Professional Society of Healthcare Group Purchasing and the Association for Healthcare Resource & Materials Management.

Dunbar served in materials management at seven different hospitals in the Chicago land area, nearly all of them in leadership positions. He also held leadership positions at two major GPOs – one regional and one national, and was influential in three group purchasing-centric professional organizations, serving as a co-founder and inaugural president in one of them.
Professional Activities
Dunbar was an active supporter and member of AHRMM, GPG, PSHGP and HIGPA, the last of which he served as a co-founder and inaugural president. He also was widely quoted in such publications as Healthcare Purchasing News,Journal of Healthcare Contracting, First Moves Magazine, Repertoire Magazine, Hospital Network.com, Hospital Materials Management and Health Industry Today, among others.
In His Own Words…
What do you think about Bellwether League Inc.'s mission and philosophy and how do you feel about becoming an Honoree?
For years purchasing, materials, and resource managers knew that they were contributing in a very positive fashion to the successful delivery of healthcare in the U.S. Today, their achievements have been and are still being recognized by hospital management and boards of directors. It was the work of those who preceded us that laid the foundation for that recognition. Bellwether League Inc.'s mission to allow us to remember those whose contributions assisted us in our success is exemplary. I feel extremely fortunate to have been selected as an Honoree and to be able to join those previously selected.
What attracted and motivated you to join the healthcare supply chain management field when you did?
The quick answer is that Northwestern University decided that I was not an acceptable candidate for their Medical School.  
I had worked in my father's pharmacy for years and decided to try what Ed Blaszczyk, the director of purchasing and assistant administrator at St. Francis Hospital in Evanston told me was an admirable career. He was correct and for over 40 years I immensely enjoyed the challenges and accomplishments.
For what one contribution would you like to be most remembered?
I suppose there are four of which I feel most proud, the first being, uniting Columbus, Cuneo and Cabrini Hospitals into the "Three Cs" and assisting to unify several departments at three hospitals into centralized departments.  
The second, after I left the Chicagoland area, was the establishment of the group purchasing program for the Hospital Council of Central Pennsylvania, and the third was the founding of the Health Industry Group Purchasing Association; gathering the various group purchasing programs into n united voice as a trade association.  Lastly, being a founding member of MAGNET (one of the first "Super Groups") in 1979, and being its President and CEO from 1989 until 2011.
If you were to encourage people – either outside of healthcare or just out of school – to enter healthcare supply chain management and strive to be a future Bellwether League Inc. Honoree, what would you tell them?
If one looks at the projected growth in jobs in the U.S., healthcare tops almost any list. For good or bad we have moved away from a manufacturing economy to a service economy, and the aging demographic certainly adds to the need for good healthcare personnel. There are plenty of opportunities in healthcare and the delivery of healthcare depends on the proper purchasing, distribution, use and disposal of supplies.  
Once in our industry, I suppose the sagest advice I could give anyone is "never turn down an assignment." Throughout my career I was given the opportunity to administer various projects, mostly out of my specific area of expertise. I grew and the institution for which I worked benefitted.
What is the one industry challenge you would like to see solved in your lifetime?
For years we have always considered those employed in different areas of the healthcare supply chain as the "enemy." Hospital executives were told not to practice medicine by their medical staffs, purchasing people always thought vendors made too much money, distributors thought that manufacturers made all the money in healthcare when distribution was the most important, clinicians always thought that everything was bought on the cheap without any regard for quality, etc.  
I'd like to see complete transparency and a collaborative spirit throughout the chain, from making the product, purchasing it, distributing it, delivering it to the proper clinician, patient use and disposal. After all, we all will be patients ourselves at some point in our lives.
How important is effective and innovative supply chain management during tough economic times?
We have all been through the assignment of determining how much additional revenue the healthcare facility would need to have to equal a dollar of savings. Depending on the future of Obamacare we may or may not have less insured, but we certainly will have our profit margins squeezed by Medicare and Medicaid, the two primary payers. The ability of increasing revenue is quite difficult, but we have endless opportunities to work with the clinicians, in a collaborative effort, toward increasing the quality of care while reducing the supply costs of that care.