Br. Ned Gerber (1951 - 2020)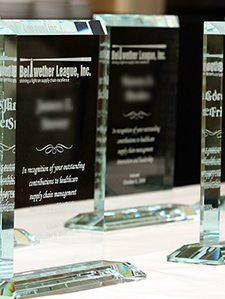 Advancing the Profession/Industry Influence – Bellwethers challenge the norms, push the envelope and raise the bar. Examples include serving as a mentor either within his or her individual organization or on a national, regional or local level outside of his or her individual organization; producing and presenting internal training sessions for the C-suite and/or clinicians and physicians on supply chain management; pioneering new concepts and ideas that may become reality; influencing those up and down the corporate hierarchy on the benefits of and promotion of optimal and sound supply chain management principles and techniques.
Br. Ned Gerber, CPA, developed the national Performance Indicators program for ASHMM (now AHRMM), one of the earliest metrics for healthcare supply chain management, and was a frequent faculty member/speaker for annual and local conferences of ASHMM. He was a staunch advocate and developer of industry benchmarks. During the 1980s and early 1990s, he was considered by many as the "voice" of healthcare materials management as a prolific author and speaker.
After a successful career at Chicago's venerable Northwestern Memorial Hospital, Gerber launched a successful consulting career where his devotion to clients was legendary, including making 11 p.m. Friday visits to clients to see how the 3rd shift in distribution was doing.
Gerber continually pushed the envelope for new ideas and was regarded as a supply chain leader with high integrity before he returned to his religious calling.
Work Experience – Minimum 25 years of service within the healthcare supply chain (including a hospital or non-acute care facility, manufacturer, distributor, GPO, consulting or service company, university or news publication).
Gerber channeled his supply chain background at Northwestern Memorial into a consulting position at Coopers & Lybrand where he served as the firm's resident healthcare supply chain expert. He also served as a monk in the Order of St. Benedict at the Chicago Priory of Christ the King, along with his brother Kirt who had prior supply chain experience, too. With his faith and desire to serve in ministry, Gerber traveled to Sydney, Australia, more than 15 years ago, as a Benedictine Brother, but also continued to consult and lecture on such topics as healthcare supply chain best practices as the director of health/pharma consulting for PriceWaterhouseCoopers and later as associate partner of IBM Health/Pharma/Life Sciences Consulting Services.
Gerber still consults exclusively in healthcare areas that are more broadly defined than supply chain management for hospitals, government health departments and major vendors. He continues to foster very strong personal interest in church-affiliated healthcare with such clients as Sisters of Mercy and Sisters of Charity, but most engagements in recent years have focused on for-profit or government entities.
Professional Activities – Minimum 10 years of active association participation (e.g., office holder, committee chair or contributor, organizing and running meetings, mentoring others) on the national, regional and local level; performed a minimum of 5 speaking engagements (national, regional, local, facility) and published at least 5 times (including writing an article or being interviewed by the trade media) during career.
Gerber has been featured prominently as a speaker at ASHMM (now AHRMM) during the 1980s and was a long-time columnist with Hospital (now Healthcare) Purchasing News during that time.