George R. Gossett (1927-1965)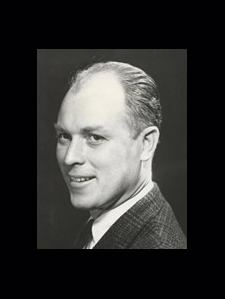 George Gossett was a dedicated, hardworking pioneer in early healthcare materials management. He began his career at Polyclinic Hospital in Cleveland, OH, in the late 1950s. Early in Gossett's career, he envisioned the prominence of materials management in healthcare and championed the educational and professional development of the discipline. Gossett always took great pride in his staff and rewarded them every chance he could – building morale and a great customer service team for each organization where he worked.
In the early 1960s, he advanced to Johns Hopkins Hospital in Baltimore, MD, where he continued his leadership in not only local materials management, but also on a national scale in what was then the American Society for Healthcare Purchasing Management (later becoming the Association for Healthcare Resource and Materials Management – AHRMM). Gossett was instrumental in moving the association from a department of the American Hospital Association (AHA) to a full-fledged personal membership organization as it continues to this day. Gossett was elected the first President of the Association in 1962. He worked with members of AHRMM to lay a strong foundation for education of members and the industry. It is that reputation that AHRMM today boasts as its most important responsibility.
From Johns Hopkins, he moved to Pennsylvania to Mercy Hospital in Pittsburgh (now known as UPMC Mercy). Mercy Hospital was the first hospital in Pittsburgh and the first Mercy hospital in the world, established in 1847 by the Sisters of Mercy. George, being a devoted Christian, took great pride in his own personal integrity and his continuous striving to elevate the integrity and professionalism of the profession. He brought each hospital he worked that sense of professionalism and pride in the profession – being one of those pioneers enhancing the supply chain reputation.
Unfortunately, Gossett died in an automobile accident at an early age of 38 on May 27, 1965. He had so much more to accomplish for his family, hospital, and profession. But nevertheless, he left his mark on the materials management profession. AHRMM, the association that he was so much a part of, went on to create the George Gossett Leadership Award in his honor. The award was created in 1966 and currently remains the highest honor bestowed upon individuals who demonstrate an extraordinary level of leadership and professionalism in the field – advancing the supply chain in the healthcare