Roberta Graham, R.N.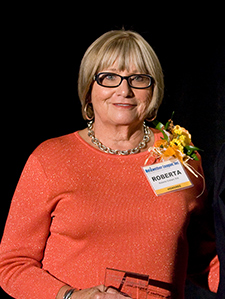 Work Experience
After nearly two decades of outstanding service to UHC (formerly known as the University HealthSystem Consortium), its members, and the academic healthcare community, Roberta Graham, R.N., MS, executive vice president, retired this year. But Graham has given many years of exemplary service within the healthcare supply chain in a career that spans decades.  

Graham served UHC for 19 years, and created many innovative programs and services to help UHC members improve supply chain and clinical performance and provide national leadership on critical clinical and operational issues. Prior to UHC, she worked in healthcare consulting, first at Ernst & Young from 1979 to 1983, and then at KPMG Peat Marwick from 1983 to 1993. While a consultant, she was responsible for the healthcare operations improvement practice and assisted numerous hospitals in performance improvement initiatives to reduce operating and supply costs. 
Prior to her supply chain career, Graham served as a nurse.  From 1968 to 1973, she served as staff nurse at three military bases and as a head nurse of a 200-bed medical unit at the 6th Convalescent Center in the Republic of Vietnam.  From 1973 to 1979, she held various nursing positions at Rush North Shore Medical Center in Skokie, IL. 
Her lifetime dedication to improving America's healthcare organizations is evident throughout her career.
Work Performance
Graham joined UHC as vice president of operations improvement in 1993. She established UHC's first operational improvement and benchmarking program, developed the Operational Data Base, and created and operationalized the highly regarded Value Analysis Program, which works with administrators, physicians and other clinicians to improve operational efficiency while never losing sight of providing the highest quality care.  When her scope of responsibilities was increased to lead UHC's Supply Chain Optimization Program, she expanded services to meet members' changing needs.
In 2008, Graham was promoted to senior vice president. Her leadership fostered the development of new supply chain analytic resources linking cost and clinical data, the enhancement of the contract portfolio and pricing for academic medical centers, and the improvement of member support through customized service delivery and consulting. She was instrumental in the design of performance management reports, including UHC's Key Indicator Report and Supply Chain Dashboard. These reports have become indispensible tools to help track and sustain improvement for the most senior operational and clinical leaders in academic medical centers.  And she served on the board of directors of Novation, UHC's supply contracting company.
In 2009, Graham was promoted to executive vice president and took on responsibility for business development and strategic partnerships.  Under Graham's leadership, UHC developed its performance improvement collaborative on supply chain excellence and documented the characteristics of high performing supply chains.  This work led to UHC's annual Supply Chain Performance Excellence Award and the organization's Supplier Diversity Leadership Award.
During her tenure at UHC, Graham has been responsible for advancing nursing leadership in academic medical centers and championed the creation of the UHC/American Association of Colleges of Nursing (AACN) Nurse Residency Program and the UHC Nursing Quality Data Base. In 2007, Graham accepted the AACN BSN Champion Award, which recognized UHC for its residency program that places a high value on registered nurses prepared in bachelor of science in nursing degree programs. She also led UHC's Senior Operating Officers Council and Chief Nursing Officers Council.
Graham dedicated much of her career to helping academic medical centers improve efficiency and reduce costs while never losing their focus on quality patient care. She is recognized as a mentor to many, a valued strategic thinker and a passionate advocate for supply chain and nursing leadership.
Professional Activities
Graham was an active member of the American Organization of Nurse Executives and the American Hospital Association, and she served in many roles, helped organize meetings and events and served as a mentor/role model for multiple healthcare colleagues.  Additionally, she served on an advisory board for Denver Health that was related to helping the health care organization with their AHRQ grant on improving care. During her 19 years at UHC Graham formed and staffed UHC's Chief Operating Officers Council and staffed UHC's Chief Nursing Officer Council. She played a significant leadership role in all UHC supply chain councils which are composed of the senior leaders from the nation's leading AMCs.  She also mentored many UHC staff members, many of whom are now among UHC's senior leaders.   
She participated in multiple speaking engagements including the following:
A Quality Based Formula for Integrating Multi Hospital Physician Relationships, Health Care Marketing Association, March, 1993
Profitability Improvement, Montana Hospital Financial Management Association, October, 1992
Creating the 21st Century Healthcare Organization, Virginia Organization of Nurse Executives, September, 1992
Clinical Engineering, American Association for Respiratory Care, July, 1992
Profitability Improvement, Quad Cities Hospital Financial Management Association, April, 1992
Total Quality Management, Michigan Hospital Association, March, 1992
And she was published in or interviewed for the following:
Graham, R., Goode, C.J., Pinkerton, S., McCausland, M., Southard, P., & Krsek, C. (2001). "Documenting chief nursing officers' preference for BSN prepared nurses," Journal of Nursing Administration, 31(2), 55-59.
Materials Management in Healthcare, Special supplement/roundtable, "Cleaning Up Supply Chain Data," November 2006
Syllabus, The Newsletter of the American Association of Colleges of Nursing, "10 Questions with Roberta Graham," March/April 2009
Healthcare Finance News, "UHC hospitals achieved $261M supply chain savings in 2010," March 2011
She was interviewed in November 2011 by Hospitals & Health Networks
She was interviewed in January 2012 by Healthcare Cost Containment
In Her Own Words…
What do you think about Bellwether League Inc.'s mission and philosophy and how do you feel about becoming an Honoree?
While many clinical and administrative healthcare professions have numerous mechanisms to recognize leaders in their fields, the recognition of healthcare supply chain leadership and service has been less of a focus in our industry. That is why I am so honored to be recognized in the "Class of 2012" by the Bellwether League. With its mission of supporting excellence and with the commitment of its impressive Board, composed of industry and provider leaders, this award helps demonstrate the critically important role that dedicated supply chain leaders play in ensuring quality healthcare to all patients and their families.
The Bellwether League's award provides a beacon of inspiration to newcomers to the supply chain profession, and I am truly honored to join this very remarkable group of Bellwether honorees!
What attracted and motivated you to join the healthcare supply chain management field when you did?
I came to healthcare supply chain late in my career. After many positions in nursing and consulting, I joined UHC to lead the efforts in operations improvement for academic medical centers. I soon recognized the exceptional opportunity to blend UHC's long history as a [group purchasing organization] with the tools and techniques of operations improvement. One of the results of this merged approach was the establishment of UHC's Value Analysis Program (with some learnings from a previous winner – [Bellwether Class of 2008's] Bill McFaul). The program has delivered and continues to deliver tremendous value to the nation's academic medical centers helping them achieve greater efficiencies, improve quality, support innovation and reduce costs.
For what one contribution would you like to be most remembered?
I would most like to be remembered for the work I have done with the leadership of UHC, VHA and Novation to move Novation from a contracting company to a full-service supply chain company. To be part of bringing the innovative ideas of the supply chain leaders of the nation's leading academic medical centers to fruition has been an honor. The committed programs, private-label and other Novation programs have enabled our members to get the right products to the right patient at the right price, while reducing total supply costs. The addition of data and analytics has provided our members with unprecedented information to effectively manage their supply chain. 
If you were to encourage people – either outside of healthcare or just out of school – to enter healthcare supply chain management and strive to be a future Bellwether League Inc. Honoree, what would you tell them?
Healthcare supply chain management provides unique opportunities to work with incredibly smart, caring people to improve the lives of others. Supply chain leaders are a recognized member of the senior leadership team and will be involved in all aspects of leadership from setting strategy to interacting with supply partners.
What is the one industry challenge you would like to see solved in your lifetime?
We need to develop more research that demonstrates the relationships between the supply chain decisions we make and the patient outcomes we achieve. We cannot do this without a mechanism for identifying specific products, tracking them to patients and measuring short and long term outcomes. To accomplish this we need to implement the GS1 standards now!
How important is effective and innovative supply chain management during tough economic times?
Whatever healthcare reform ends up looking like, it is going to require significant focus on cost reduction. Since supply chain is the second-largest cost in healthcare, it is going to require broad new thinking, processes and methods. The ability of the supply chain leader to bring innovative solutions to the table will be critical to an organization's success. 
In two sentences or less, what defines healthcare supply chain leadership?
Supply chain leaders manage complex processes and interact at all levels of the organization. They have a passion for excellence and significant impact on the financial success of the medical center and the quality of care it delivers.