Betty Hanna (1929-2019)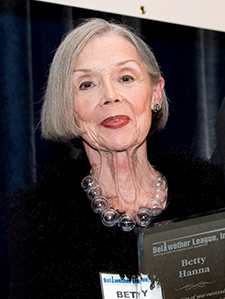 Advancing the Profession/Industry Influence
For the last five decades (that's 50 years), the CS/SPD profession has had a dedicated association or professional society to represent it, educate it and improve it for generations to come. Betty Hanna picked up the baton and led the charge in 1958, launching what's now known as the International Association for Healthcare Central Service Materiel Management for which she still oversees as executive director. Hanna possesses a larger-than-life influence and stature as the longest-serving association-based executive director as well as a firebrand nature coupled with a self-deprecating personality. She's one of the pioneering advocates for CS technicians and managers alike. IAHCSMM's influence in sterile processing education and certification is noteworthy.
In Hanna's own words, here's what CS/SPD looked like 50 years ago: "Employees were untrained. The department was considered 'bottom of the ladder' and typically hired the halt, lame and the blind. The role of the Central Service department in hospital structure was not yet a consideration. There were no rules and regulations, and in many hospitals, there were no guidelines for proper processing techniques. It became quite clear that this was a discipline that desperately needed support."
Work Experience 
Hanna joined the small, upstart four-year-old National Association of Central Service in 1958 to develop more formal and organized front-office and back-office operations. Hanna became executive director in 1962. NACS consisted of two chapters, one in New York and the other in Chicago, with 64 total members. Hanna helped build the membership base to more than 16,000 with chapters in 32 states. Today, IAHCSMM represents the sole professional voice of the sterile processing industry.
Work Performance
Hanna helped steer the CS/SPD association through robust and rough times. Not only did she help engineer the group's storied growth she resisted efforts by other larger professional groups to move in and capitalize on their history and efforts. Ultimately, she steered IAHCSMM to formally acquire its primary long-term competition with dignity as officially a merger to unite the sterile processing profession's representative voice.
IAHCSMM's veteran education and certification programs – with assistance from Purdue University – have developed and trained literally thousands of sterile processing professionals that have moved on to higher management positions in nursing, infection prevention and supply chain.
Professional Activities
Hanna is responsible for developing and organizing the overall structural operations of IAHCSMM, including the annual and numerous regional meetings as well as maintaining relationships with hundreds of leading manufacturers and distributors that support the profession and enable high-quality patient care.
In Her Own Words…
What do you think about Bellwether League Inc.'s mission and philosophy and how do you feel about becoming an Honoree?
The mission of paying tribute to those who manage supplies, and therefore, contribute significantly to the delivery of patient care is an honorable one. I am honored and humbled to be recognized by Bellwether League – especially since there are so many other individuals who are deserving of this recognition.
What attracted and motivated you to join the healthcare supply chain management field when you did?
I became involved with IAHCSMM many years ago and have stayed with the organization because I saw a real need to provide solid support – through certification and ongoing education – to those in charge of processing instruments and providing medical devices and supplies to their various healthcare customers. It's a need that is just as important today as it was some 50-plus years ago. In fact, one could argue that certification and continuing education are even more important today because of technological advancements and resource constraints that plague many healthcare organizations.  
For what one contribution would you like to be most remembered?
I hope that it's understood just how much I respect this discipline and those that comprise it. Our members are some of the most dedicated, committed healthcare professionals, and they want to do the right thing. It's always been IAHCSMM's goal to help them become certified, stay on top of industry standards and proper processing-related practices, so they can do the right thing – each and every time. Being with IAHCSMM since the beginning has been an honor and a privilege, and that's something I never took for granted.
If you were to encourage people – either outside of healthcare or just out of school – to enter healthcare supply chain management and strive to be a future Bellwether League Inc. Honoree, what would you tell them?
From a Central Sterile Supply perspective, I would say that those willing to roll up their sleeves and commit to the hard work required by the discipline will enjoy many opportunities to shine and contribute to the delivery of safe, top-quality patient care. The role of CSSD professionals is a difficult one, to be sure, and it's one that still isn't always recognized by all facilities and healthcare customers. That's something IAHCSMM is working hard to change. 
Those who have assumed a career in the CSSD should understand that if it weren't for the instruments, medical devices (and in some cases, other supplies) they provide on a daily basis, then healthcare as we know it would come to a screeching halt. Those who become CSSD professionals do bear an enormous responsibility, but it's important to point out that they also have a unique opportunity to be part of something big: Exceptional customer service and good patient outcomes.
What is the one industry challenge you would like to see solved in your lifetime?
It is my hope that we will see one certification body for the CSSD profession, as well as all states requiring certification of CSSD technicians.
How important is effective and innovative supply chain management during tough economic times?
Again, from a CSSD perspective, it's important for facilities to understand and appreciate that even though CSSDs aren't a true 'revenue generator,' they nonetheless fulfill a critical role (one that directly impacts other healthcare departments, particularly the revenue-generating OR). Having an adequate number of well-trained, certified CSSD technicians who can work efficiently, yet aren't willing to rush the process and make potentially dangerous compromises is absolutely critical to the success of the organization as a whole.