George O. Hansen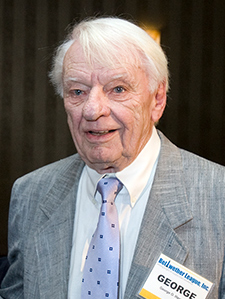 Advancing the Profession/Industry Influence
George O. Hansen was the pioneer who injected the principles of throughput and workflow analysis into centralized supply processing and distribution departments in hospitals across the United States, and world-wide. This replaced and upgraded the historical approach used by architects and hospital sterile processing and surgical services leaders, who used less "scientific" and less accurate methods to determine re-processing facility configuration and equipment requirements.
George was the lead Systems Design Consultant for the former American Sterilizer Company (AMSCO), which is now Steris, who introduced this approach to planning the size, layout and equipment for sterilization and other processing facilities, based on volume and cycle time requirements. His work was completed after the hospital selected his company and its equipment, therefore, avoiding any conflicts of interest.  Further, he worked with hospitals to demonstrate the feasibility and value of consolidating sterilization and re-processing in SPD, and not locating this in extremely expensive space in the Surgical Services Department. This reduced the building and equipment costs of the facility project, as well as lifetime operating expenses.
George retired from AMSCO/Steris in 1998.
Work Experience
Delta Star Electric Co., 1951-1952
U.S. Air Force 1952-1954
AMSCO [American Sterilizer Co.] 1956-1998
Sales Representative, Charleston, WV, 1956-1957
Sales Representative, Washington, DC, 1957-1962, assisted in developing all sterilizer specifications for the design and construction branch of the U.S. Veterans Administration
Systems Engineer, Chicago, 1962-1992
Advised hospital owners, department supervisors, engineers and architects in the functional planning and design of various departments, incorporating proper infection control methods, material processing and distribution systems and design requirement in the initial construction plans.
International Systems Engineer, Chicago, 1992-1998
Worked with all countries in Asia/Pacific Rim, providing planning and design approaches to centralized material processing and equipment requirements. Worked with many hospitals, including:
Shanghai University – Shanghai, China
Mount Mary Hospital – Singapore
Holy Cross Hospital – Badung, Indonesia
Royal Alexander Hospital – Sydney, Australia
Children's Hospital – Sydney, Australia
Royal Brisbane Hospital – Brisbane, Australia
New Castle Hospital – New Castle, Australia 
Police Hospital – Bangkok, Thailand
Special Projects
1974: Consulted with the Singapore Ministry of Health to develop the processing and distribution systems for the new 500-bed Singapore General Hospital.
1986:  Served as member of delegation to the People's Republic of China as one of 25 architects and project managers in Beijing, Tangshan and Guangzhou to present current methods of design and construction of hospitals in the Western world. The delegation was sponsored by the People-to-People Program.

1987: Worked with the American Institute of Architects (AIA) subcommittee, the    "Academy of Architecture for Health Care," to develop a design charette for architecture students.
1992:  Member of six person delegation to present current methods of design and construction in the Baltic States of Estonia, Latvia and Lithuania.
Work Performance
In addition to his skills in analysis and design, Hansen was renowned for his knack for bringing together disparate points of view (opinions and philosophies), facilitating collaborative problem solving and achieving consensus. Given that this frequently involved surgical services nurses and politically powerful surgery nurse leaders, materials management and sterile processing and distribution leaders and professionals, consultants, equipment planners and architects, this was no simple challenge. Hansen used his excellent communication and persuasion capabilities to get all these views focused on the best answer for the situation, the most cost-effective and likely successful alternative for the hospitals. In virtually all scenarios, Hansen's plan worked "as planned," when it was time to open up the new facility and start up the equipment.
Hansen's follow-up to make sure the plan/design/equipment worked, "as planned," made sure any issues were addressed before they became problems. This also built confidence in the plan and his own professional credibility and reputation as the go-to guy in this space.
His appointments and awards are further testimony of George's performance.
Professional Activities
American Institute of Architecture (AIA)
Education
Wright Junior College, Chicago, 1949-1951; Degree in Engineering
Loyola University, Chicago, 1954-1959; Advanced Engineering studies
Georgetown University, 1958-1959; Advanced Business Administration studies
Appointments
1993: Appointed Member of Advisory Board for Health Care Architecture, Clemson University
1995: Appointed to Board of Directors of the Association of Health Care Consultants
Awards:
 American Institute of Architects (AIA) Awards
1991: Presidential Citation
1992: Presidential Citation
1996: Certificate of Appreciation
2001: Certificate of Appreciation
In His Own Words…
What do you think about Bellwether League Inc.'s mission and philosophy and how do you feel about becoming an Honoree?
The mission and philosophy of the Bellwether League Inc. are most impressive, and I am very grateful for the honor to be a bellwether.
What attracted and motivated you to join the healthcare supply chain management field when you did?
As the time the healthcare supply chain was less vulnerable to economic downturn.
For what one contribution would you like to be most remembered?
My contribution to establish the healthcare architect's charette for architecture students.
If you were to encourage people – either outside of healthcare or just out of school – to enter healthcare supply chain management and strive to be a future Bellwether League Inc. Honoree, what would you tell them?
Healthcare has always been an ethical industry.
What is the one industry challenge you would like to see solved in your lifetime?
Improvement in management for greater efficiency and lower costs.
How important is effective and innovative supply chain management during tough economic times?
Most important.
In two sentences or less, what defines healthcare supply chain leadership?
Innovative decision practices.