James L. Hersma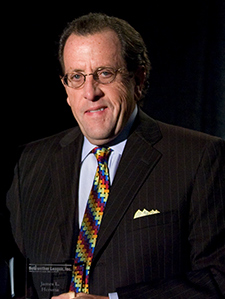 Advancing the Profession/Industry Influence
James L. "Jim" Hersma's career has been a bellwether for the healthcare industry when it comes to optimizing the supply chain, an area of the hospital that was once overlooked but has risen to a level of prominence during Hersma's more than 30 years in the industry. An early pioneer and proponent of using technology to increase visibility and reduce costs in the supply chain, Hersma educated thousands of supply chain professionals, as well as his own sales professionals, on the positive benefits of applying technology to optimize the supply chain.
With the creation of ASAP, the automatic order-entry system he helped to create and launch at American Hospital Supply, Hersma helped to revolutionize a hospital's day-to-day management of its supply chain, ushering in a new era where the focus was more on efficiency and visibility, leading to reduced costs. He saw the landscape changing for the healthcare industry. He prepared the people he managed and mentored through executive sessions that taught them to focus on knowing their customer's business and solving that customer's pain points using technology and expertise that can only be gained from being an advocate and partner with the customer. 
Hersma also became the first president and CEO of Novation. He led the merger of the supply chain management companies of the University HealthSystem Consortium (UHC) and VHA into Novation. He gained consensus between the leaders of university hospital systems and community hospital systems and built a talented staff to create a commonality of purpose among the employees of UHC and VHA as well as the suppliers.
At the time, Novation became the largest group purchasing organization, based on annual purchasing volume, representing more than 2,000 hospitals and health care systems with more than $17 billion in contracted sales. He developed a clear strategic path and built for Novation a focused future that helped to capture new customers, yield higher benefits to member organizations and improve commitment levels to vendors.
"I have known Jim since his days at American Hospital Supply. When I moved from pharmacy to materials management American Hospital Supply routinely sponsored a basic materials management course that gave me the basic tools I needed to begin my career as a materials manager. Shortly after that was my first contact with Jim as a facilitator of new information about this new profession I had chosen. 
"In Jim's career he challenged the norms, pushed the envelope and raised the bar. He was always trying to serve and support. Jim served as a mentor within his organization on a national, regional and local level and outside of his organization producing and presenting training sessions for the C-suite and for clinicians and physicians on supply chain management. He pioneered new concepts and ideas influencing those up and down the corporate ladder on the benefits of and promotion of optimal and sound supply chain management principles and techniques."
– Michael Louviere, Bellwether Class of 2010, Bellwether League Inc. Board Member, System Vice President, Supply Chain, Ochsner Health System, New Orleans, LA
Work Experience
Hersma has been a committed servant to the healthcare industry for more than 30 years. 
He began his service in healthcare after working in insurance, taking a position with the American Hospital Supply Division in 1976. He was promoted to market manager in 1978 and launched ASAP while managing 340 sales representatives nationally. He was named regional manager at American Hospital Supply in 1979 and took over responsibility for $18 million in business. After American Hospital Supply was acquired by Baxter Healthcare Corp., he was named vice president of the American Hospital Supply Division and oversaw a $78 million dollar book of business. During this time, he increased operating earnings more than 18 percent annually and was eventually promoted to general manager of the business.
In 1993, Hersma left Baxter to serve as president and chief operating officer of CIS Technologies in Tulsa, OK, a publicly traded company on the NASDAQ that served as the premier source of technology-based products and services to enhance the business office functions of the integrated delivery systems within the healthcare industry. Under his leadership during a two-year period, net income increased 105 percent. He directed two acquisitions and helped to position the company to be acquired by National Data Corp. in 1996 at a premium price.
In 1998, as the first president and CEO of Novation, Hersma led the successful merger of the supply chain management companies UHC and VHA into Novation.
In 1999, Hersma helped to create the healthcare e-commerce company, Medibuy.com.
In 2000, Hersma became president and CEO at PrimeSource Healthcare, a national manufacturer and distributor of specialty medical products. In this position, Hersma created new operating imperatives and launched process improvements that created positive cash flow almost immediately.
In 2003, Hersma joined MedAssets as a senior vice president. His role initially was to use his years of experience to introduce the company to key stakeholders in America's leading hospitals. Eventually, his role expanded to serve as a mentor to MedAssets' sales representatives, holding regular "executive selling" sessions to help sales representatives understand the key ways to sell to c-suite executives in healthcare.

Hersma, who has three grown children, is retired and lives with his wife of 20 years, Carol Crusey, on his ranch near Tulsa, where he spends most of his free time.
Work Performance
During Hersma's long tenure in the healthcare industry, he has served as an experienced advisor to fledgling businesses, led and grown sales organizations and turned around struggling companies, leading them back to black in a short period of time by providing sound leadership, reducing expenses and ensuring that the right talent was in place to ensure success. 
Anywhere Hersma has served business success has followed.
During his tenure at Novation, the company captured the largest market share position in the industry (more than 32 percent) and surpassed its first operating plan by 106 percent. At PrimeSource, he reversed negative sales trends that resulted in five record months of sales, gross profits and earnings. Under his leadership, PrimeSource achieved 153 percent of plan at EBITDA after only two quarters in the position. As director of sales for Baxter Healthcare Corp., he averaged a 17 percent increase in sales every year for nine years straight.
One of his key roles with start-up Medibuy.com was to build the executive team with seasoned professionals and promising new talent that would help the company build its reputation with customers, employees and venture capitalists.
Hersma has also been an astute manager at reducing unnecessary expenses in order to increase margins at the many companies he has served. Between 1982 and 1984 at Baxter Healthcare, Hersma exceeded his plan every year and compiled the lowest operating expense ratios in the division annually. He coordinated the merger of two key divisions into one new distribution center, reducing operating expenses and improving market share for both divisions. His area was awarded "Area of the Year" in 1984 for its efforts to grow sales while reducing expenses. While overseeing sales at Baxter Healthcare, his area won more awards than any other area. Under his leadership, operating earnings increased by more than 18 percent per year. At American Hospital Supply, he reduced internal expenses in his division by seven percent while increasing market share by two percent during the rollout of ASAP. At Novation, he trimmed an additional $4 million beyond plan in operating expenses in 1998.
Professional Activities
Hersma has spent his career advocating for the needs of hospital supply chain executives through education and networking. One of Hersma's "keys" to success has been surrounding himself with great talent and mentoring them in order to ensure business success. For example, at MedAssets since 2003, he served as a mentor to more than 14 high-potential employees, many of which are now high-ranking executives with the company. His MedAssets executive selling curriculum has been attended by more than 50 sales professionals in three years, and his cultural roadshow, which focused on building a winning culture at MedAssets after many acquisitions, was held at more than 10 company locations with all employees attending. His latest collaboration with MedAssets, the M.I.L.E program, focuses on identifying high-potential employees and nurturing their talents and educating them in order to help them meet their full potential at the company. Hersma has been involved with this program for its entire two years. 
A regular industry speaker, Hersma has spoken about supply chain topics on behalf of MedAssets, Novation and Baxter Healthcare at hundreds of industry events. He has been a regular, almost annual speaker for the Health Insights Foundation since 1994.
Hersma has been interviewed for many articles, and has been regularly quoted on supply chain trends and issues in trade publications such as Modern Healthcare, Healthcare Purchasing News and Biomedical Market Newsletter. He has also been featured in the CEO division of the American Management Association.
In addition to Hersma's work in the healthcare community, he also stays involved with organizations that have been passions of his since his own childhood. An Eagle Scout, Hersma regularly volunteers with the Boy Scouts of America as a mentor to Boy Scouts, and served on the boards of the Dallas organization from 1998-1999 and in Tulsa, OK, from 1994-1997. He serves on the board of advisors of the business school at his alma mater, Northern Illinois University. He has been the commencement speaker at NIU and also regularly gives lectures and teaches marketing classes to NIU business students. He has spoken at Trinity University and various other audiences about mentorship in healthcare and healthcare supply. He was named Alumni of the Year at NIU in 1992 for his regular contributions to the university. He also volunteers with the Therapeutics Service Dogs of Oklahoma, the Les Turner ALS Foundation and the Tulsa Day Center for the Homeless.
In His Own Words…
What do you think about Bellwether League Inc.'s mission and philosophy and how do you feel about becoming an Honoree?
Healthcare supply chain represents nearly 20 percent of the expense of healthcare and that expense is some 20 percent of our nation's GDP. So based upon the massive size of the healthcare supply chain alone it is an honor to be recognized by Bellwether League.
What attracted and motivated you to join the healthcare supply chain management field when you did?
My decision to join American Hospital Supply and the healthcare supply chain field was in great part due to the mission of our industry – to care for others. In addition, the size, complexity and likely expansion of U.S. healthcare provided a strong foundation from which I could grow my contributions going forward.
For what one contribution would you like to be most remembered?
My hope is that I will be remembered most for the contributions that I may have made to others via mentoring and leadership. Helping others to achieve their ambitions as well as meet the goals of the customer, the company and the shareholder … just as I was taught.

If you were to encourage people – either outside of healthcare or just out of school – to enter healthcare supply chain management and strive to be a future Bellwether League Inc. Honoree, what would you tell them?
Healthcare stands alone as the only industry that has all of these attributes – complexity in terms of clinical and operational components, enormous variety of issues and challenges, one of the largest industries in terms of percentage of GDP, significant growth due to the expansion of technology and market size, great upside on the international front, consistency of the demand curves and … the end game of healthcare is to help others. Both the mission and the math are incomparable as to an individual's potential.
What is the one industry challenge you would like to see solved in your lifetime?
A large challenge remains the reduction and control of healthcare costs via the implementation of legislative revisions to include tort reform, mobility of health insurance coverage and simplification of reimbursement. The U.S. healthcare costs are excessive and not sustainable – and the outcomes do not correlate with the expense.
How important is effective and innovative supply chain management during tough economic times?
Supply chain management has plenty of room for continued improvement despite the enormous strides over the past few decades. Legislative changes regarding the pricing of certain medical supplies in the U.S. remains a costly culprit. Also the consumption of products and services due to "defensive medicine" and the use of inconsistent selection standards of products and services can improve the cost of healthcare.
In two sentences or less, what defines healthcare supply chain leadership?
A term that I coined in the context of healthcare supply chain leadership is "humbly aggressive." As a leader, I found that being humble is well received by others. To be results-oriented and effective, one must also be aggressive. In healthcare supply chain especially, one must drive toward improvements with great vigor … yet to do so while having genuine empathy for the objectives, perspectives and obstacles of others.