Thomas W. Hughes (1945 - 2020)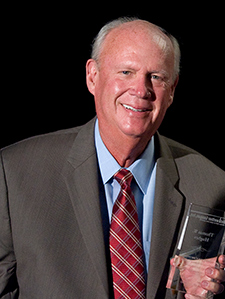 Advancing the Profession/Industry Influence
Tom Hughes is probably best known for being a consultant – a profession that he is proud of and one that he helped shape in the healthcare supply chain industry. As an experienced materials manager and hospital administrator, Hughes ventured into the consulting world to help others improve their day-to-day operations. As founder and president of Concepts In Healthcare (CIH), the industry had one of its first "gentleman consultants." Hughes knew it was important to create a win/win atmosphere with his clients long before that now-tired phrase was conceived. His emphasis was on providing a product that was fairly priced, but more importantly one that gave his clients a road map for success. Pointing out opportunities for improvement was never done in a critical or heavy-handed way. He achieved success because he treated people well at all levels and hired a team of professionals who lived the same ideals. CIH became a model for smaller, specialized boutique consulting firms.
After 15 years at the helm of CIH, Hughes sold his business to BD. He continued on with BD as vice president of the newly formed BD Healthcare Consulting & Services. Some of the many projects at CIH included strategic planning, management audits, procurement management, contracting and group purchasing organization strategies, operating room case cart systems, instrument management programs, equipment planning, facilities management and many more. Probably one of his best-known achievements in this space was the development and implementation of an integrated information system and network to support the logistics activities of the traditional materials management function, as well as specific hospital departments.
Hughes' consulting was not limited to helping materials management departments in the hospital, but also branched out into both the GPO world and the industry side of the business. He served as an advisor to various industry leaders on the automation of business transactions between manufacturers and distributors, and advised various clients on the design and development of decision-support software tools. Over the years, he became a stalwart promoter of value analysis, activity-based costing and cultivating physician relationships for a facility's ongoing fiscal health.
And when you thought his healthcare career might be winding down, Hughes was instrumental in helping Strategic Marketplace Initiative (SMI) form that created a forum for both manufacturers and integrated delivery network (IDN) supply chain executives to come together as equal partners for the development of collaborative and mutually beneficial solutions to healthcare supply chain issues.
Work Experience
1965 – 1976          Distribution Manager, Beth Israel Hospital, Boston, MA
1977 – 1981          Director of Materials Management, Waterbury (CT) Hospital 
1982 – 1986          Director of Materials Management, Tufts New England Medical Center, Boston
1987 – 1998          Founder and President, Concepts In Healthcare Inc., Boston  
1998 – 2003          Vice President, BD Healthcare Consulting & Services, Boston
2005 – Present      Executive Director, Strategic Marketplace Initiative, Scituate, MA
Work Performance
Tom Hughes has spent his entire 46 year career helping others – bringing people together in a collaborative way that generated results. His quiet manner of teaching and leading was an inspiration to many. Hospitals sought him out to address issues in their supply chain areas. Industry leaders sought him out to advise them on critical supply chain matters. His level-headed sound advice was always welcome and regularly sought.
Hughes served on several industry task forces, including the AHA Planning Committee for the National Symposium on Healthcare Safety and the Environment and on the AHA Interactive Comparative Database Committee for participating ASHMM (now AHRMM) member hospitals.
His academic activities include serving as Adjunct Assistant Professor in Human Resource Management at the University of Bridgeport in its School of Industrial Relations. He was also an instructor in Organizational Behavior at Post College and assisted Quinnippiac College as a consultant in the development of its Health Care Administration Program. Hughes has been a guest lecturer at Boston University School of Health Management and Northeastern School of Graduate Studies in Pharmacy.
Professional Activities
Over the years, Tom Hughes has lectured extensively on almost every supply chain topic conceivable.  He has done so nationally, regionally and locally in New England – for organizations such as the AHA, HIBCC, HCMMS, HFMA, various GPOs, and many manufacturers across the country.  He has written hundreds of articles and papers on supply chain topics as well. He has been on the editorial advisory boards of Healthcare Purchasing News, IDN Strategies, and other healthcare publications.
Hughes has been active in the Healthcare Material Management Society where he served as the National President, 1983-1984. He holds both a BA and an MBA from Suffolk University in Boston, is a member of AHRMM, and is certified as a professional in Health Care Material Management from the Health Care Materials Management Society.
In 1994, he received AHRMM's George R. Gossett Leadership Award in recognition of his strong presence in the healthcare supply chain industry and his advocacy of advanced materials management education.
Hughes also was listed as "one of the most influential pros worth knowing," byHealthcare Purchasing News in 2007.
In His Own Words…
What do you think about Bellwether League Inc.'s mission and philosophy and how do you feel about becoming an Honoree?
I had the great opportunity to help shape the Bellwether League Inc.'s mission and goals as one of the Founding Board Members, and I am honored to be inducted into the Class of 2012. The value of BLI's mission was highlighted when I informed one inductee from our first class. He said, "I'm honored. I thought everyone forgot me and my contributions to the healthcare supply chain."
What attracted and motivated you to join the healthcare supply chain management field when you did?
Initially, it was the pushes and pulls of needing a part-time job while going to college. Later it was the perfect match of an industry needing help and myself wanting to grow a business that made a difference.
For what one contribution would you like to be most remembered?
It is very difficult to pick one, but I would like to be remembered as an innovator who worked effectively with diverse client cultures. As has been stated before, "Culture beats strategy."

If you were to encourage people – either outside of healthcare or just out of school – to enter healthcare supply chain management and strive to be a future Bellwether League Inc. Honoree, what would you tell them?
Get your MBA! It's a great door opener. Strive to learn all aspects of healthcare supply chain, not just purchasing or distribution or central sterile supply. Remember that healthcare supply chain is a very small world. Keep in touch with your contacts.
What is the one industry challenge you would like to see solved in your lifetime?
I have two. First, I would like to see our entire supply chain utilizing data standards.  Second, I would like to see more C-suite recognition that supply chain is a strategic imperative.
How important is effective and innovative supply chain management during tough economic times?
Very important!!
In two sentences or less, what defines healthcare supply chain leadership?
Supply chain leadership is defined by:
The ability to work with people at all levels.
The drive to seek out colleagues that are innovators and make their ideas work for you.
Hiring and developing top talent.