Larry Malcolmson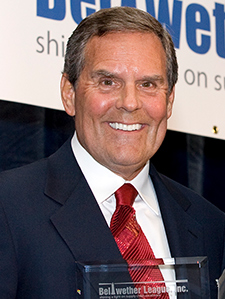 Advancing the Profession/Industry Influence
Larry Malcolmson founded MD Buyline in 1983 after spending 10 years in the medical electronics field. He recognized the need for healthcare professionals on the provider side of the business to use objective third-party information when making major equipment purchases. Up until this time, there was no resource for supply chain personnel to gain an understanding of major equipment features versus price. Equipment manufacturers depended upon their marketing and sales staff to convince physicians and other healthcare professionals that their equipment was essential. Also, there was no level playing field in terms of price. Manufacturers routinely charged significantly different prices for the same item without merit.
MD Buyline continues today after 29 years as the "gold standard" in major medical equipment benchmarking – price as well as features. MD Buyline, under Larry Malcolmson's leadership, has helped nearly every healthcare organization in the country receive fair pricing and expert selection processes for this major area in equipment acquisition for healthcare organizations. Many other organizations have attempted to copy the processes and data warehouse MD Buyline has accumulated, but most have never come close.
Larry Malcolmson has changed the way healthcare organizations evaluate, negotiate and select major electronic equipment in healthcare. It was a monumental task that was certainly not easy as the manufacturers saw their "secret world" of price manipulation and marketing slowly crumble. Today, there is a wealth of information to assist healthcare professionals in this ever expanding area of technology.
Work Experience
After graduation from Southern Methodist University in Dallas, Malcolmson was hired by Del Mar Avionics for a variety of sales and marketing positions from 1973 until 1982. Malcolmson still considers Bruce Del Mar to be one of his significant mentors. Del Mar was a pioneer in developing technology (including Holter monitoring, stress testing, blood pressure monitoring, and blood gas analysis) for the healthcare industry. Malcolmson noted that Del Mar still shows up at the office every day at the age of 96!
In 1983 Malcolmson founded MD Buyline. He remained at the head of the company until his recent retirement this year. Malcolmson worked closely with his wife Sharon at MD Buyline. He credits her with being a key factor of the success of MD Buyline over the years, developing each of the services and maintaining the day-to-day operations. Malcolmson had spent most of his time at MD Buyline overseeing the many advancements of the product while meeting with hospitals and health centers across the country, helping them put processes in place to fully benefit from shared information.
Work Performance
Malcolmson has always been known for his excitement and enthusiasm with his company and its offerings. He remains one of the most upbeat and energetic people when it comes to saving money for his member hospitals and giving them the tools and knowledge to be better negotiators. He consistently believed in fairness and equality – the manufacturers should not have the upper hand when it comes to purchasing equipment. He empowered an entire profession to be better at what they do.
He also empowered clinical staff when it came to comparing and contrasting various brands of equipment. With these purchases usually being driven by the physician it was important to have all the facts regarding not only features and function, but service and dependability. MD Buyline played no favorites – they drove for the right equipment for the right use and at the right price.
While manufactures many times were not thrilled to find a customer using MD Buyline, they at least knew the information provided by MD Buyline was fair and accurate.  Malcolmson was respected by not only supply chain professionals, but by the hundreds of physicians he touched daily using MD Buyline tools.
Professional Activities
Larry Malcolmson was active in numerous professional organizations, not only as a member, but as a national speaker. He presented to hundreds of physician organizations as well as supply chain forums. His written word has been in nearly every healthcare publication during the 29 years he was head of MD Buyline. He continually exhibited a strong desire to level the playing field in healthcare and did so with high ethical standards.
In His Own Words…
What do you think about Bellwether League Inc.'s mission and philosophy and how do you feel about becoming an Honoree?
This is a terrific concept. It is very humbling to see how you are perceived by your peers. I encourage BLI to add clinical, operational and financial leaders that have had a major impact on supply chain solutions.
What attracted and motivated you to join the healthcare supply chain management field when you did?
I saw limited communication between operations, finance, clinical and supply chain. I felt that if they all had access to the same information they could make more informed decisions on product and price.
For what one contribution would you like to be most remembered?
Convincing healthcare professionals that sharing information would make everyone better and that transparency is the only way to go.
If you were to encourage people – either outside of healthcare or just out of school – to enter healthcare supply chain management and strive to be a future Bellwether League Inc. Honoree, what would you tell them?
The opportunities are endless for those willing to take risks. Too often people listen to the cry of "you can't do that" or "that's not how we do it." I admire the individual that said, "If it ain't broke, fix it anyway."
What is the one industry challenge you would like to see solved in your lifetime?
That every healthcare facility realizes the strength that comes from excellent communication between the branches of operations, clinical, finance and supply chain. The challenge is for each facility to recognize the importance of supply chain being in the C-suite.
How important is effective and innovative supply chain management during tough economic times?
It is more important than ever. I believe we are only seeing the beginning of tough financial times, and resources are going to continue to be cut. The innovative supply chain leaders are critical to the entire industry's future success.