Joe Pleasant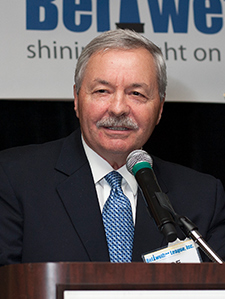 Advancing the Profession through Performance
Joe Pleasant consistently has been a strong advocate for adoption and use of standards for the healthcare supply chain. He's a founding member and chairman of the Coalition for Supply Chain electronic Standards (CHeS) organization that today is a part of the Healthcare Supply Chain Association (HSCA).He served as Chairman of CHeS for eight years and during the period CHeS selected GS1 as the standard for healthcare product and location identification.  CheS also worked closely with AHRMM to promote the use of standards in healthcare.  This involved many presentations at national and regional meetings of Premier, AHRMM, AHRMM Chapters, Novation and many manufacturer and distributor organizations.
 
Pleasant worked in conjunction with other GPO organizations to fund the development of an enhancement to the GS1 Global Location Number (GLN) for healthcare. This involved utilizing the standard GLN used by other industries but with enhancements needed for the healthcare supply chain. In conjunction with other GPOs Pleasant was instrumental in helping to populate the GLN registry with all member hospitals, physician offices and alternate sites. Today, the registry includes over 400,000 locations.
He worked closely with the Department of Defense to pilot the use of the Global Data Synchronization Network (GDSN) for healthcare. This pilot included several manufacturers, distributors, providers and GPOs. The pilot proved that the use of a master registry of product data results in improved operational efficiencies across the supply chain and improved product information. In November 2009 he was recognized with the "Wounded Warrior" award by the DoD for "Industry Leadership in Healthcare Standards Adoption."
Pleasant was a founding board member of the National Alliance for Health Information Technology (NAHIT). The organization's purpose was to promote standards for interoperability between all parts of the healthcare system. He also served as co-chair of the organization's committee to review and comment on the FDA regulation on electronic identification (bar coding and RFID) for pharmacy products. He presented consensus recommendations to the FDA.
In conjunction with other national organizations he worked closely to promote the adoption of Unique Device Identifier (UDI) regulation for medical devices by the FDA beginning in the early 2000s specifically to address patient safety. This involved numerous meetings with FDA, Medicare office, Office of Management and Budget and several members of Congress with the regulation being published in 2013.
Pleasant currently serve as a Board member of GS1 US and 1WorldSync organizations and a representative of the healthcare supply chain. These boards include members from most all industries. Representation allows healthcare to learn from the experiences of retail, foodservice, electronic and grocery industries and improve the effectiveness of our supply chain. He also is a member of the GS1Global Healthcare leadership team that explores new and innovative ways to promote and improve adoption of healthcare standards globally.  He is a founding member of the GS1 US Healthcare committee.
Pleasant has spoken at a variety of  regional and national meetings and forums. These include AHRMM, GS1 US and GS1 Globally, Premier Inc., Novation, GHX, AHA, HIMSS, and various FDA- related forums.
He has published numerous articles about the benefits of standards. This includes articles in Health Management Technology, Healthcare Purchasing News, Modern Healthcare, HIMSS and AHRMM magazines and journals.
He has met with the management teams of manufacturers, distributors, providers and numerous government officials to discuss the benefits of standard adoption in healthcare.
He has introduced the importance of supply chain standards to the AHA and AHRMM organizations and senior executives through numerous meetings and discussions. 
Pleasant has served as chairman and founding member of various organizations that work with national organizations providing education about how standards can improve both the quality and effectiveness of healthcare delivery. This has provided education and knowledge about the importance of standards and resulted in many organizations getting involved. These include AHRMM, GPOs, AHA, HIMSS, CHIME and many individual hospital organizations.
He also has engaged Premier and many of its members, corporate suppliers and distributors in pilot projects to test the use of supply chain standards in the healthcare supply chain. These included pilots for GLN, GTIN and GDSN.

Pleasant has completed numerous pilot projects on the use of standards for products, location identification, and product synchronization that reflect the significant quality and efficiency gains that are possible in healthcare. Numerous articles were published reflecting the outcomes of the pilots and the actual expense and quality gains achieved in other industries. He has participated with the GS1 Global Healthcare Leadership team members in engaging McKinsey to complete a comprehensive study entitled "Strength in Unity – The promise of global standards in healthcare," which outlines benefits for all supply chain participants in the use of standards.
He has served as founding Board member of the CHeS and NAHIT organizations. He chaired CHeS and numerous committees for CHeS, NAHIT, Premier Inc. and GS1 Global. He currently serves as chair of the technology committees of GS1US and 1WorldSync Boards.  
As CIO of Premier Pleasant managed the operations budget for 30-plus years and provided GPO members with product catalogs, spend analytics and quality measurement tools. He worked closely with all supply chain members in the GPO to promote more efficient ways to share product information and improve the quality of the information. He incorporated product information into the Premier tools that measure the cost and quality of clinical outcomes.
Work Experience
Joseph M. Pleasant retired in 2014 as CIO and  Vice President of the Premier Inc., one of the nation's leading alliances of hospitals, health systems and other providers dedicated to improving healthcare performance. An alliance of more than 2,800 hospitals and health systems and more than 105,000 non-acute care sites, Premier boasts a membership base of more than 40 percent of all U.S. health systems.
Prior to being appointed to CIO and Senior Vice President in charge of Premier's Information Systems, Pleasant served as Chief Operations Officer of SunHealth Inc., one of Premier's predecessor organizations.  During his 25 years with SunHealth, Pleasant held numerous positions that included senior management consultant, relationship manager for owners in Virginia, West Virginia and Maryland, senior human resources executive and CIO. 
Pleasant is past chairman and a founding member of the Coalition for Healthcare eStandards (CHeS), a fellow member of the Healthcare Information and Management Systems Society (HIMSS), and a founding member of the College of Healthcare Information Management Executives (CHIME).
Pleasant is a leading industry expert and proponent of a unique device identification system (UDI) for medical devices and products. He has worked extensively with all participants in the supply chain – from providers to distributors and manufacturers – in efforts to move the industry toward a universal product numbering system.
Pleasant is involved in national efforts to improve the health care supply chain and serves on the boards of GS1US and 1WorldSync and is a member of the GS1Global healthcare leadership team. He is on the Board of Advisors of the Edward P. Fitts Department of Industrial and Systems Engineering at N.C. State University.
Pleasant is a cum laude engineering graduate of North Carolina State University and holds a master's degree in business administration from the University of North Carolina at Charlotte.
Professional/Humanitarian Activities
CHeS.  Founding member and chairman for eight years. Speaker at various meetings representing CHeS, such as AHRMM, GHX, HIMSS, AHA, GPOs, hospital providers, manufacturers, distributors and government agencies.
NAHIT. Founding member and chair of various committees.
CHIME. Founding member active participant in annual conference activities. Served as chairman of the annual meeting conference for one year.
HIMSS. Member since 1974. Served as President of the North Carolina HIMSS chapter for four years. Served as chairman of the annual HIMSS conference for two years. Moderator and speaker at more than 15 annual conferences.
GS1 US Board of Directors. Member since 2008. Served on finance committee, chair of the technology committee and a member of the executive committee.
1WorldSync Board of Directors. Member since 2012. Chair of the technology committee.
GS1Global Healthcare Leadership Team. Member since 2006. Spoke at conferences in Hong Kong, Germany, Spain and United States.
NC State University Engineering Advisory Board. Member since 2008. Named a Distinguished Alumnus in 2010.
Speaking engagements include annual meetings of the organizations above and more than 25 regional AHRMM meetings. In addition, ongoing speaking engagements at Premier member organizations, manufacturer and distributor organizations and governmental agencies.
Articles and interviews have been published in Health Management Technology,Healthcare Purchasing News, Modern Healthcare, HIMSS, AHRMM, ASHP, HFMA and CIO magazines and journals.
In His Own Words…
What do you think about Bellwether League Inc.'s mission and philosophy and how do you feel about becoming an Honoree?
I am very impressed with the mission and philosophy of the Bellwether League to honor innovators and leaders in the Healthcare supply chain. It is important to recognize the impact that the supply chain professionals have on the delivery of healthcare as well as support for the clinicians that perform the hands-on care.
I am truly honored to be recognized as member of this league and associated with its other members. I am thrilled to be recognized as contributing in a small way to the improvement of the efficiency and safety of the healthcare supply chain.
What attracted and motivated you to join the healthcare supply chain management field when you did?
Having been an employee of Premier for 42 years which is a significant part of the healthcare supply chain as a GPO it has been a central part of my job as a consultant, regional manager and then CIO.
For what one contribution would you like to be most remembered?
Bringing visibility to the healthcare industry of how the use of global supply chain standards for locations, products and the synchronization of product attributes can improve efficiency and patient safety. 
If you were to encourage people – either outside of healthcare or just out of school – to enter healthcare supply chain management and strive to be a future Bellwether League Inc. Honoree, what would you tell them?
I would tell them how exciting the healthcare industry is and how much the industry needs continued enhancements in supply chain processes, integration and systems in order to improve the delivery of effective healthcare. I would indicate that by getting involved in the supply chain they can make a difference in the industry that will have a lasting impact. By getting involved and striving to make a real difference they would be moving toward being recognized as a future Bellwether League Inc. honoree.
What is the one industry challenge you would like to see solved in your lifetime?
Unique Device Identification (UDI) implemented on a global basis for medical devices that enables traceability, recall of devices, effective supply chain processes resulting in a more efficient and safe Healthcare system.
How important is effective and innovative supply chain management during tough economic times?
Supplies are currently a significant part of the total expense of healthcare, and as devices and drugs become more complex the percentage of the total expense will only increase. Thus, effectively managing this expense category is critical to improving the delivery of and access to Healthcare.
In two sentences or less, what defines healthcare supply chain leadership?
The ability to collaborate with all levels within your organization and beyond your organizations' borders in order to achieve the benefits of a high performance supply chain.
In two sentences or less, what defines healthcare supply chain leadership?
Healthcare supply chain leadership is defined as effective communication of the vision and mission of the organization to meet on-going patient care requirements in the most effective manner for quality and financial performance coupled with organization to meet the defined objectives and followed by evaluation of results achieved and adjusting organization and processes to further enhance performance.
If you traveled back in time to when you just started in healthcare what would you tell yourself?
Learn what other industries did to be an efficient supply chain in order to apply to healthcare and build strong alliances with all segments of my specific supply chain. (providers, GPOs, suppliers, distributors and government)